Armstrong-Siddeley Sapphire (1952 - 1958)
Last updated 31 December 2014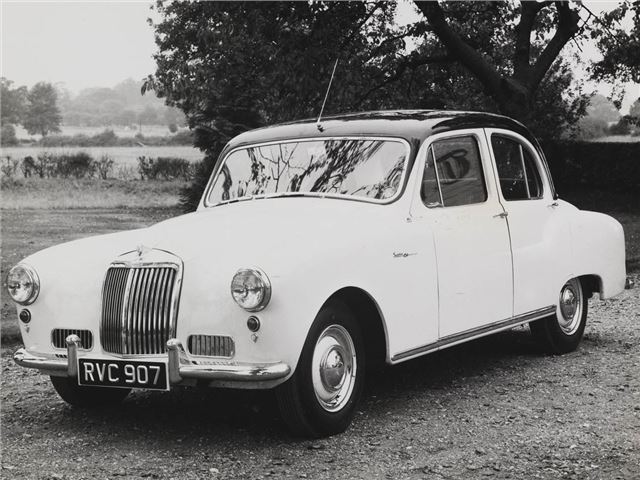 Six-cylinder model still quick today - sensational when new, roomy refined, and better to drive than its upright looks suggest
Four cylinder Sapphires are puddings in comparison despite more modern styling
Introduction
Although it looked like an evolutionary effort, the replacement for the Armstrong-Siddeley Lancaster – the Sapphire 346 – was an entirely new car from the ground up. Generally it was the other way round in the British car industry at the time, with new clothes hiding familiar components. The Sapphire 346 introduced in late 1952 featured an all-new chassis, featuring coil sprung independent suspension at the front and a leaf sprung live axle at the rear. Power came from a 3,435cc six-cylinder engine with hemispherical combustion chambers that could have optional twin Stromberg carburettors (£25 extra) which increased the output from 125 to 150 bhp (93 to 112 kW) and pushed the top speed from 95mph to just over 100mph. Sapphires for export to the USA were always delivered with twin carburettors. Girling hydraulic brakes had 11" drums all round.
The body was available as a four or six window at the same price and with either a bench or individual front seats. The seats were finished in leather, with the dashboard and door-cappings in walnut veneer. A heater was standard.Two gearboxes were offered: a four-speed synchromesh manual or a Wilson electrically-controlled finger-tip four-speed pre-selector gearbox as a £30 option.
The Mk II Sapphire introduced in 1954 could be ordered with a four-speed Rolls Royce torque converter automatic. A long-wheelbase limousine was launched in 1955, with the Wilson pre-selector gearbox as standard, and a four-speed  column-change manual as an option.
A saloon with the optional twin-carburettors and synchromesh transmission tested by 'The Motor' in 1953 to a top speed of 100.1 mph and 0-60 in 13 seconds. Fuel consumption was 18.7mpg. This test car cost £1,757 including taxes. 7,697 Sapphires were built.
1955 saw the introduction of the Sapphire 234 and 236, which despite their familiar names were very different machines. These 2.3-litre six-cylinder cars had unhappy styling. The 234 and 236 sold disastrously, and you'll struggle to find one now, thanks to their relative lack of appeal compared with the 346 and the Star Sapphire. Best known for being a contributing factor in Armstrong Siddeley's closure.
Next: Specifications