Alfa Romeo Spider (1966 - 1993)
Last updated 18 May 2018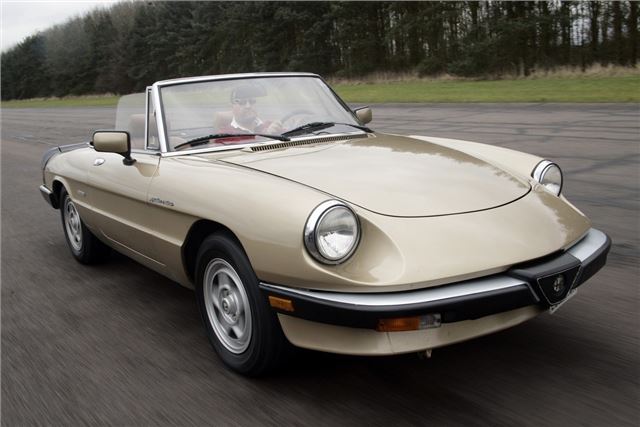 Charismatic engines, neat handling, exclusive in the UK
The younger they are, the less desirable they get
Introduction
For more than 20 years, the Spider flew the flag for Alfa Romeo in the sports car field. Considered a bit left-field compared with the rivals from Fiat and MG, the Alfa was always the more discerning choice, with five speed gearboxes, twin cam engines and swooping styling.
The original 1966 Spider was sold as the Duetto (boat tail), and is by far the prettiest of the bunch. Forever associated with Dustin Hoffman in The Graduate, the stylish little Duetto didn't hang around for long at all. The pretty little Pininfarina-styled roadster appeared in 1966 as the final genuinely new variant on the 105-Series (Giulia) platform and was marked out by its enclosed headlamps and that iconic boat-tail rear end.
Powered by the 1570cc twin cam, it was a great car to drive to drive with great handling, sharp steering and excellent all-round disc braking. It was also quicker than an MGB, although considerably more expensive in the UK, due to punative import duties.
After only 18 months in production, Duetto 1600 was discontinued to make way for the 1750 Spider Veloce. The newer car wasn't a radical change and really just heralded the arrival of the more potent 1779cc twin-cam engine and uprated suspension and braking set-up. Although the Duetto name had been dropped, it was very much a case of business as usual.
In 1969, after just three years in production, the 1750 Spider Veloce was uprated into the become the 2000 Spider. A restyle accompanied the fitment of the lustier 2000cc twin-cam, with the boat-tail ging way to a much longer Kamm tail, while the front lost its plastic headlamp covers. The overall effect made the Spider look more modern.
The car then battled through the 1970s and '80s without much investment, with a light revision and new bumpers in 1983. It wasn't until final restyle of the Spider in 1990 that wider mechanical changes were made. Pininfarina was given the responsibility for making the Spider suitable for the 1990s. The car was rounded off with smoother bumpers and slimmer rear light clusters.
The new fuel-injected engines, along with power-assisted steering, prolonged its life for three years. North American sales of the S4 Spider remained strong right to the end, with more than 75% of the production run
ending up there.
Next: Buying Guide
Buy an Alfa Romeo Spider from £4,500