Alfa Romeo Giulietta (1954 - 1963)
Last updated 18 May 2018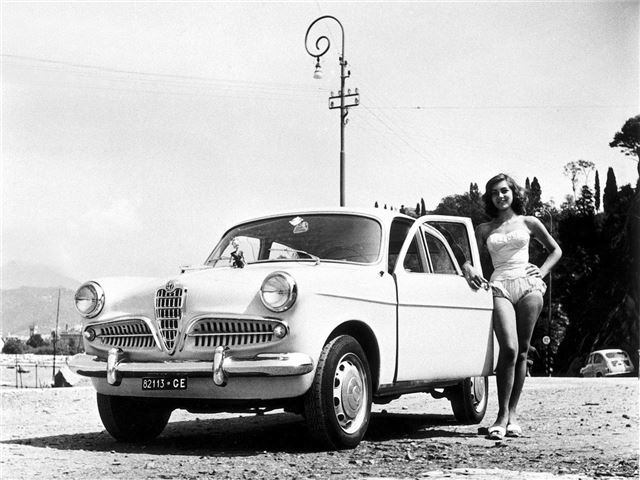 Great engines, brilliant to drive, and wonderful styling
You need to treat them properly
Introduction
The Series 101 Giulietta was a big step towards mass production for Alfa Romeo. The company's replacement for its advanced 1900 saloon and coupe followed the same formula in offering a number of body styles, allied with a powerful twin cam engine up-front.
The Berlinetta saloon was the largest selling model in the range, but was also unusual in hitting the market a year after the Sprint coupe. It might have hit the market during the mid-1950s, but it enjoyed an advanced specification and that favoured the enthusiastic driver. In typical Alfa style, the Berlina started out powered by a modest engine, but with each new year, a more powerful variation was fitted. The pick of the crop ended up being the 75bhp Ti version, which was (and is) brilliant to drive without being too showy. Sadly, the survival rate is very low, with the main culprits being damp climates and rabid rust.
So, out of the Giulietta line it was the Sprint that appeared on the market first - in 1954. The underpinnings were flexible and adaptable, as the sheer number of variations (both by Alfa Romeo as well as the coachbuilders) that subsequently appeared bears testament to. Many Alfisti will tell you that these remain the most desirable of the mainstream factory cars. Initially the Bertone-styled coupé was treated to a range of exciting twin-cams; even the original 1290cc version packed a respectable 65bhp, and enjoyed revving away. The later Veloce and SS versions boasted outputs up to 100bhp.
Like its coupé sister, the Spider's body was designed by Bertone, and remains one of Alfa Romeo's prettiest ever cars. As with the rest of the family, rust was (and is) a serious factor in its survival rate, and the condition of the bodywork and chassis are of paramount importance. There are known issues with the engine, too, but all parts are readily available off-the shelf, with a plethora of specialists out there ready to help you.
In 1957, the Sprint Speciale form was launched - proving that the best could be made better. They were so good, in fact, that when the 105-Series Giulia followed on in 1962, these SS series Alfas really came into their own, remaining in production, carrying the new car's name. With power from a 1570cc twin-cam, performance from these coupés was brilliant. The chances of finding an unrestored car these are quite slim, but when they do turn up, and when they still command big money.
Next: Specifications