Alfa Romeo 147 (2001 - 2010)
Last updated 18 May 2018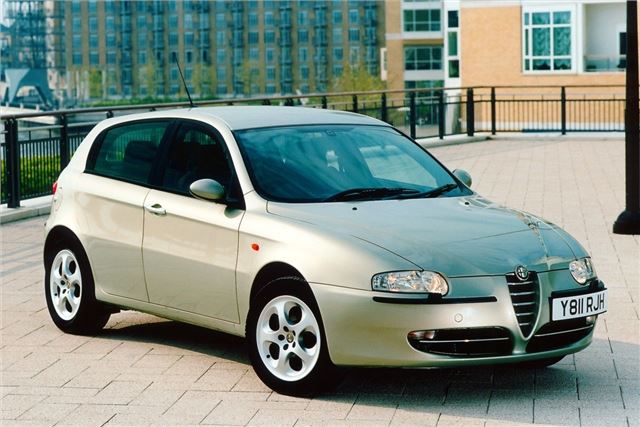 Buying Guide
Good
Looks different to the usual hatches.
Alfa badge gives it a sporty image.
Bad
Poor score in 2001 NCAP crash tests. 

Paddle shift arrangement for Selaspeed on 147 doesn't work very well. Not a great drive. 

Paint problems with solid lacquered black. 

FIAT/Alfa joint worst for breakdowns attended by German ADAC during 2001.
Alfa Romeo 2nd least reliable of 31 makes of car in 2002 'Which?' reliability survey cars 2000 - 2002; 3rd least reliable cars 1997 - 1999.
Alfa Romeo had fourth highest warranty repair costs in 2003 Warranty Direct Reliability index (index 155.10 v/s lowest 31.93).
Average for breakdowns and faults and poor for problems in 2003 Which survey.
22nd from bottom out of 137 models in 2003 Top Gear survey.
147 joint 10th bottom model and Alfa Romeo bottom marque in 2004 JD Power Customer Satisfaction Survey.
Alfa Romeo 5th bottom of Reliability Index for 2004 combining average cost of repair of £392.88 with high 39.55 failures per 100 Warranty Direct policies www.reliabilityindex.co.uk
Came 6th from bottom in 2005 JD Power/What Car Survey of 23,000 cars reg Sep 2002 to Aug 2003 with satisfaction score of 72.5%.
Joint 3rd from bottom in 2007 UK J.D. Power Customer Satisfaction Survey with 74.4% score.
Watch
Timing belt failures of 4 cylinder twin sparks extremely common. They can fail in as little as 25,000 miles. Timing belts, tensioners and toothed/non toothed plastic rollers need changing way before original scheduled 72k miles. See TSB to change them at 36k or 4 years whichever comes first. Also need new waterpumps because pumps are driven by timing belts and if they fail the belt gets flung off. On diesels, water pumps can also fail, flinging off the timing belts. 

Early problems with Selaspeed gearbox actuator and long wait for replacement parts. 

Bosch 'hot film' Mass Airflow Sensors seem to be failing regularly. 

Several reports of 2.0 litre engine failures in 156s due to oil starvation when engines were full of oil points a finger at oil pump failure. 

Witches brew of problems. This is just one owner's experience: "Here is a list of my faults of which most are on the AA report. 1) Selespeed failure to engage gear. Leaving car in dangerous position. Normally happens when on roundabout or turn when engine cold. Alfa dealer has had car in 4 times and not solved problem. 2) Alarm goes off when boot is unlocked with remote control. 3) Boot plastic gutter trim not secure at rear edge, hatch not 
aligned. 4) Oil leak. 5) Positive terminal battery cover broken. 6) CD Player skips on normal CDs even when car stationary. 7) Front Windscreen washers very poor. 8) Power Steering fluid level below minimum. 9) Handbrake cable on left not fitted properly to floor bracket. 10) Timing belt cover not fitted correctly, gap at top and loose. 11) Carpet hanging out of passenger front lower trim. 12) Carpet loose on side of center console. 13) Alternator fails to charge battery. 14) Only 25 to 26mpg. 15) Engine uses oil. Other problems: 16) Rattles from Door trims. 17) Rattles from rear seats. 18) Rear seats not locking in position. 19) Sunroof blind completely missing. 20) Sunroof fails to open. 
21) Finish keeps coming off Selespeed Paddles on steering wheel. 22) The Climate Control keeps going to HIGH and MAX."
Recalls
September 2002: TSB issued to change timing belts and tensioners at 36,000 miles rather than 72,000 miles. 1-10-2003: Possible fire risk during warm up phase on just 6 cars ZFA937---3084119 to 3171718 and 5041468 to 5097241. 

07/12/2007R/2007/174ALFA ROMEO147, GT, 159, Brera and Spiderbrakes may fail. Chassis numbers ZAR93900005021630 to ZAR93900005021749. Build dates20/11/2007 to 22/11/2007
R/2010/025
Manufacturer Ref :
5440 
Make:
ALFA ROMEO
Model :
147 (with 215/40 ZR1889W Pzero Nero Pirelli)
Launch Date :
3/26/2010
Numbers Involved :
241
Build Start Date :
7/1/2007
Build End Date :
3/31/2008 
Recall Details
Concern :
TYRE SIDEWALL MAY CRACK
Description :
It has been identified that Pirelli tyre type 215/40 ZR18 89W PZERO NERO annotated MO and F223 may suffer cracking of the sidewall. This can lead to loss of inflation pressure and under certain conditions, can have an adverse effect on the safe handling of the vehicle.
Remedial Action :
Recalled vehicles will have the subject tyres replaced.
Vehicle Id :
ZAR93700005257483 to ZAR93700005270696
ZAR93700003397789 to ZAR93700003465637


Back: Model Timeline