Volvo 440 and 460 (1987 - 1997)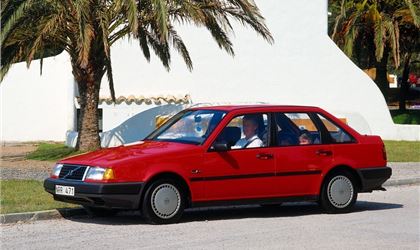 1.6 pov stricken petrol
reviewed by The Gingerous One on 24 August 2012
2
Cost of maintenance and repairs
3
How you rate the manufacturer
cheap and cheerful with low running costs so far.
Bought car for £400 as it's 17 years old after my Mazda 6 got written off.

Good :
Came with a Haynes manual so I can service it.
Will do 40mpg on a run if you stay around 70/75mph
165/65R14 tyres are cheap to replace
done 3000 miles in 1st 3 months of ownership without problems

Bad:
Pedals offset to the left so can't rest left foot with leg outstretched unless you do so with your left foot under the clutch pedal
Being the base model, it has manual windows, manual mirrors and no central locking.
Ride noticeably worse than Mazda as 440 wallows a lot but then car is 17 yrs old and designed 25+yrs ago
Rear wheel arches re-constructed using filler by prev owner due to rust
No fun in hot weather, windows not tinted, as soon as sun is out car turns into a cooker
reviewed by Quicksilver on 15 August 2011
reviewed by baaobaab on 14 November 2010
reviewed by dereckr on 3 August 2010
Write your review
Just reviewed...