Mercedes-Benz SL (R107)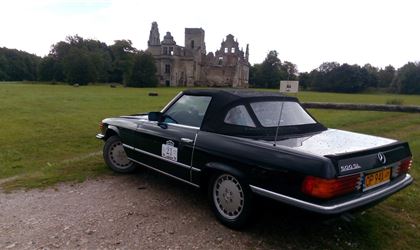 500SL
reviewed by popiel84 on 7 March 2017
2
Cost of maintenance and repairs
3
Experience at the garage or specialist
5
How you rate the manufacturer
Perfect classic for daily use and long sight seeing trips.
For me this is a perfect classic car, perhaps the only one you would need. If well maintained, it is robust and reliable enough to be used on daily basis and to travel through half of the Europe without a single failure. Unlike many other '70 and '80 cars it can not only keep up with today's traffic but it is still faster than 90% cars on the roads (at least EU versions are). It's fast on straights, meaning it will perfectly go on highways as well as on any local roads and if you drop the top off, it would fit to any boulevard. It offers features rarely seen in other cars of it's age, making it a perfect option for someone who is looking for a classic convertible grand tourismo class car. Although fast, it is definatelly not a sports car. It's soft suspension and huge steering wheel don't work well in tight corners. Otherwise it's pleasure to drive, almost giving a filling of driving a modern cars (especially late year models). When it comes to fuel economy, let it be clear, no V8 is economic. Of course it consumes more fuel then modern V8s but still way less than classic american V8s. Also all repairs and parts might be expensive but you should expect that when buying a classic cars, especially one so technically sophisticated.

If you are planning to buy one, be sure it's in good condition with no visibible rust, otherwise it might mean huge repair/restoration expenses.
reviewed by ithought on 16 January 2015
Write your review
About this car
| | |
| --- | --- |
| Top speed | 124–135 mph |
| 0-60 | 7.5–9.0 s |
| Power | 185–245 bhp |
Just reviewed...