Land Rover Discovery (1989 - 1998)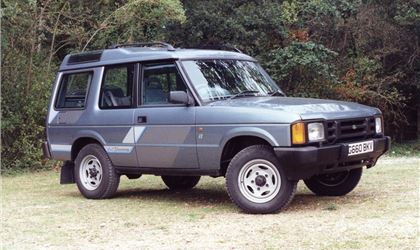 V8i ES
reviewed by Smeeinfrance on 4 July 2015
1
Cost of maintenance and repairs
4
How you rate the manufacturer
Brilliant fun for greenlaning and short distance trips
I retired to south west France two years ago, having been a Landie Nut for most of my driving years (since 1971). I've owned around 15 Landies - Range Rovers, Discos and Series 2 & 3). For reliability, I brought over a Volvo XC70 as my main car and although this car is a 4x4, it's simply not the same as a Landie.

Browsing eBay one day in May 2015, I noticed my 'dream' toy - a Disco 1 V8i, 1995, with just 87k miles and a 'buy now' price of £850. My son in law did the deal on my behalf and got the beast for just £650. So, on a wing and a prayer, I flew over to the UK and drove the beast 800 miles to my home in the south west of France.

Yes, surprise, surprise, the lady did it with absolutely no problems, and at around 60 mph, I believe I managed about 22 to the gallon.

Now, back at home, I checked everything and, besides the warped front discs, rusting inner wing panels, surface rust on the boot floor, rear window ECU kaput, everything else was working - including the aircon and diff lock.

In summary, for £650, I have a brilliant toy, no road tax to pay (I'm in France) and France has thousands of green lane miles equivalent.

So, it can be done and my thanks go to the i**** who was not looking after it and let her go for just £650.

C'est la vie!
reviewed by Grape on 20 June 2015
reviewed by Papa Simpson on 28 February 2015
reviewed by voyager1 on 28 August 2014
reviewed by yellowmitch on 5 December 2013
Write your review
Just reviewed...