Land Rover Discovery 2 (1998 - 2002)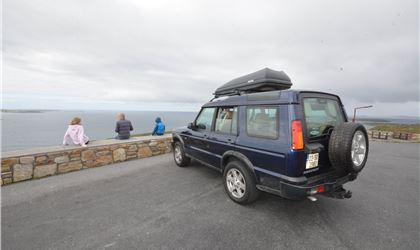 7 Seat TD5
reviewed by Anonymous on 11 September 2020
1
Cost of maintenance and repairs
1
Experience at the garage or specialist
1
How you rate the manufacturer
Brillant Family Car With 7 Seats However You Will Need to Be Handy With the Spanners Or It Will Cost A Fortune To Run.
I bought this in September 2012 when our 4th Child Was Born and we needed 6 seats.
Brilliant Family Vehicle, Great Driving Position.
However here's the scary list of what I had done over the years.
All door actuators, several times. Especially the back door (Lost count)
All electric windows several times.
XYZ switch for Auto Gear Box (Drain to Air con drops onto it.) If you're handy this can be taken out taken apart and cleaned.
Very tricky to get at but will save £100's.
ABS little rubber 'o' ring which cost a few cents can be replaced other wise very expensive.
Air suspension - Replaced it several times and then got fed up and put springs in.
Steering 2 times.
Prop shafts a few times.
Fuel pump several times.
ECU - Injector loom pumps fuel up the wires into it eventually, another known design fault.
All wheel speed sensors for the abs. They become magnetised and fail over time.
Repaired the sunroof several times. Replaced the head liner due to water damage from sunroofs.
Starter 2 times.
Eventually it failed the N.C.T (MOT) last year and I have it completely rebuilt it.
The main reason was because the chasis had rusted through. (New chassis was about £3000)
Landrover didn't galvanise the original chassis for some crazy reason!
This included everything except the engine block being replaced for new.
Also complete new wiring loom. (This solved countless intermittent problems.
The engine once you change the oil is bullet proof.
While owning the Disco 2 I have also owned 2 Disco 3's bought from new and a Disco 4.
To be honest I prefer the Disco 2. From design, driving position and the luxurious interior.
The parts aren't expensive compared to other vehicles and it's very workable on like a giant mecano kit.
Almost forgot, I replaced the rear lights a few times also.
If you buy cheap,( check the chassis ) and are handy and prepared to get stuck in you can have a great vehicle for reasonable money. If you are not mechanically minded and will be relying on landcover dealer - mechanics it will financially break you.
reviewed by Anonymous on 9 March 2020
reviewed by john. on 23 January 2014
reviewed by jogger on 14 August 2011
Write your review
Just reviewed...