Honda Prelude (1991 - 1996)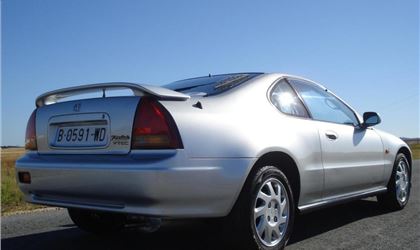 2.2 VTEC
reviewed by B234R on 1 November 2014
3
Cost of maintenance and repairs
5
How you rate the manufacturer
Very fun to drive, but impractical
I bought my Prelude VTEC as a second car, but when I couldn´t afford to have two cars anymore, I had to sell it because it was rather impractical, and my other car stayed with me.

The styling is very attractive, at least for me, shame that attracted to many boy racers at the traffic lights, too. It is getting difficult to find an unmolested fourth generation Prelude, as mine was.

Inside, electroluminiscent instruments are eye-catching but work well, although plastics don´t look too good. Nonetheless, you can´t hear a single interior rattle or squeak, a testimony of Honda´s built quality.

On the motorway it isn´t the quietest car of the world, the engine is a bit busy due to short gearing, and road noise is really bad. But drive to the nearest back road, and the whole car reveals: the engine is a jewel, the gearchange a delight to use and the chassis really accomplished, thanks to fantastic handling and surprisingly good ride (on standard fifteen inches alloys).

It´s a pity than the car is a strict two seater. Rear seats are good only for children, or to let a coat. The boot isn´t very big, too. But they are aspects that you have to bear in mind before buying this car. This is not a Calibra.

Fuel economy depends a lot on your driving style. If you take it easy, you could get more that 35 mpg on B-roads. If you rev the engine a lot, 28 mpg is more usual. But it´s good enough, and so fun...

My car was very reliable, although a 20 year old car will always need to renew some parts. Honda parts very expensive.
Write your review
Just reviewed...