Our Cars: 1973 Mercedes-Benz 450SL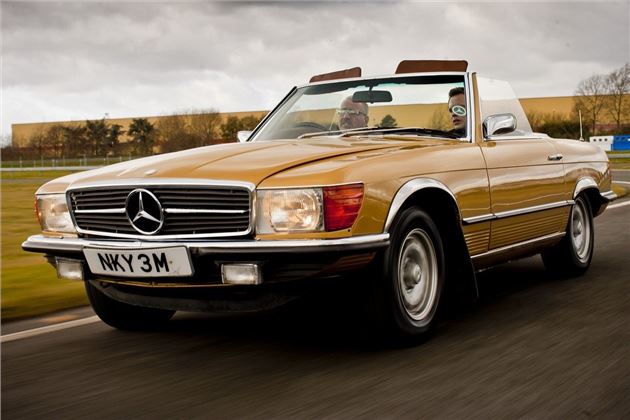 18 April 2016: Mercedes 450SL joins the fleet
The Details
| | |
| --- | --- |
| Current mileage | 89,152 |
| Actual economy | 15mpg |
| Costs so far | £0 |
When one of my daughters told my ex-wife I'd bought a Mercedes SL, my wife texted me: 'How's your mid-life crisis? Lol.' She's far too old to be using 'lol' in a text message – that's the language of teenagers. And if she cares to remember, this is the car I always wanted... even when we were married.
However, since we are happily divorced (is that an oxymoron?) and our three daughters are now young adults, I didn't see it so much as a mid-life crises purchase, more an item that simply had to be ticked off my bucket list. At least that's the way I justified it to my catwalk-model girlfriend, some 20 years my junior.
Anyway, I digress. I believe my reason for owning a classic car is much the same as many others - it's a reminder of halcyon days. Why else would any sane person take a bundle of cash and throw it at something in the knowledge it's going to cost a whole lot more?
Growing up in the 1970s meant I was raised on a diet of imported American TV shows. Starsky & Hutch, Kojak, Charlie's Angels... they were, for me at least, a world of glamour I yearned to visit. Then, when I thought nothing that graced this earth could be more divine than Farrah Fawcett, along came Victoria Principal in the TV series Dallas.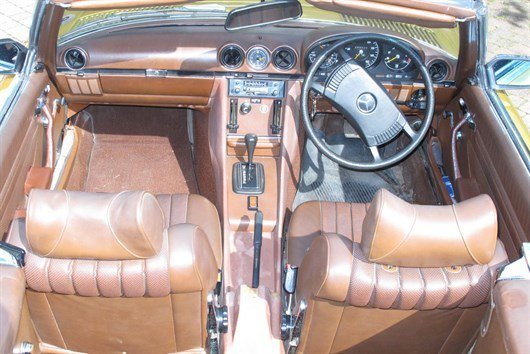 Interior is complete, but tatty and in need of TLC.
The 450SL R107 may affectionately be known as the 'Bobby Ewing' Mercedes, but it's not. Not in my mind, anyway. This is the car Bobby first brought Pamela Ewing into my life and she never left it. Fast forward 40 years...
I wasn't looking to buy a car, I just had few hours spare over the Christmas period. Idle hands and all that. The next thing I knew I was typing-in Mercedes SL into eBay's search engine. There was plenty to choose from: a basket cases for less than £1500; mint examples knocking-on for twenty grand and above. Then I spied a low-mileage, 1973 450SL, newly MoT'd, in need of a little 'tidying'. At £6000 it seemed too good not to drive the 50-odd miles to have a closer inspection.
The gold metallic paintwork wouldn't have been my first choice, nor the brown M-tex seats. Rust on the bottom sills (an inherent problem on the R107) and a tatty interior made it even less attractive, yet a tome of meticulously kept paperwork told a separate story - the previous five owners had actually cherished it.
Despite appearing to be fairly straight car, I still wasn't too bothered if I bought it or not. So I offered a cheeky £4000 which, astonishingly, was accepted, and the £2000 saved contributing towards the restoration work.
Only time will tell if I've been very lucky, or extremely naive...
Updates

18 April 2016: Mercedes 450SL joins the fleet
Danny Cobbs takes a chance on a low-mileage Merc