New Classics Event in Essex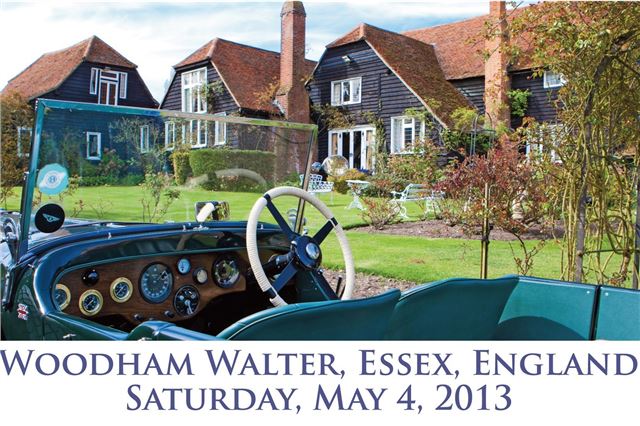 On Saturday, May 4, the quiet Essex hamlet of Woodham Walter will be swarming with classic car owners, collectors and enthusiasts alike at a major new classic car event, the 2013 Warren Classic & Concours.
This new, one-day event, uniquely-staged amidst the tranquil, 350-acre scenic estate of the long-established Warren Golf and Country Club in Woodham Walter, near Maldon, has been created by an international team who draw on many years of collective knowledge and experience of the classic car community.
Partnered by Bonhams, EFG International, Fredericke Constant, Hagerty and Hastings Direct., the Warren Classic & Concours will mirror the breadth and diversity of classic and collector motorcars, with a wide array of exhibitors and motor clubs, bonded by their common enthusiasm for classic motoring culture.
Special features will celebrate, amongst others, the 50th anniversary year of iconic cars and marques including the Porsche 911 and Italian supercar maker, Lamborghini, plus the centenary year of Aston Martin.
The event will also host the 2013Warren Concours, a superb tribute to the finest of the classic car genre spanning ten decades, through to the might of contemporary supercars.  
Interest in participating in the Concours has been exceptional, providing a tough task for the Warren Concours selection committee to whittle numbers down to the eventual fine selection of 100 vehicles across ten different classes.
Fine examples from the dawn of motoring, through the 1919-1930 vintage period, post-war touring cars and the 50's and 60's, will rub shoulders with categories celebrating the anniversary marques and supercars.
Besides being a haven for the devout owners and followers of classics, the Warren Classic & Concours is designed to deliver wide appeal. Illustrating the point, the organisers have confirmed a thrilling aerial display by the spectacular Blades aerobatic display team during the afternoon, piloted by former RAF Red Arrows pilots, who put the 'planes through their paces with superb precision under loads as high as 10g.
Gates open to the Warren Classic & Concours on the morning of Saturday, May 4, with entry for classic car owners at £25.00 per car, privilege parking in a dedicated area, plus an invitation to enter a novel 'Car Park Concours'. Public entrance tickets on the day are £10 adults, £5 children, and £25 for a family of four, again with free parking.
The venue is easily accessible, just minutes from Maldon and eight miles east of Chelmsford in the picturesque village of Woodham Walter, Essex, CM9 6RW
Tickets can be purchased on the day or in advance at the event website, www.warrenclassic.co.uk which also has full information for visitors, or call 01245 223258; e-mail: info@warrenclassic.co.uk
Comments