Classic Cars Still Showing Investment Potential at Auction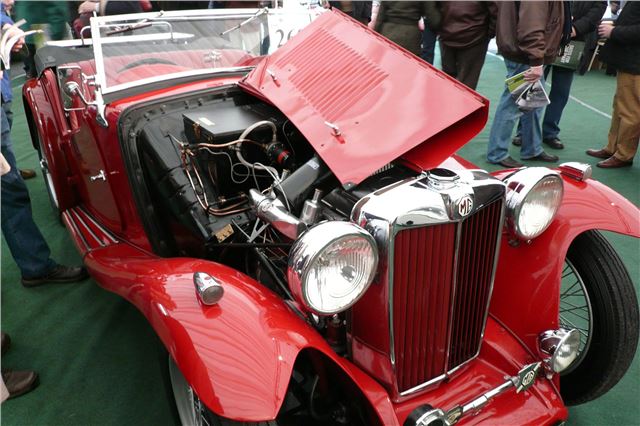 Historics Auction at Brooklands today proved that classic cars have to be 'Investable' to make top money.
Anyone disappointed by what some cars were bidding to has to consider what buyers see as investment potential.
Values can peak. Many vendors value their cars at more than the market it prepared to pay. And some cars, frankly, are not in the condition they need to be for an investor to see a significant return in coming years.
So, an absolutely stunning, multi award-winning 1939 MG TB, perfectly restored to the smallest detail. sold for £29,000, plus commission, and is likely to reward its buyer by steadily appreciating in value.
Similarly, a beautifully restored 1960 MGA roadster made its money at £25,000.
A nice 1961 Austin Healey 3000 Mk II BT7 sold for £33,000.
A 'Graduate' shape boat-tail LHD 1966 Alfa Duetto Spider, fitted with the useful 1,750cc engine sold for £14,000. 
A 1956 Triumph TR3a with hardtop and Minilight wheels made £23,350.
An oddball, but attractive and practical 1981 Citroen H van reached the top end of its estimate scale at £8,750.
And someone looking for a fun track-day car paid £12,750 for a 1999 Caterham 7 Superlight R that had failed its MoT on emissions.
On the other hand, we have to remember that not everyone is making money these days and sometimes asserts have to go. A 1979 Porsche 911SC, rebuilt to authentic RS specification, sold under its estimate at £30,000.
And a factory built 1970 Lotus Elan S4 SE did not make its ambitious reserve, bidding to £20,500 (though it may have sold post-sale).
A 1993 Mercedes 320CE Sportline convertible looked cheap to me, selling for £8,250.
A 1961 Warwick GT, in the same family for 50 years, sold for £17,000.
A very average 1970 Triumph TR6 made £7,000.
An interesting 1958 Jaguar XK150 coupe updated with a fuel injected 4.2 engine and 5-speed box (that cost £135,000 to build) sold for £50,000.
Yet a perfect 1958 XK150 roadster representing excellent investment potential, exceeded its reserve by £6,000 to sell for £83,000.
While a 1994 LHD Jaguar XJ220 got nowhere near what its vendor wanted, bidding to only £100,000 (to which 20% VAT had to be added).
And a 1974 (last year of production) E-Type SIII V12 manual roadster looked cheap, selling for £26,500.
So while a lot of vendors were disappointed, it was only from unrealistic expectations of what their cars were worth.
The market is still very strong, but only for the right cars.
Latest results and news of the next auction at Historics
Comments