Halfords Catalogue 1965
An affectionate look back at what you could have been considering for Christmas 1965...
Since the dawn of automotive time, man has been dreaming of car-related gifts to open under the Christmas tree. That's right folks, Dads in 1965 didn't have to put up with getting confusing socks, baffling smart phones, or millenials handing over inferior whisky. Nope, they got to ask Father Christmas for the things that really mattered in life: ashtrays, a rev counter (fancy), noise insulation and dash panel covers. Yep, Dad might not have been able to afford that 1600E Cortina, but he wasn't going to let that stop him. So grab a cuppa, put your feet up, and remember a happier time for gifting (oh, and a time when Halfords sold more than bikes and stereos)...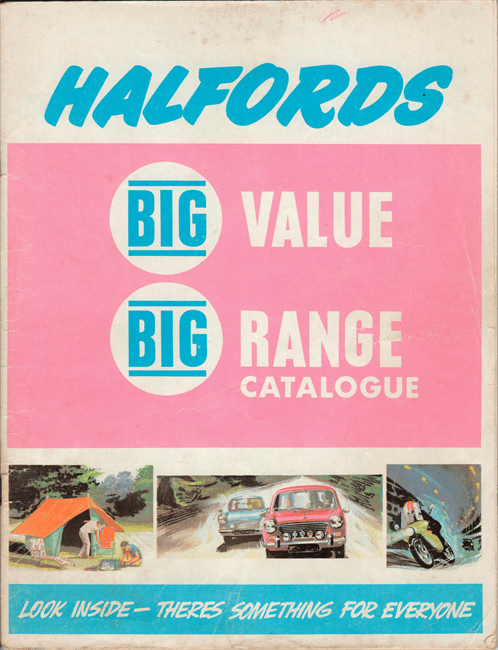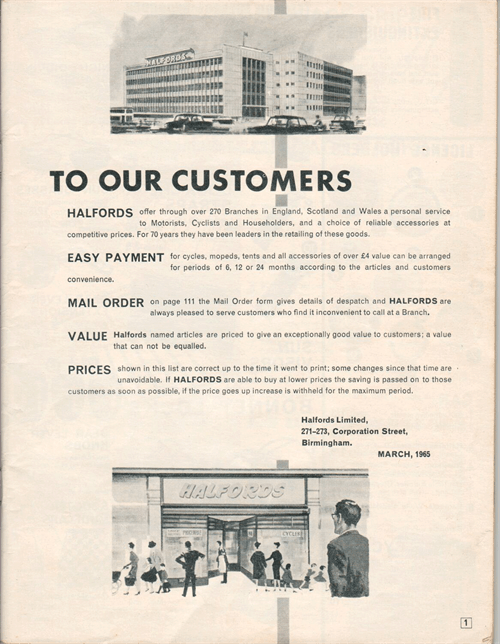 The catalogue kicks off proper on this page and tackles a common problem - visibility.
Let's face it, no-one wants their bonnet to fly open while driving - not only does it block your view of the road, but also (and more importantly) it blocks the other road users view of you. And boy, your moustache sure looks handsome today. Don't act like you're not impressed... 
Plus, look at that early forerunner of an board-computer to keep track of fuel consumption. Telulog is ideal for keeping track of mileage and fuel for those Real MPG readings...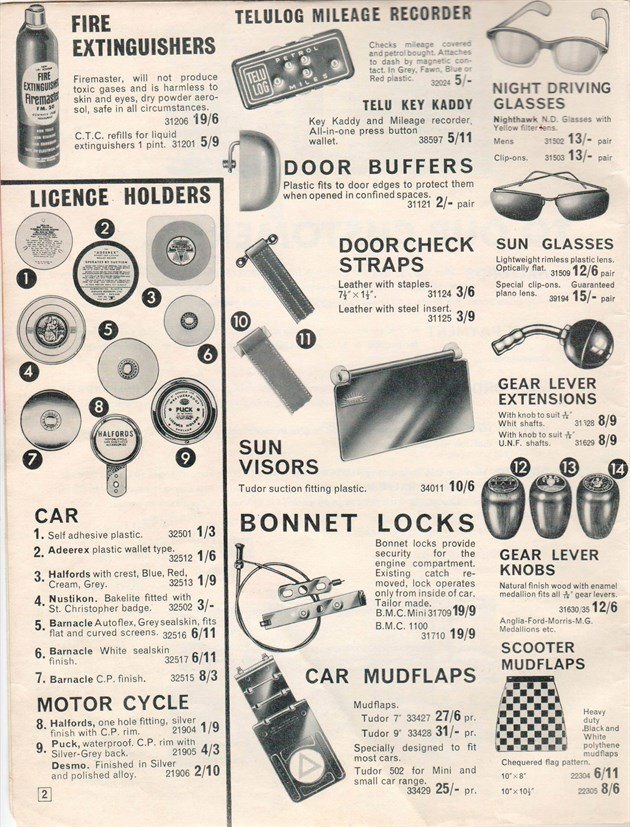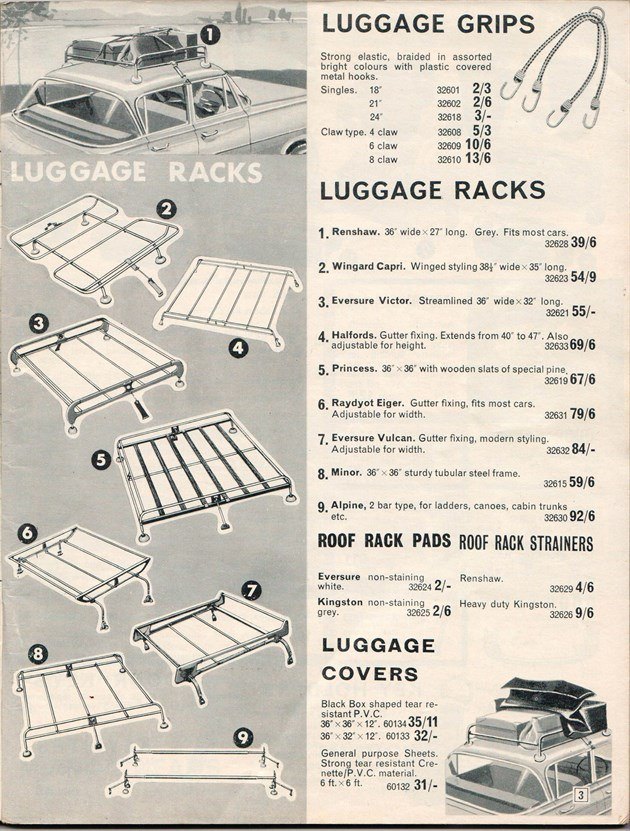 A wonderful selection of ashtrays...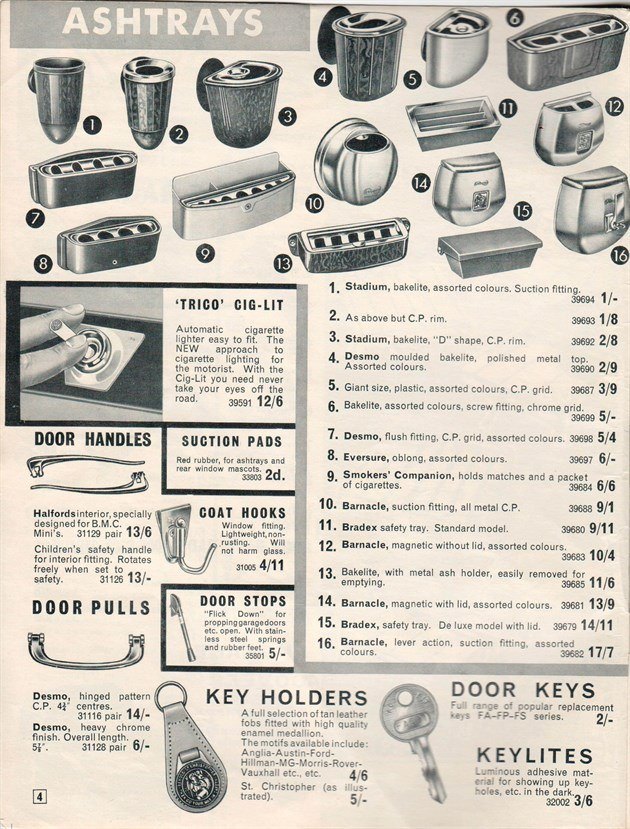 Wing mirrors. Not door mirrors. The two are vastly different - door mirrors can be easily adjusted to allow you a clear view of the road behind. Wing mirrors are hard to adjust and so are mearly confection for your sweet ride. You can have colour you like, as long as it's chrome.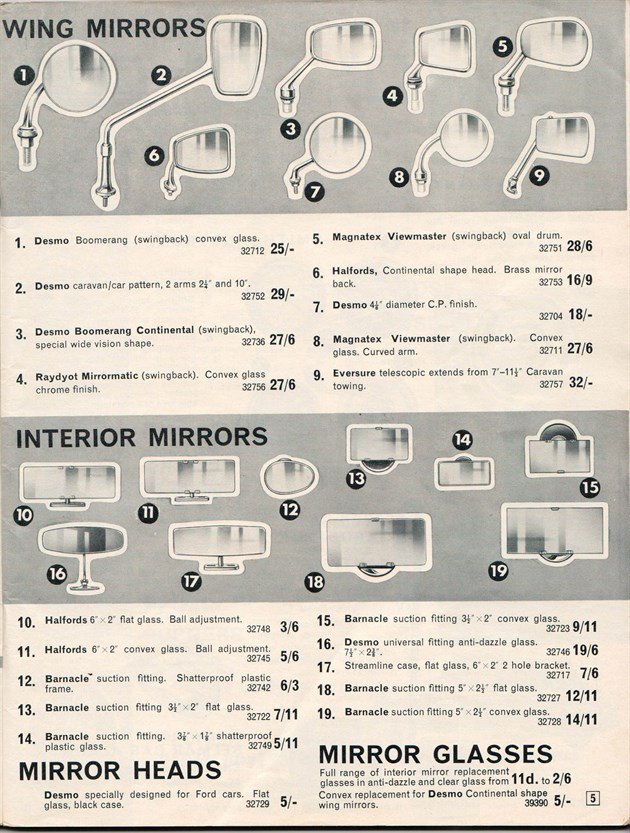 If you're buying an uber-basic Morris Mini Minor, there's a good chance you wouldn't be willing for fork out for a few extras. Rev counter? Pah - next you'll be asking for wind-up windows. Luckily, spending a few quid later down the line meant you could pick up some items of luxury - from dash coverings to extra dials.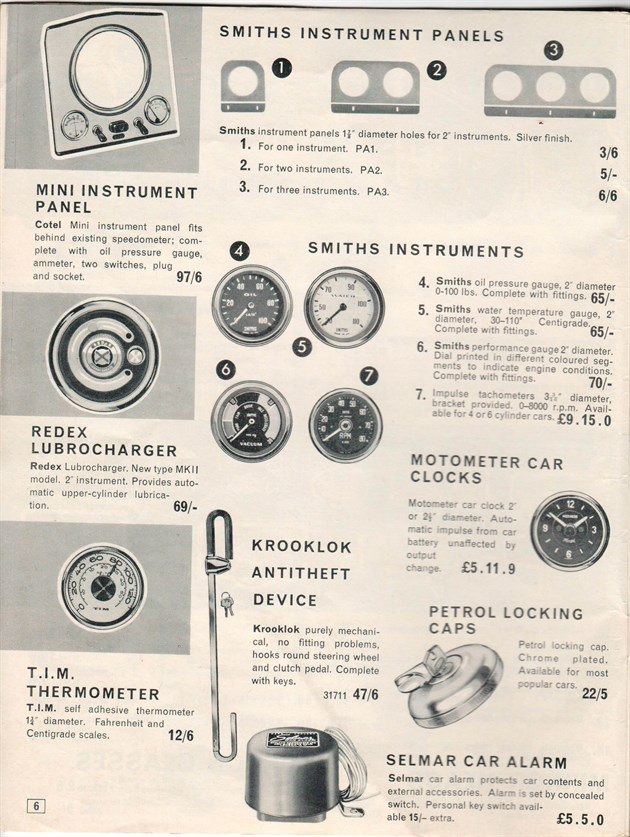 Information is power - and nowhere is that truer than in the world of classic cars. After all, if you haven't got that oil pressure guage fitted, how will you know when you're about to break down? Luckily, help is at hand.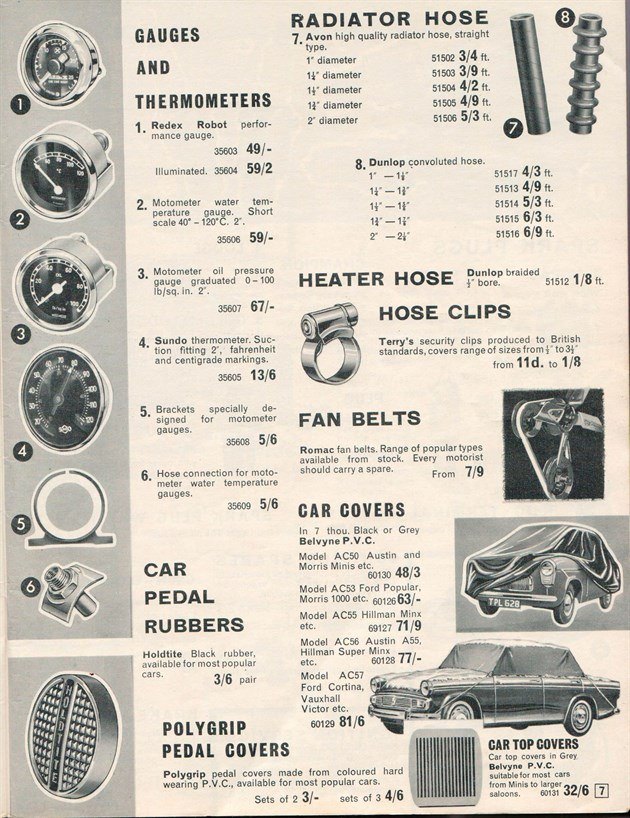 Spark plugs, brake adjusters - what witchcraft is this? Next you'll be telling me I have to check my oil. While modern motorists have to visit their friendly local franchise dealer to replace a lightbulb (and a bank to get the loan to pay for it) older cars were expected to serviced by Dad on his driveway. This is what weekends were for... before we had colour TVs.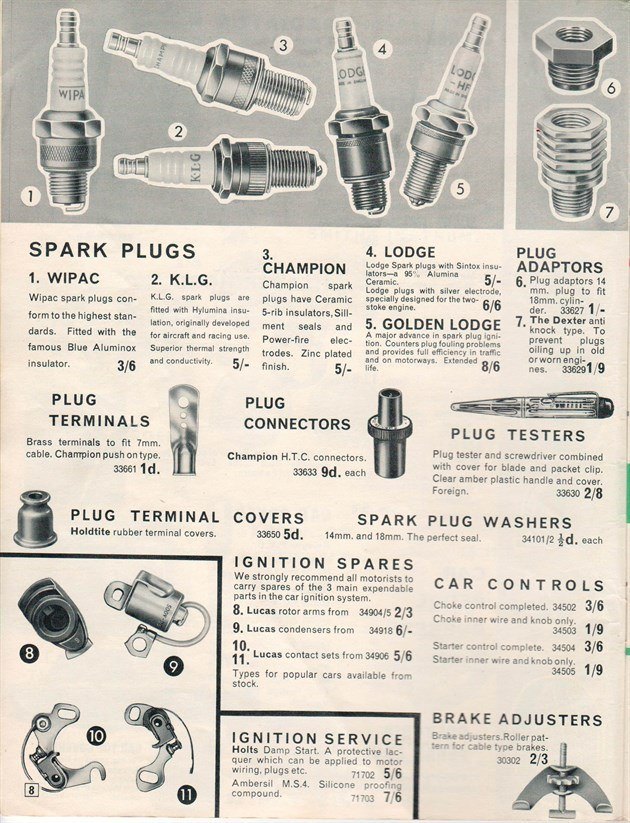 One tech that really hasn't changed all that much.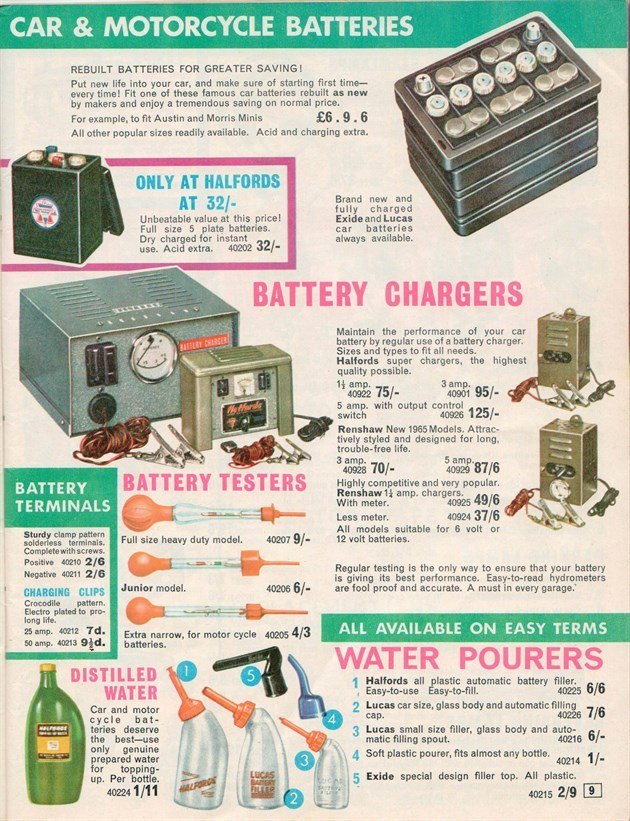 There's no polite way of saying this - lighting on old cars is dreadful. Even at the time it was awful so it's no wonder driver's leapt at the chance to go full rally-spec and stick some spots up front (and out back, to be honest). Splicing wiring has never been so rewarding.
Before smart phone apps like Waze, and portable sat-navs, Dad had to rely on something called a map. This hardback book (often a present from his petrol supplier of choice) detailed all the useful things Dad needed to know - roads, place names, and where to break down. But reading it at night wasn't easy - luckily someone invented a torch with some sticky stuff on the back.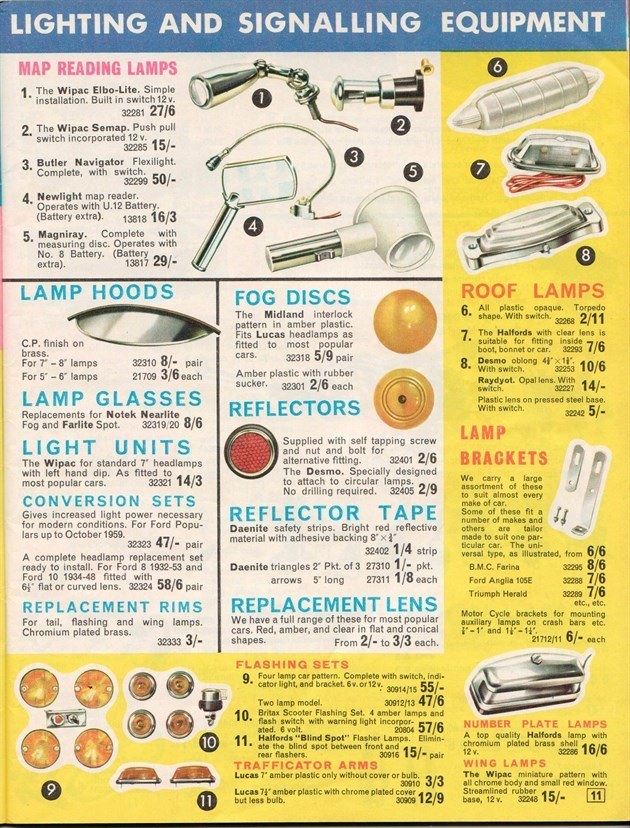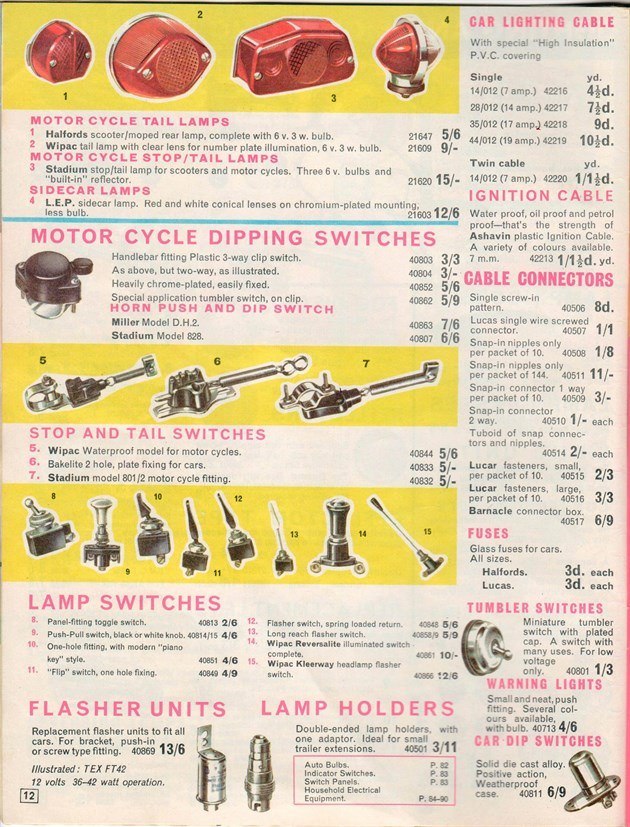 Here we have it ladies and gentleman, the orgins of ICE. Yep, the in-car enternatinment beloved of Max Power readers everywhere wasn't exclusivley used by Daz for his Saxo - turns out Dad knew a thing or two about banging tunes as well (not to mention all the money saved on that scratched vinyl for the wind-up grammophone).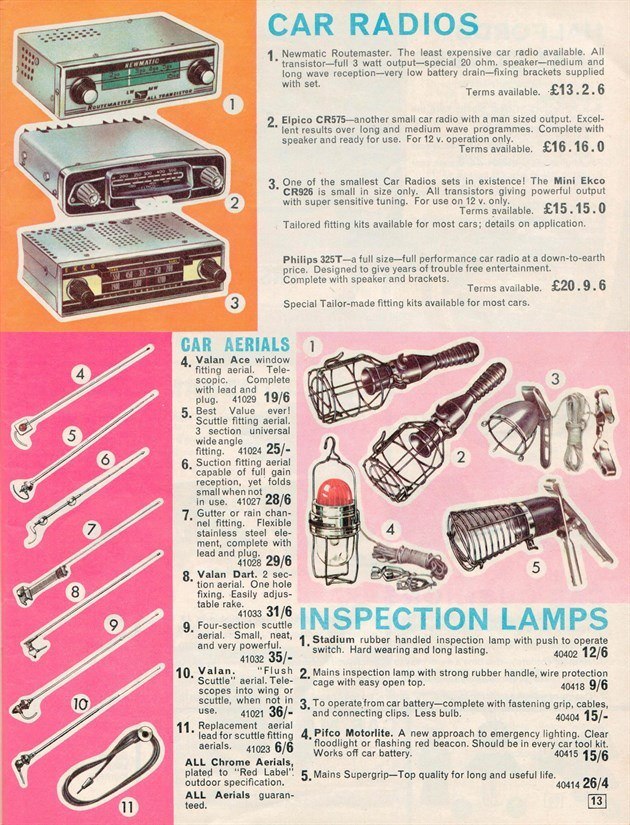 We're reading this through the prism of 2017, so item 7 on this page is a surprise. The past is a foriegn country, they do things differently there...
That aside, what's happened to that Mini's passenger door?
Fed up of looking at the chips in your painted metal dash? Don't worry - help is at hand with a slection of fascia panels. Note, that the 'de luxe' version features padding - which not only stops reflection but also offers 'protection' in the event of an addicdent. What kind of protection isn't clear, however we do like looking at the lovely period illustratoins.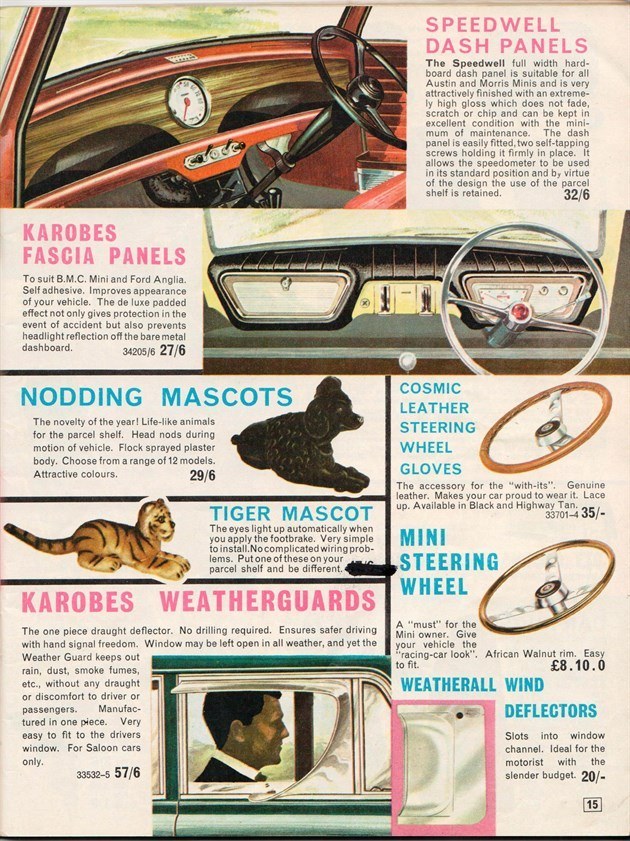 Dad might not have had to lug around cumbersome child seats in the 1960s (what better way to transprot five children than in a Ford Cortina estate with the seats down?), but he needed somewhere to put all the mess those peksy kids created. The times they were a-changing, though. Remember that 'baby chair' would have been a cutting-edge safety device in 1965. Looking at it with 2017's eyes, it's a perfect baby-launching machine in a crash.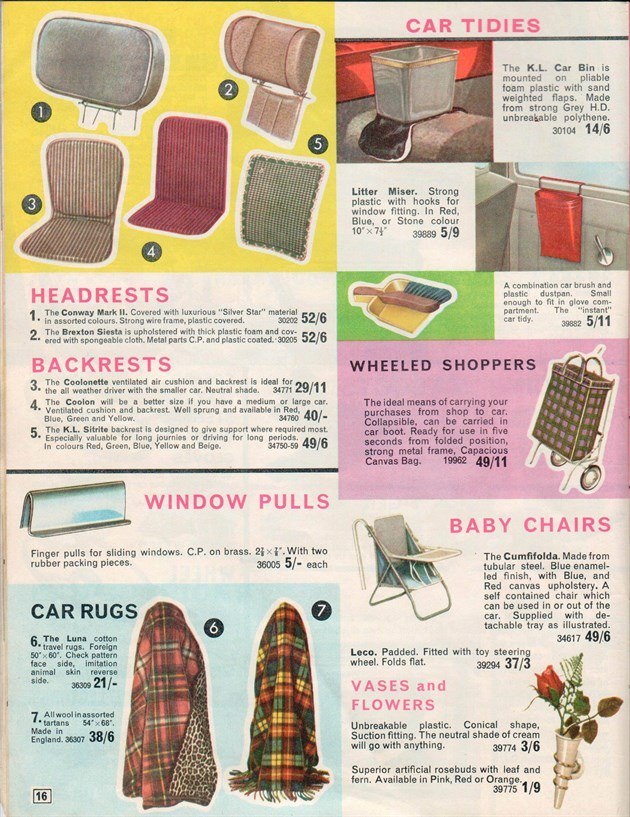 The best things about old cars is the noise - the roar of the engine, the..... well, that was all you could hear really. Sometimes there was a radio but if you went above 50mph the single speaker might not be up to the job. To combat this, you could buy sound insulation - this was long before for the days when manufacturers took an interest in NVH (noise, vibration & harshness). As an added bonus, the insulation would soak up all the water that leaked in through the poor fitting panel gaps and allow the metal underneath to rust away quicker. Handy.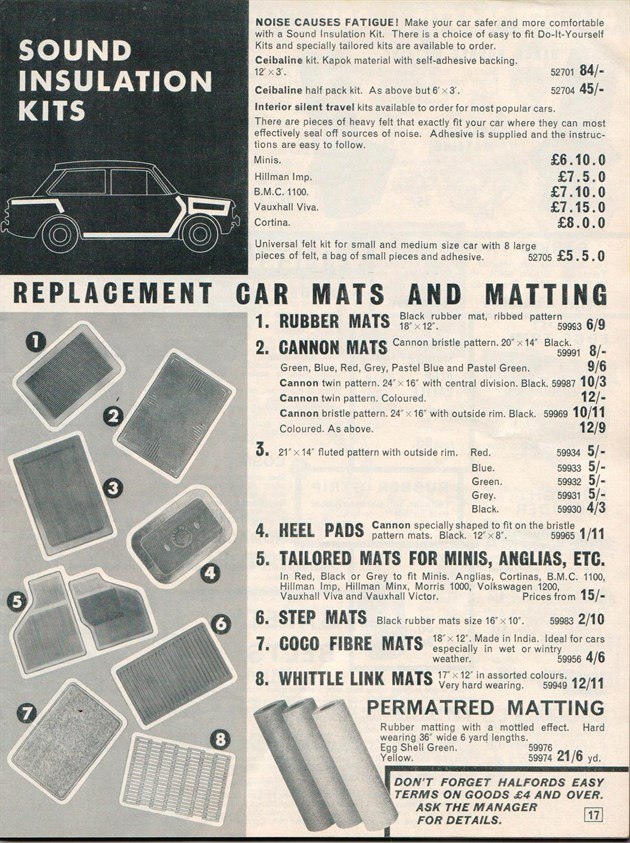 There's more devices for tacling noise and ratting on this page, too. WINDOW WEDGES STOP RATTLE.
Kangol, better known for their hats, shoes etc are making seatbelts here.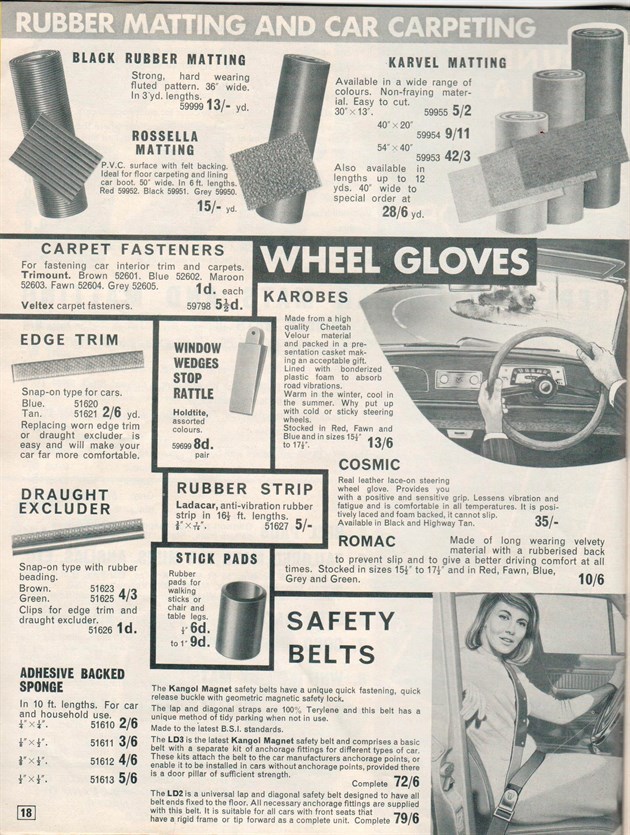 County badges .. when did they stop being a thing?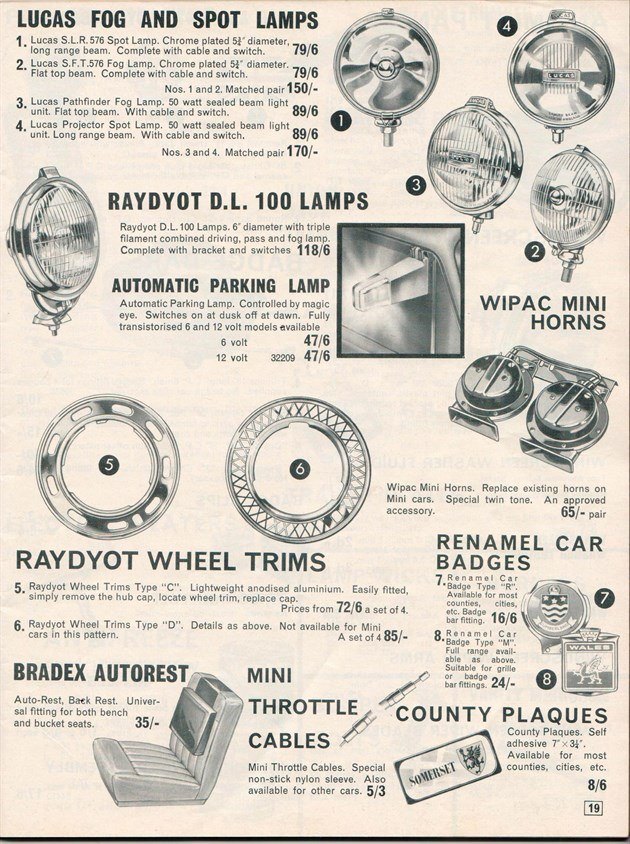 As well as county badges, you don't see many grille badges any more. There's a range of three here in 1965 - but others were available from the AA, or the RAC. Indeed, what better way to remind Mr Morris next door that you, Mr Riley, looked down on him. Repeatedly.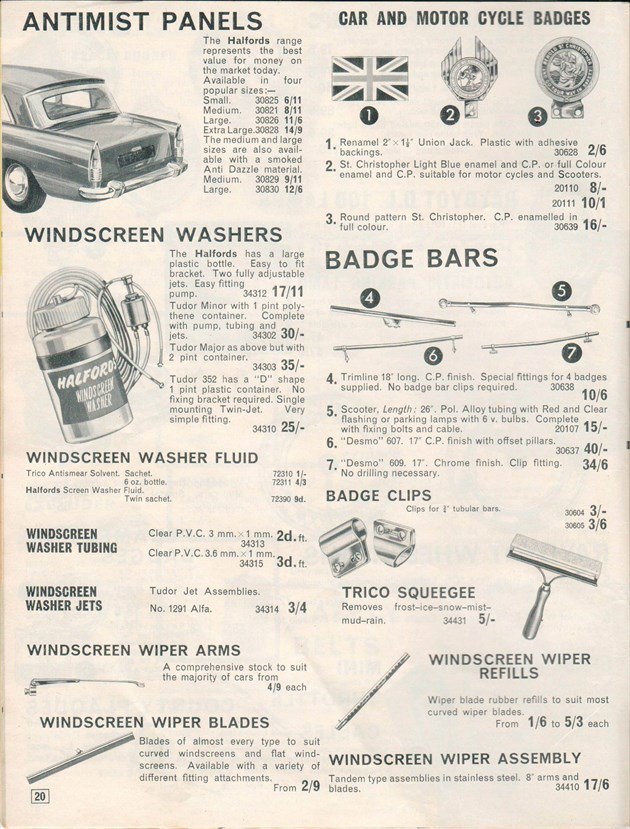 Paraffin heaters. These stem from a time in the 1920s when antifreeze wasn't available. Dad always used to tell stories about his father draining the radiator of his Austin 7 every night in the winter. Of course, that was before they had Made in Chelsea or the internet.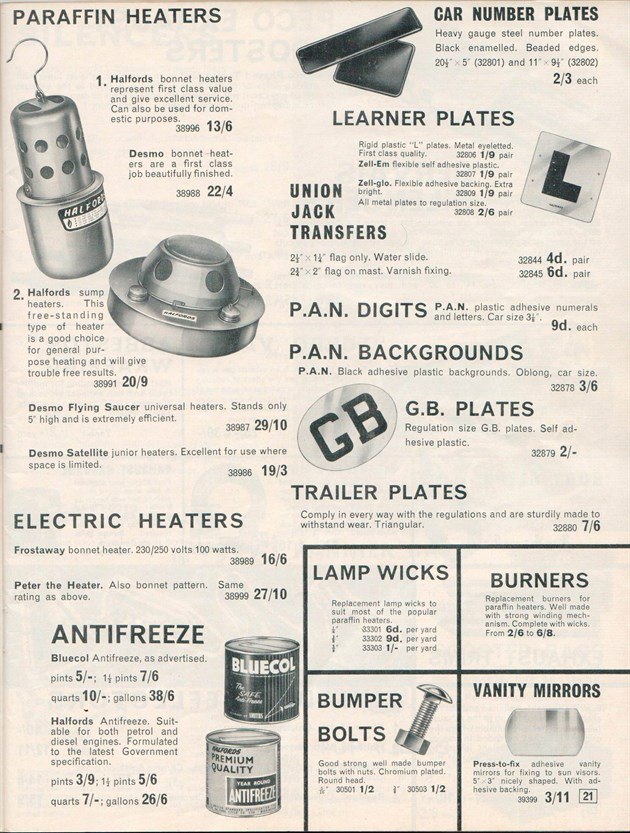 Exhausts and silencers are still very similar to what was on sale more than 50 years later. More to the point, they are still the best way to annoy your neighbours - apart from shouting profusely at your Triumph 1500 because it won't start (again).  
But while exahusts and silencers still prove popular with 'the kids', asbestos wrapping is something you definitely, definitely can't but anymore. It's health and safety gone mad, I tell you.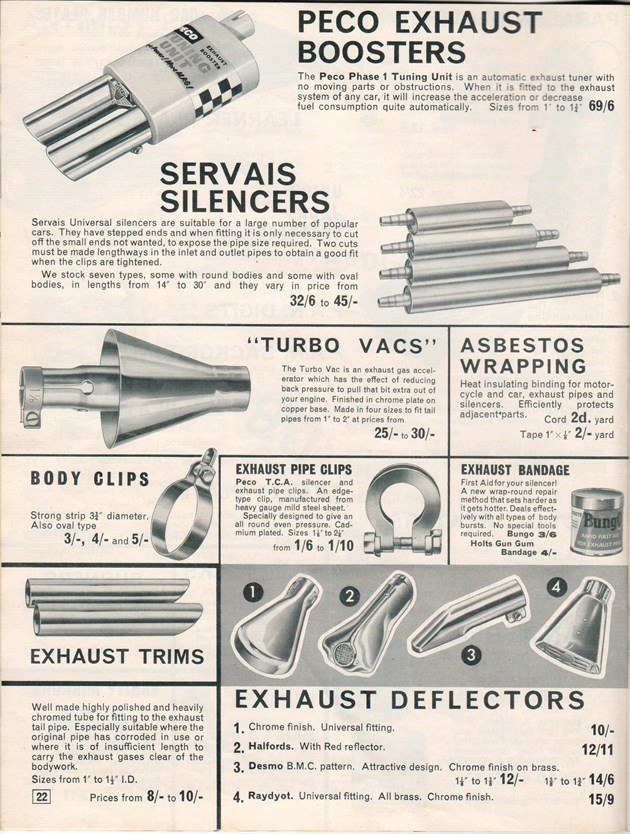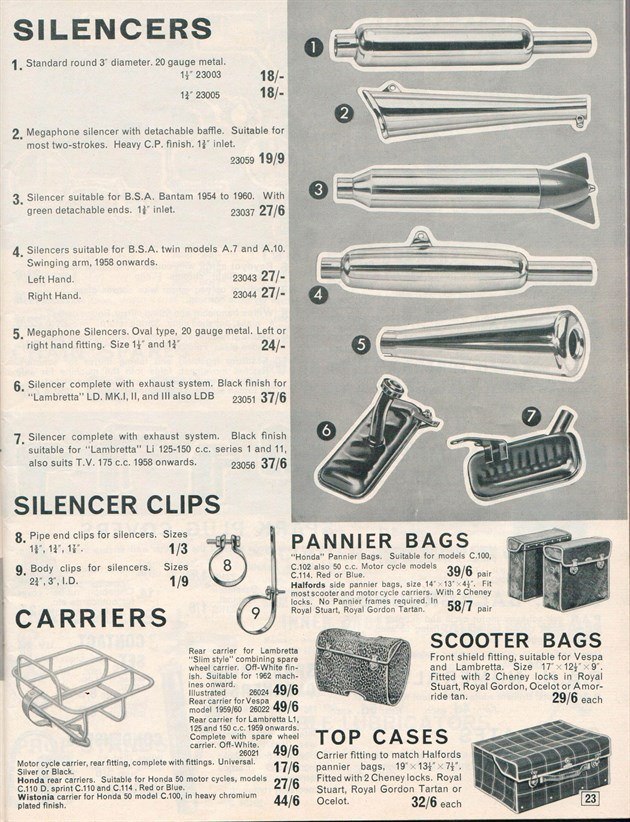 Here we come to Halfords attempt to cater for owners of something with two wheels - motorized and pedal powered. Skip to the end...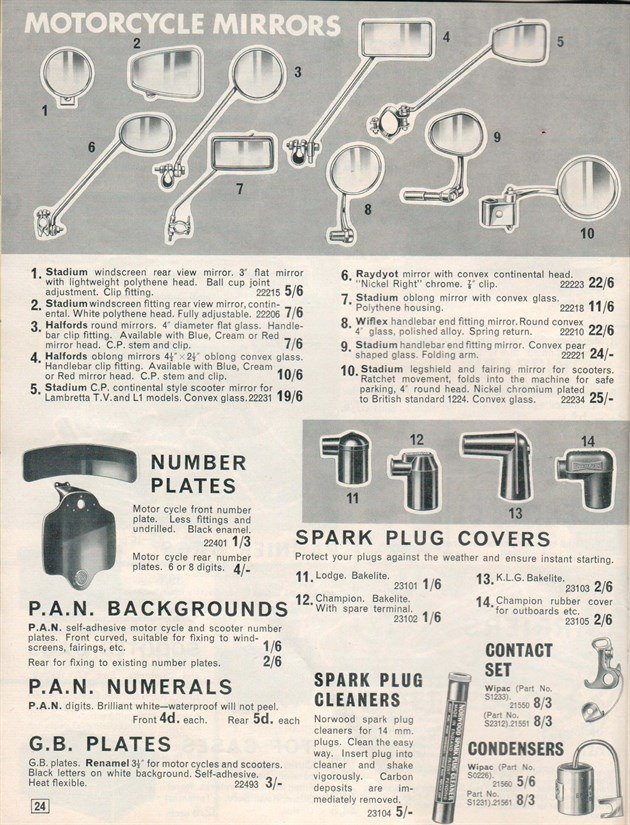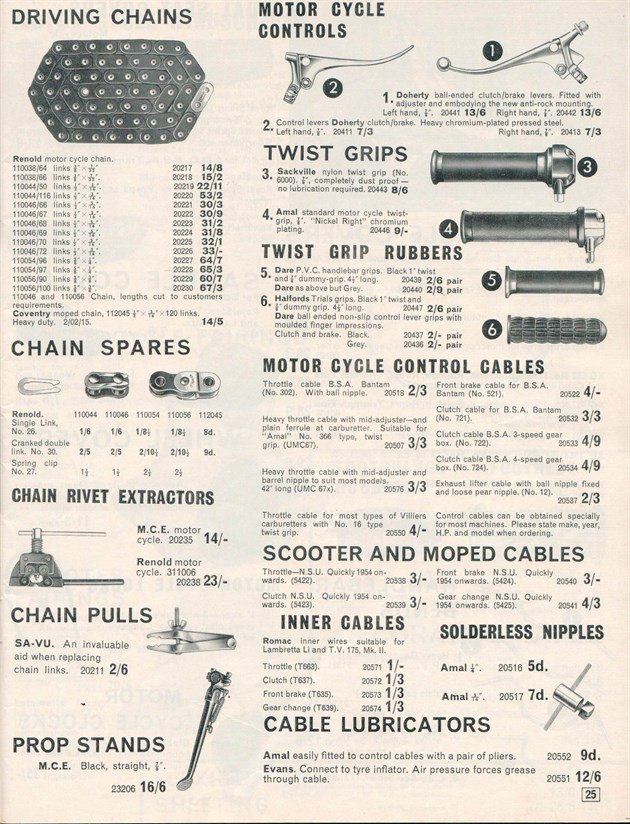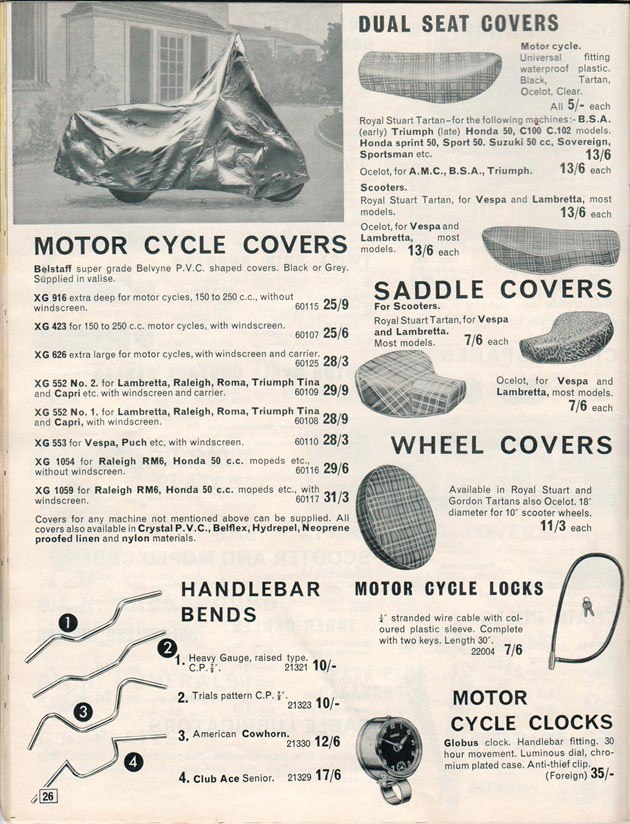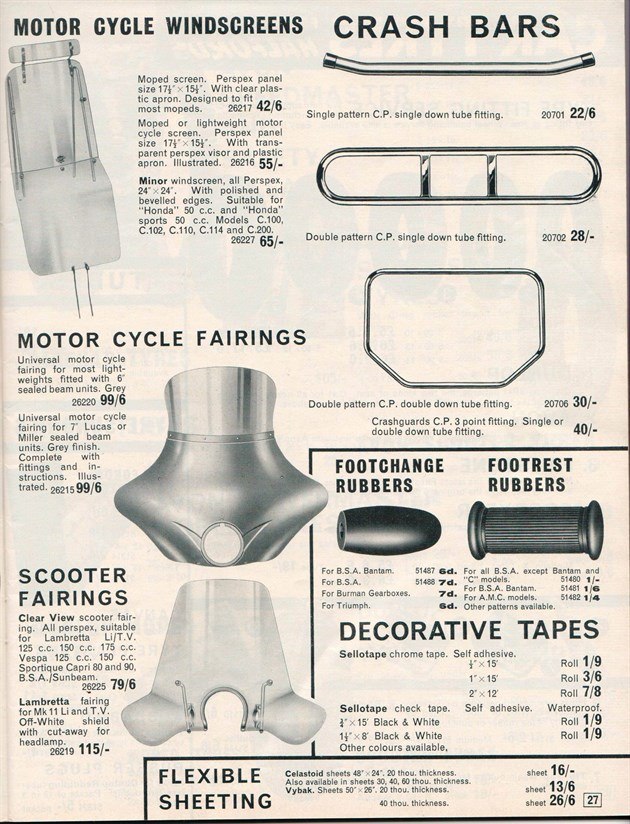 'Now with 38% more grip' says the advert for a set of Avons. What the advert doesn't say is that it's still basically 100% less grip than a set of radials in the rain.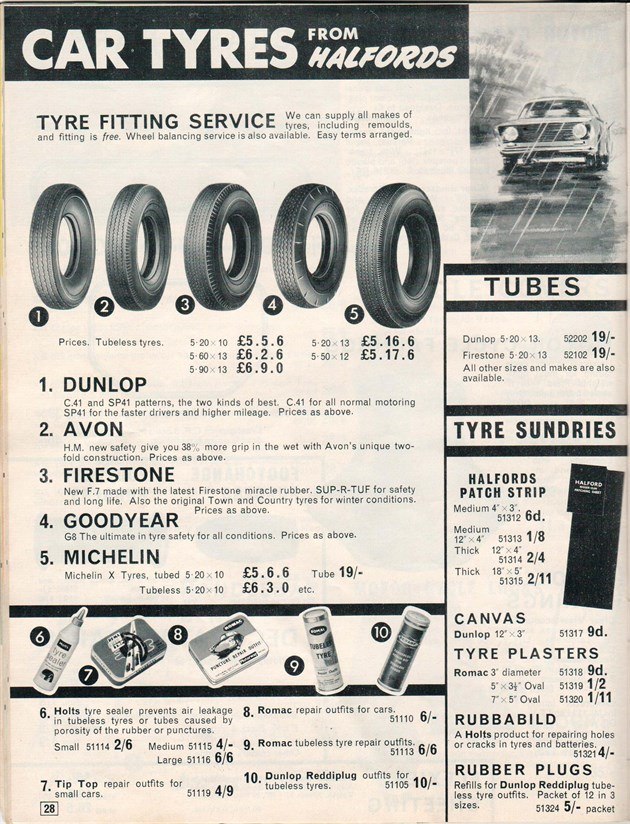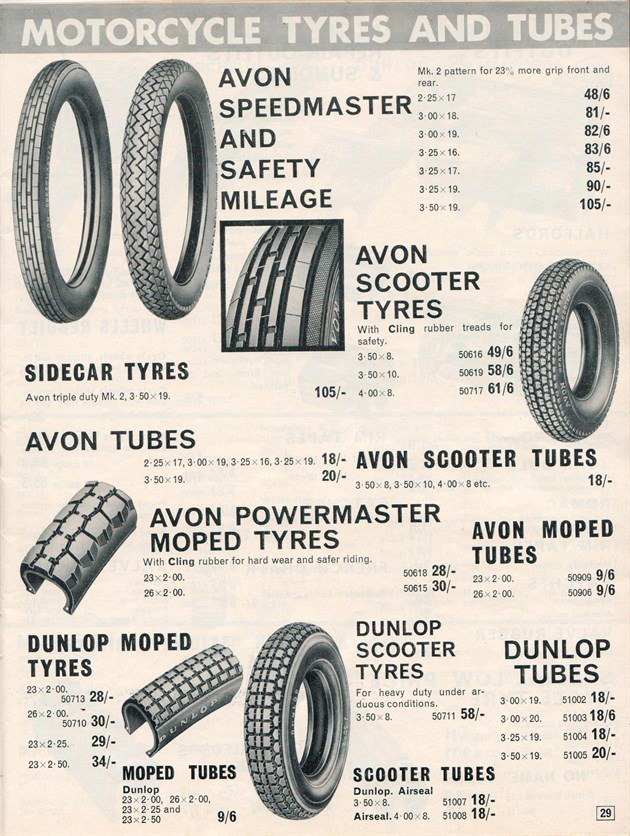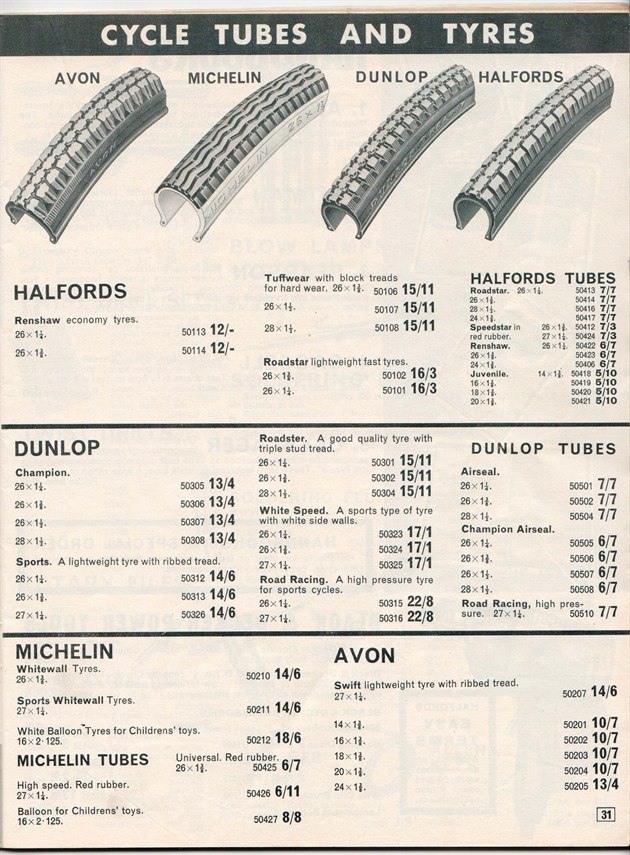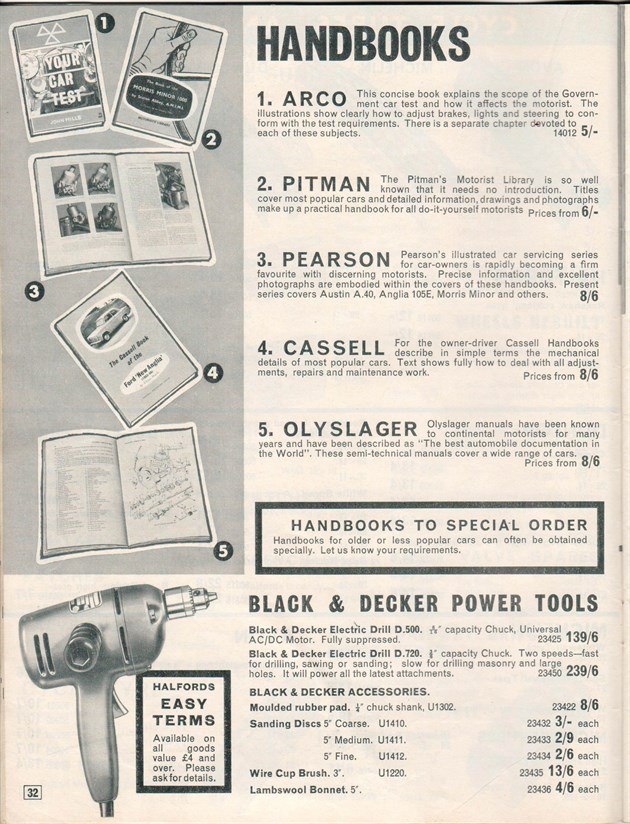 Tools! Now you're talking. Dad could spend hours leafing through this section of the catalogue. Just imagine how much time you'd save by using the right tool for the job? And remember - less time on the car means more time at the bar.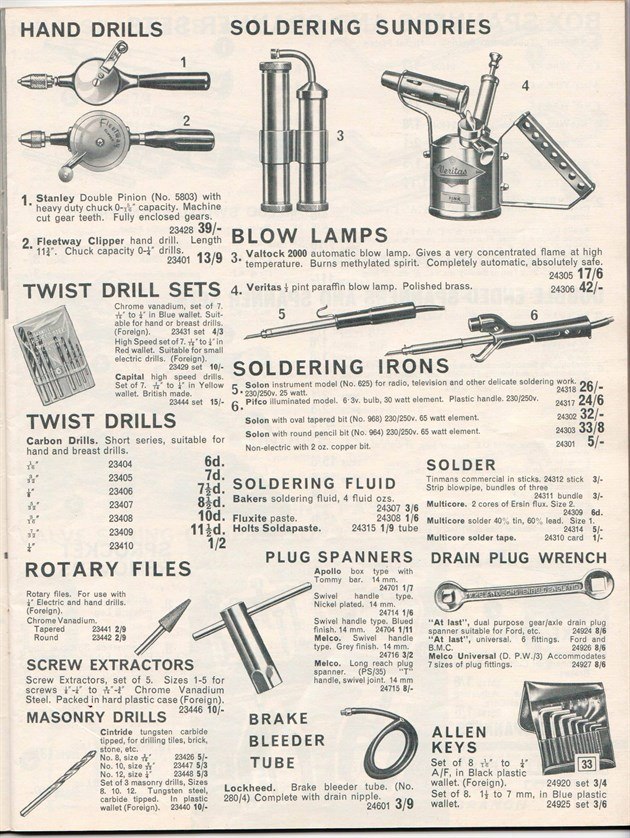 Spring compressors, grinding paste, grinding tools... heaven. That engine won't rebuild itself (after 10,000 miles) you know.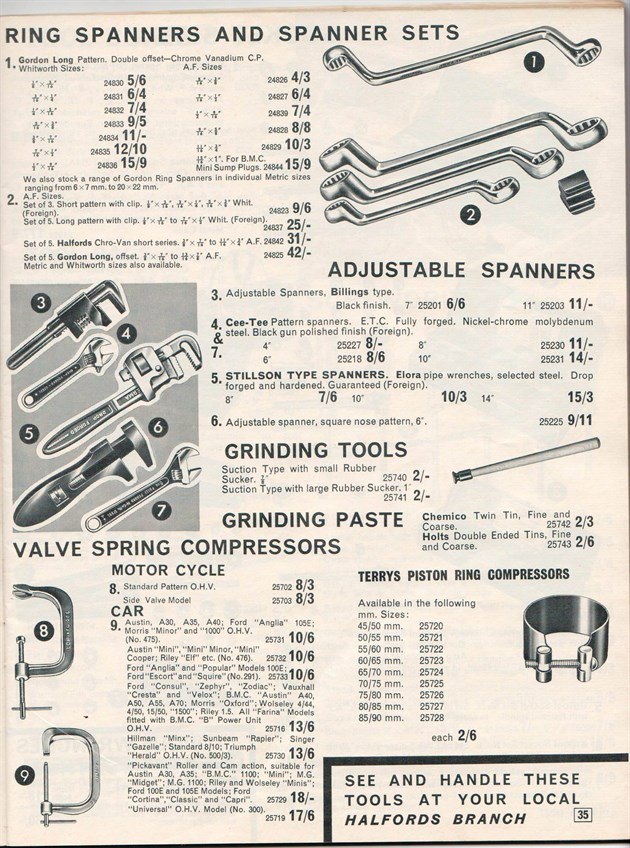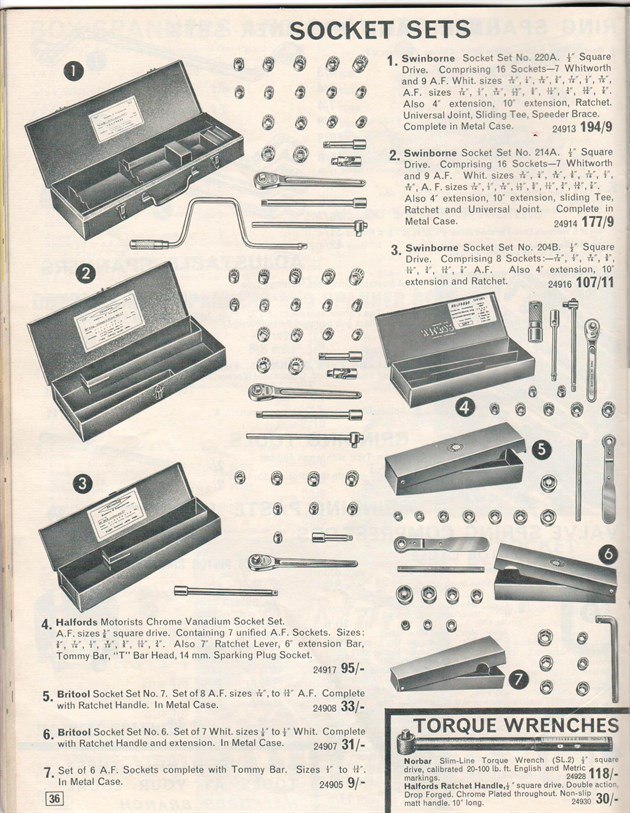 Are you sure you can call a file that in a family catalogue?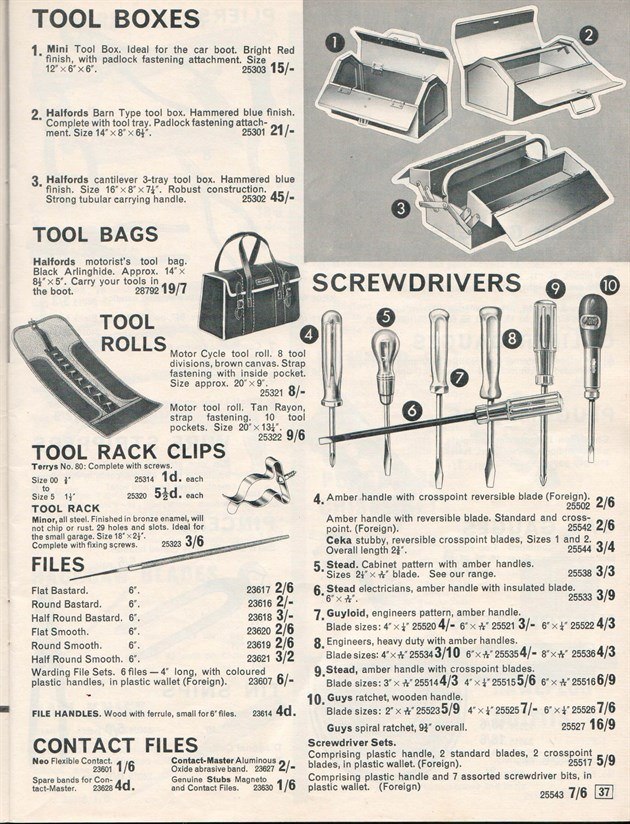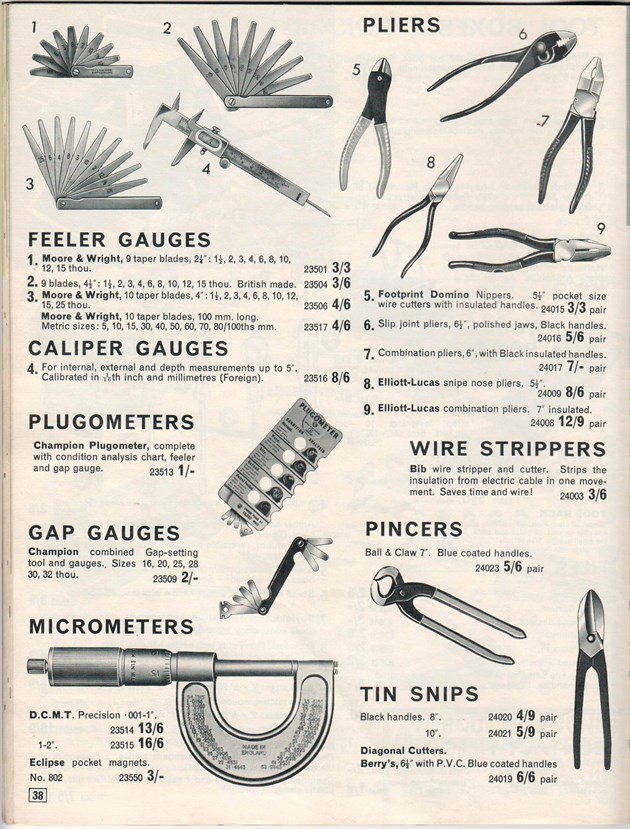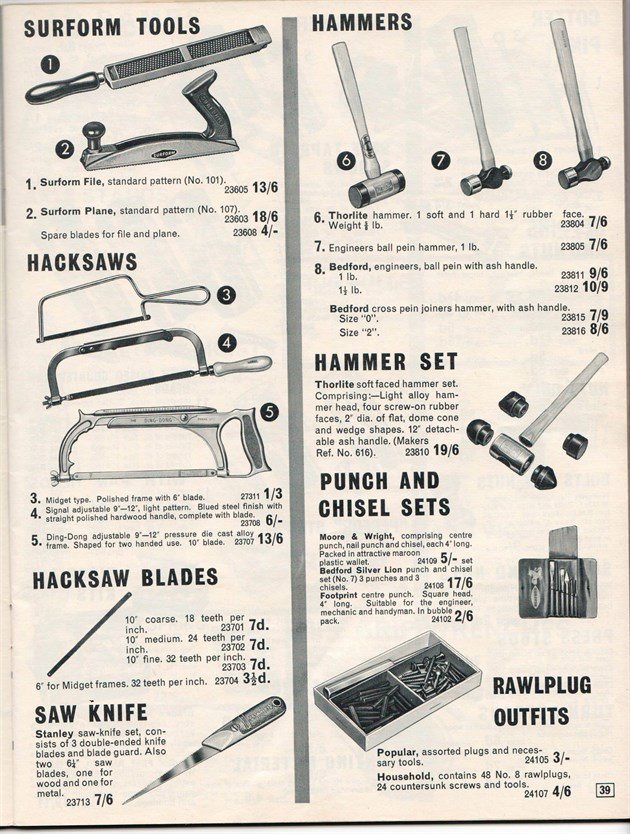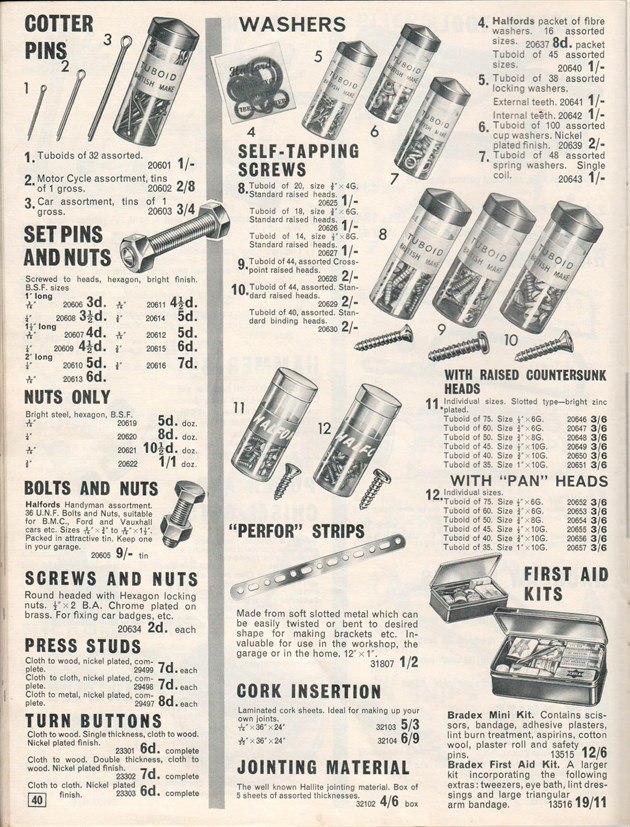 Mum's least favourite part of the catalogue. The look of sheer horror on her face when Dad calmy suggested we a set of ramps to make fettling on the driveway easier. It wasn't the though of an ill-secured motor coming off the ramp and doing us an injury that worried her, no - it was how she'd explain this to our curtain-twitching neighbour over the road.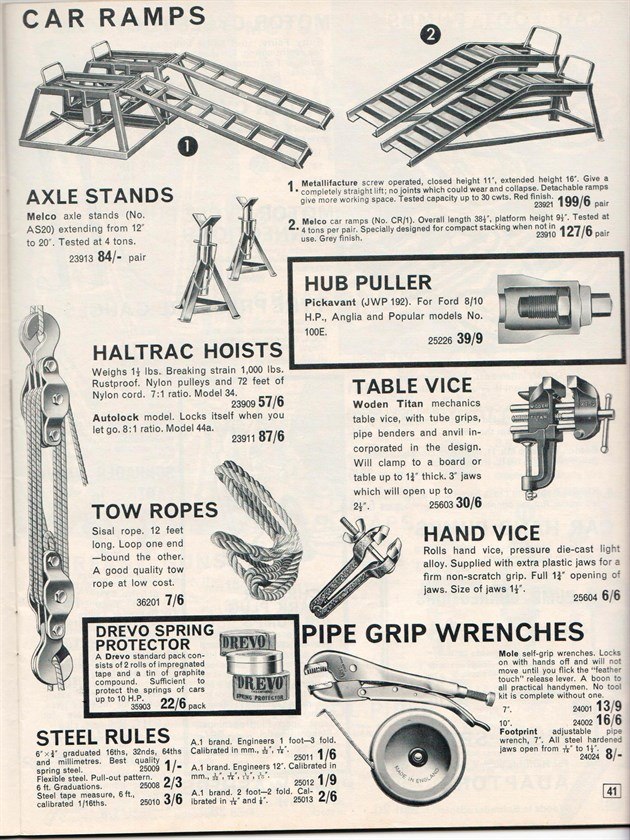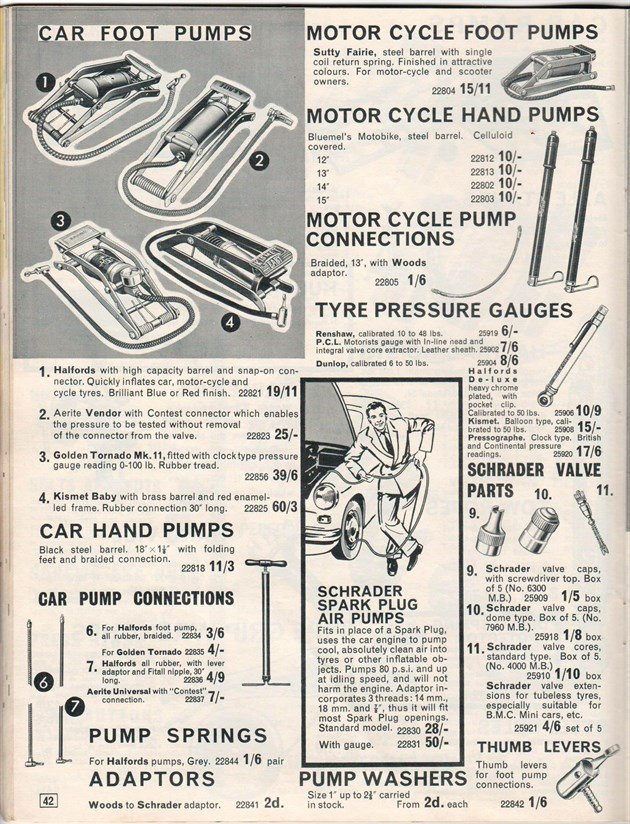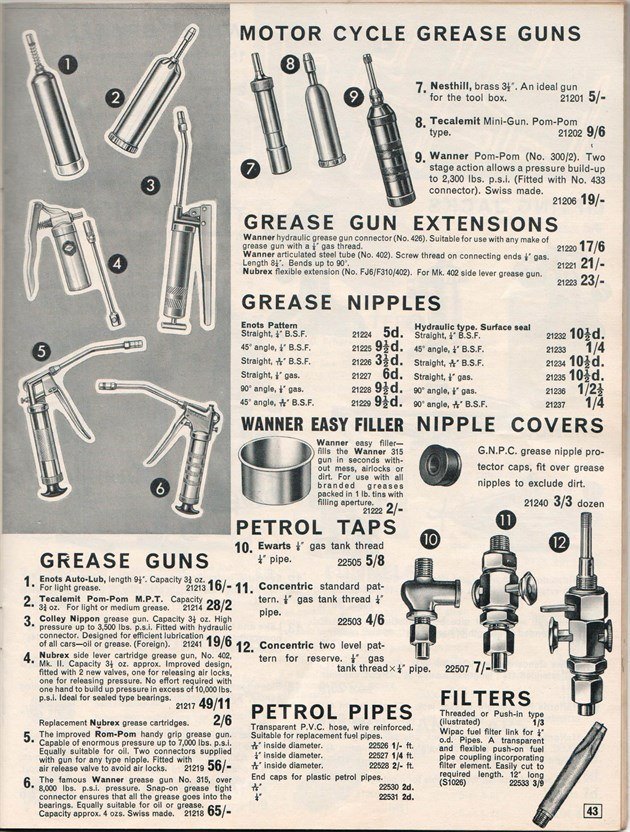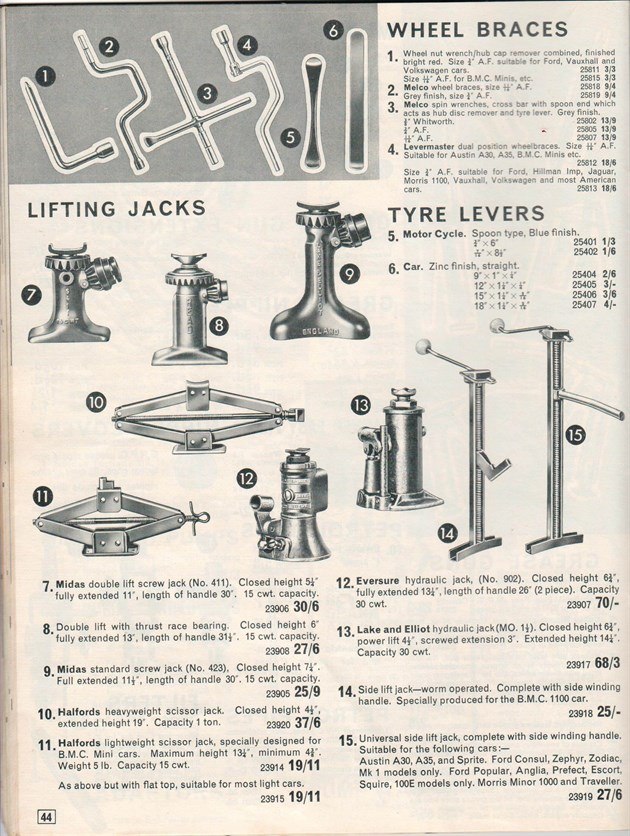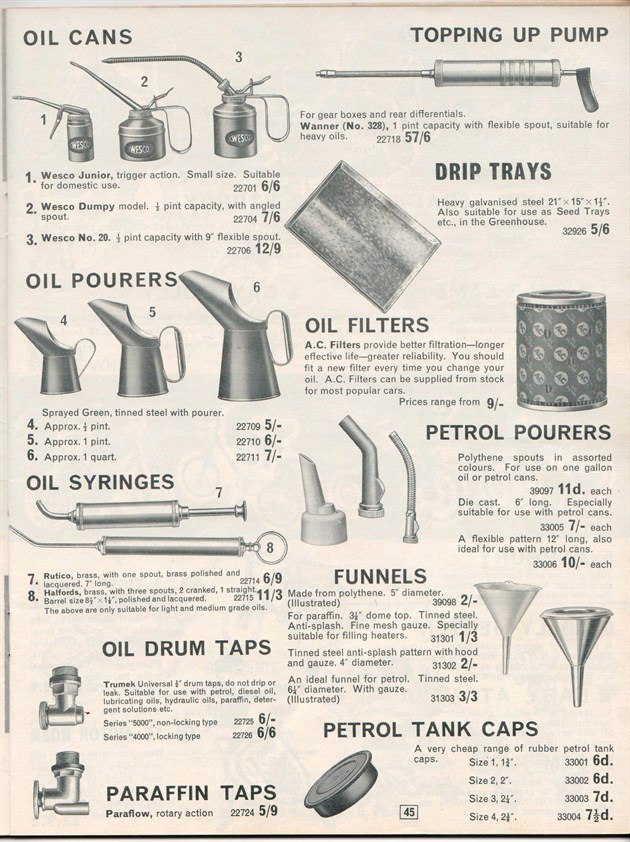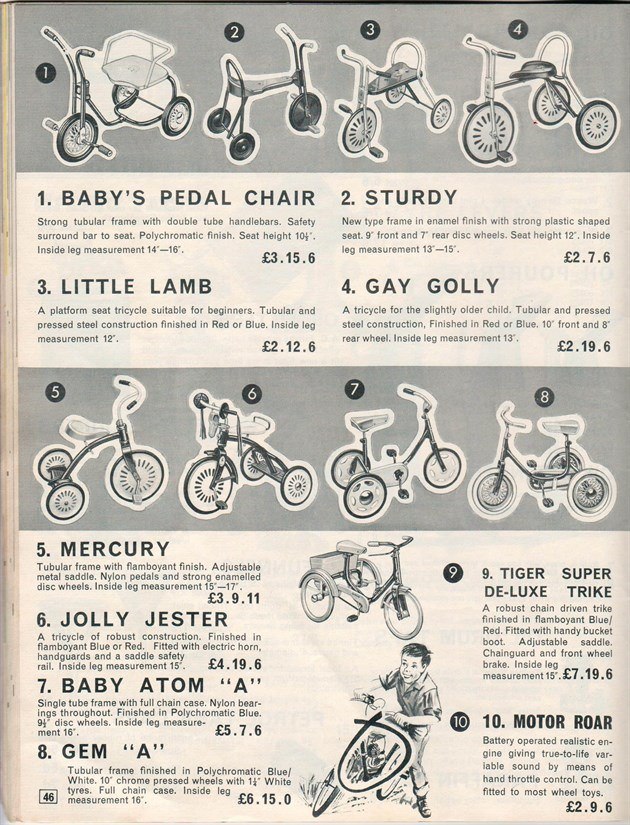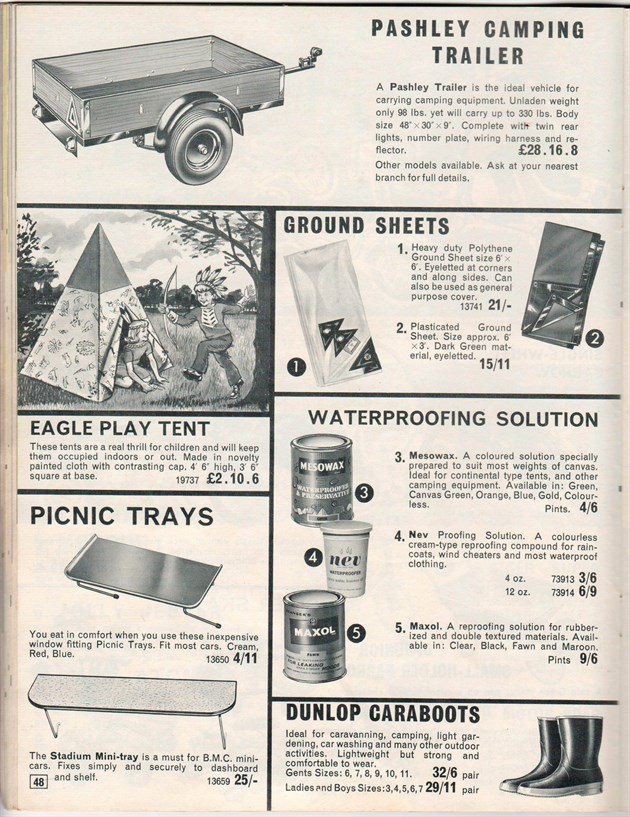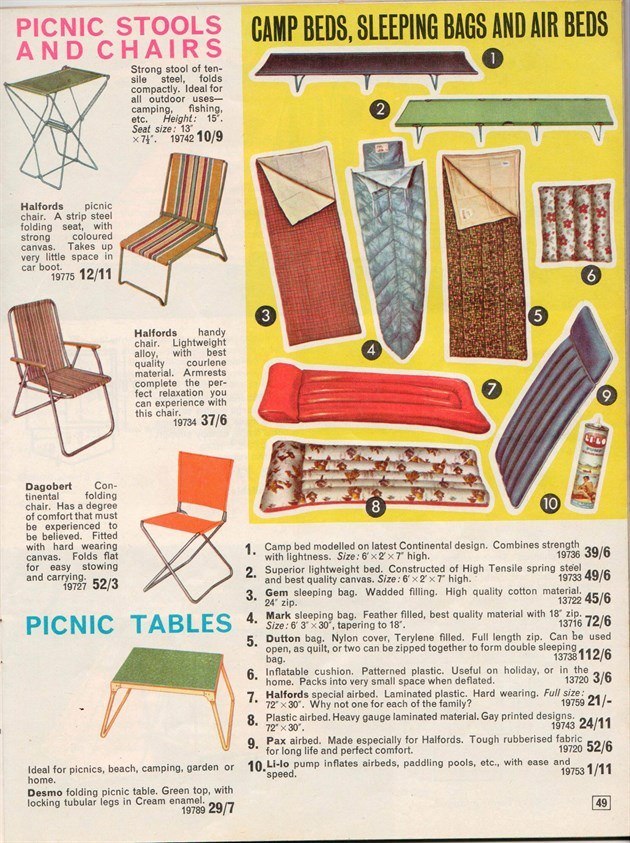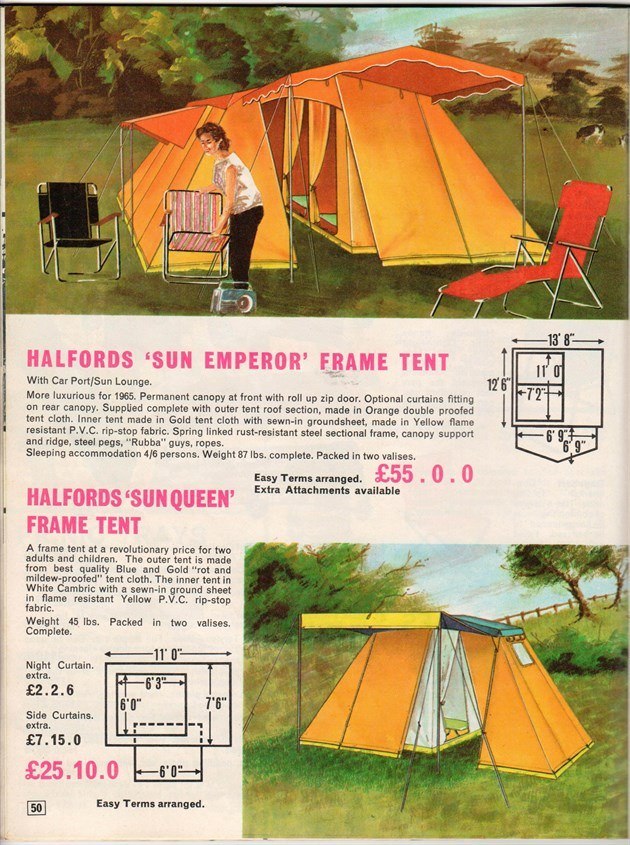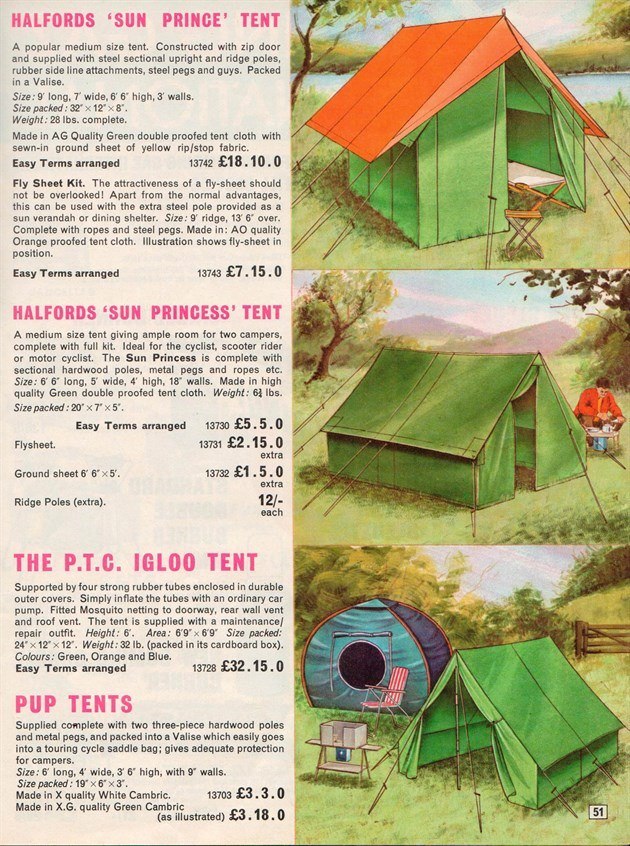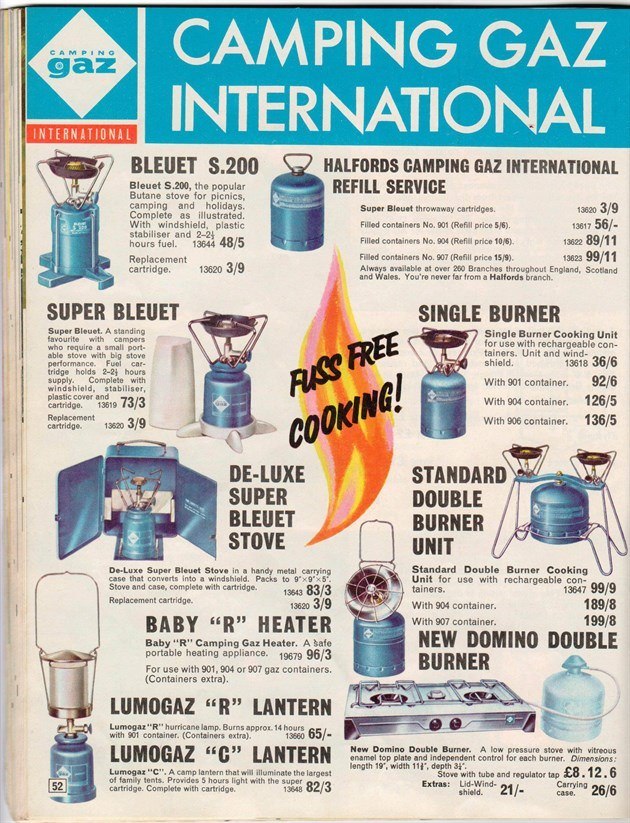 Why was the Wasp Kettle Set cancelled? I guess we'll never know.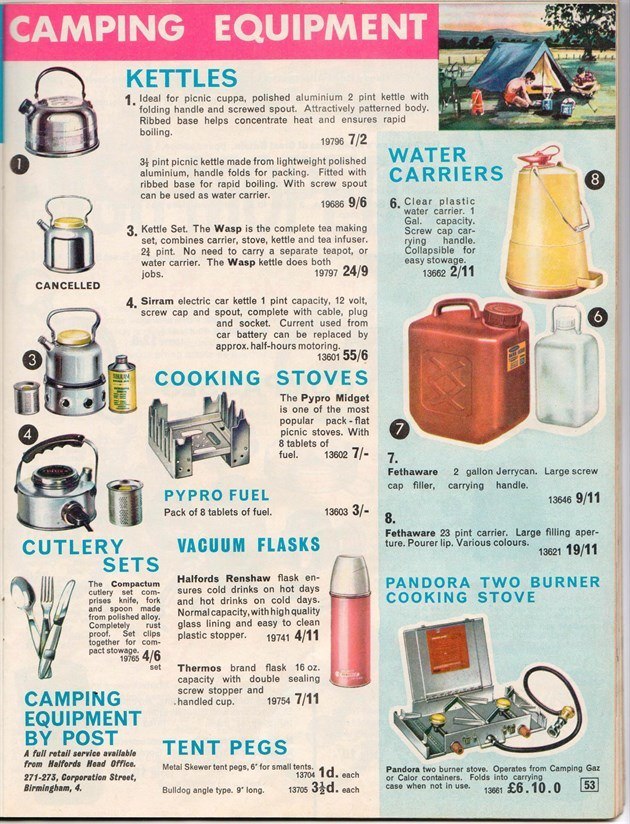 Ah, the sat nav section.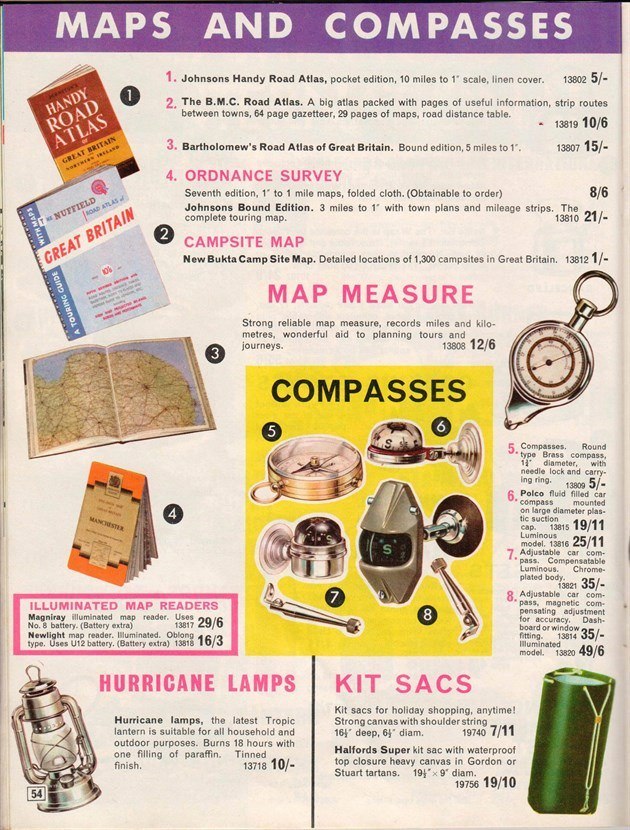 More gorgeous illustrations that could have come straight out of Mad Men. This time for NSU Mopeds - a name long since gone.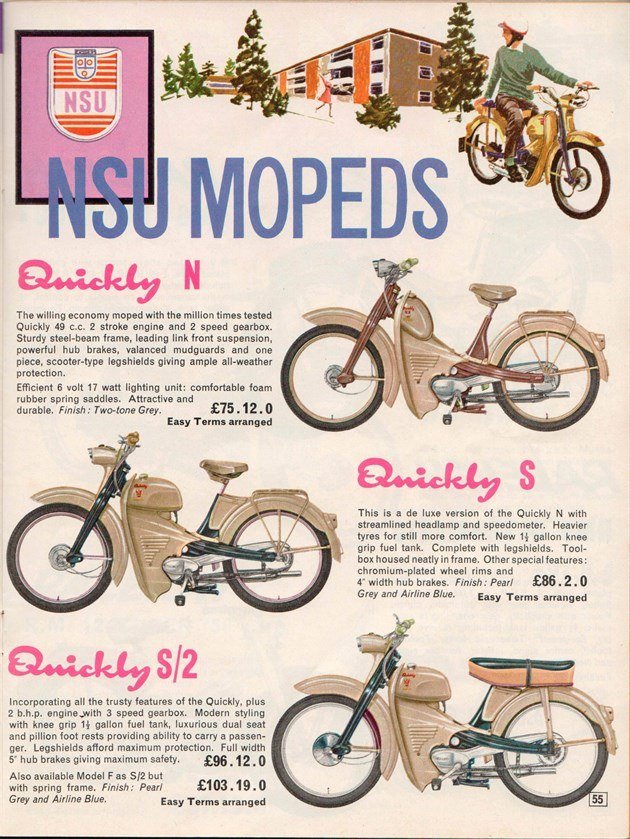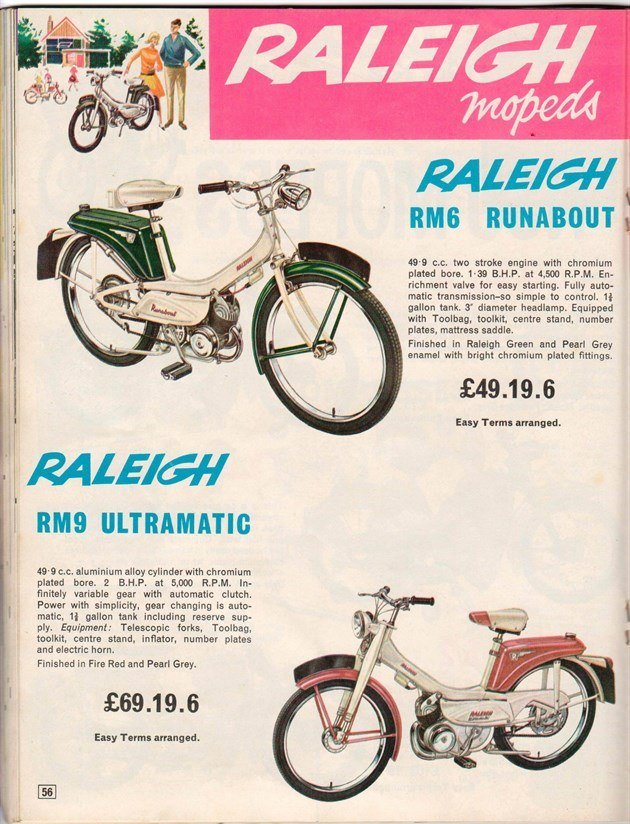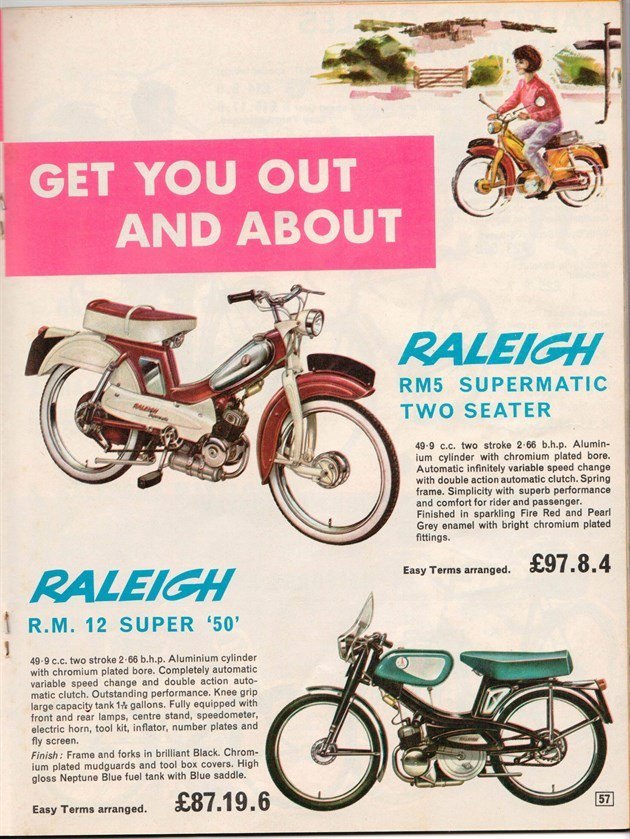 While the petrol-powered Raleigh bikes may no longer be available, the rest of the colour cycle section has a very familiar look to it...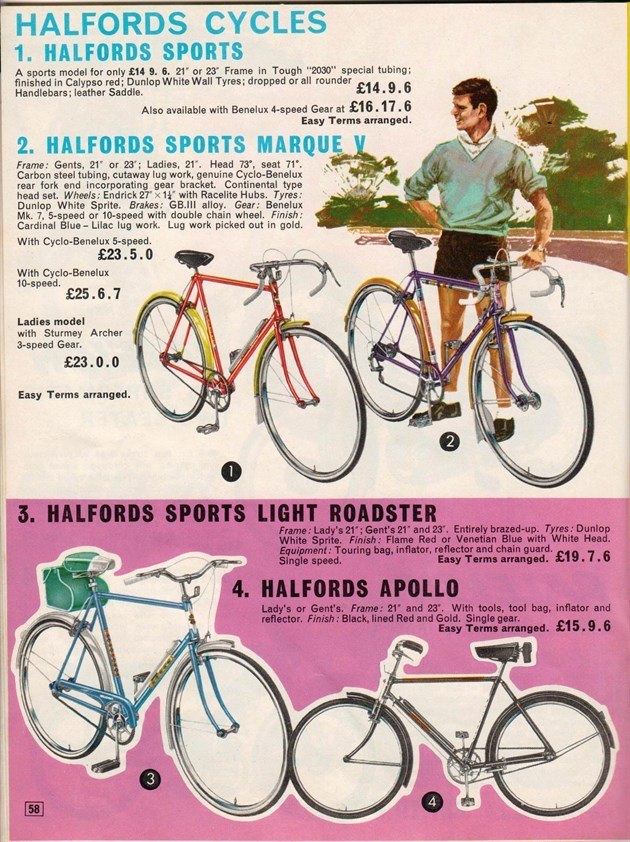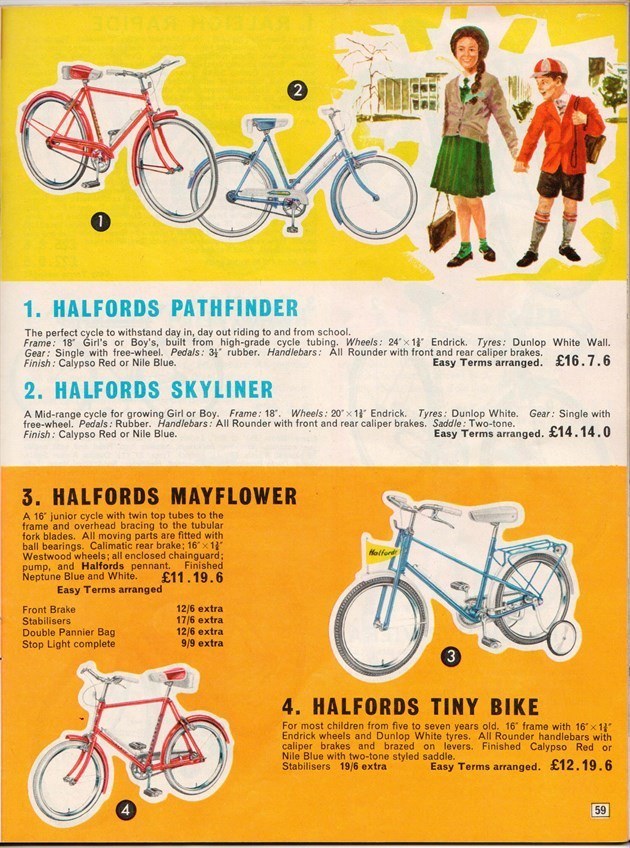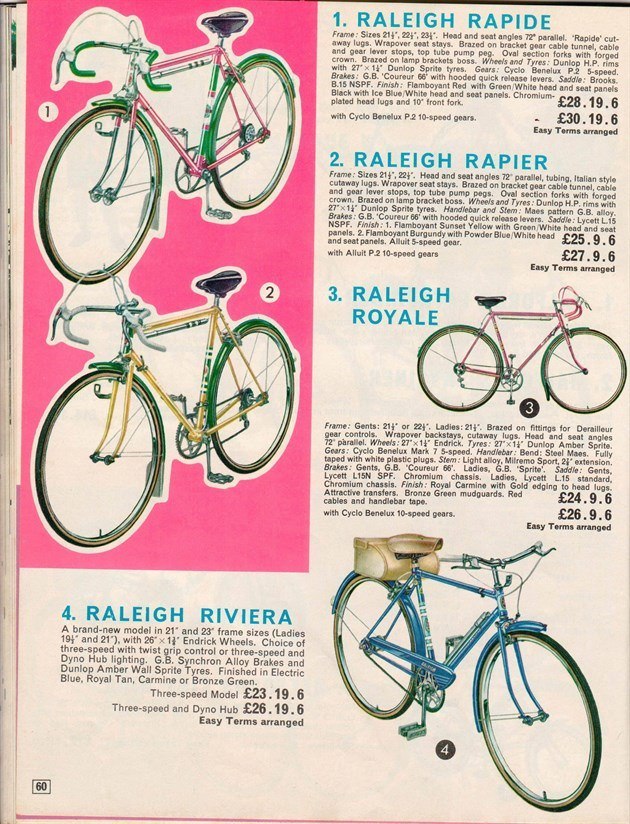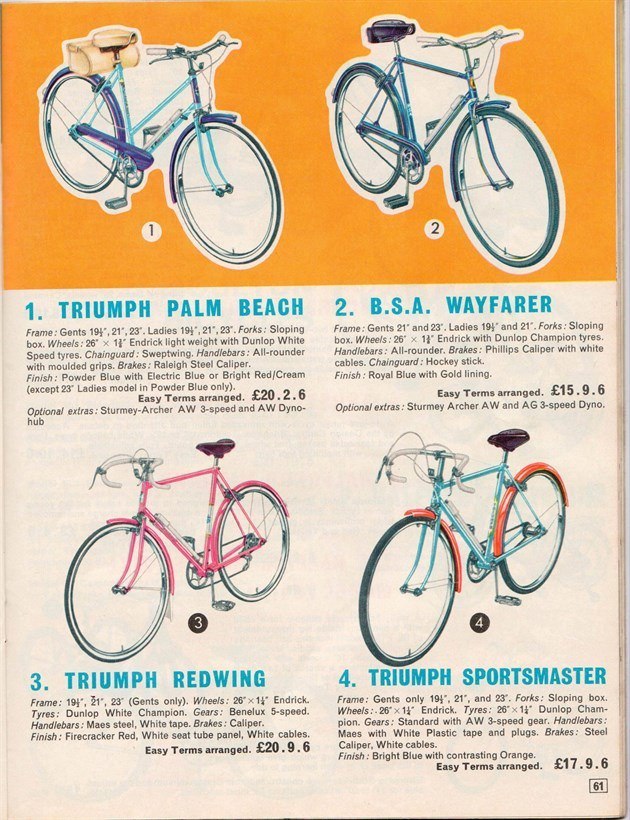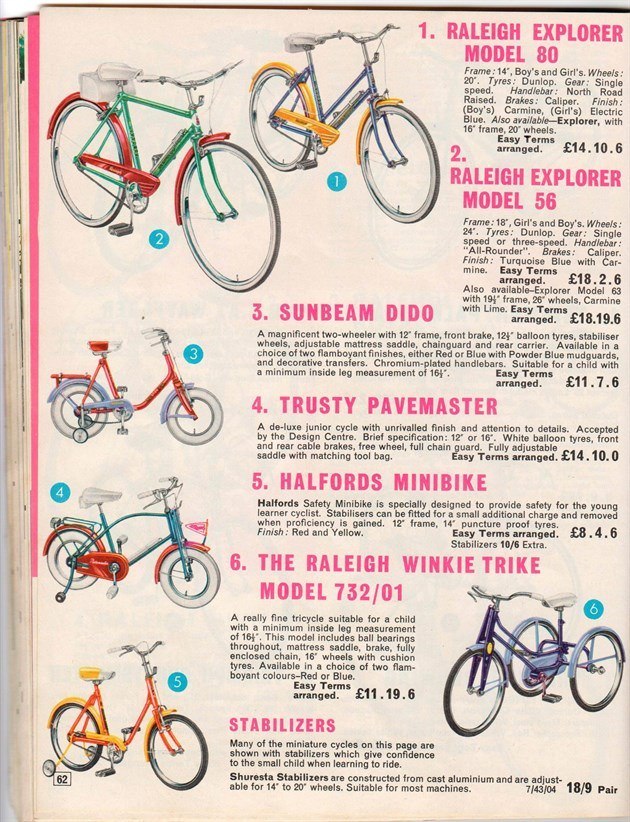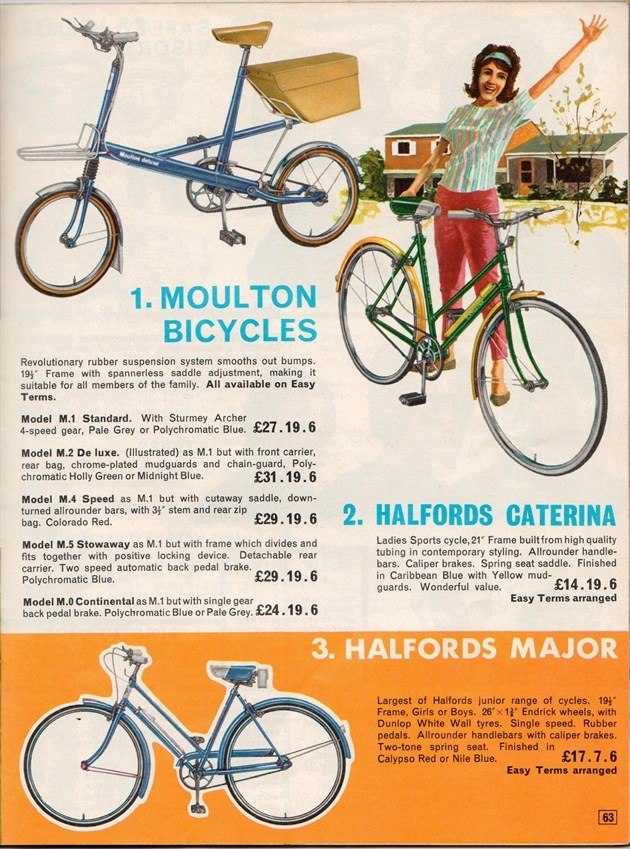 The chap modelling the helmet for item one is thrilled about it.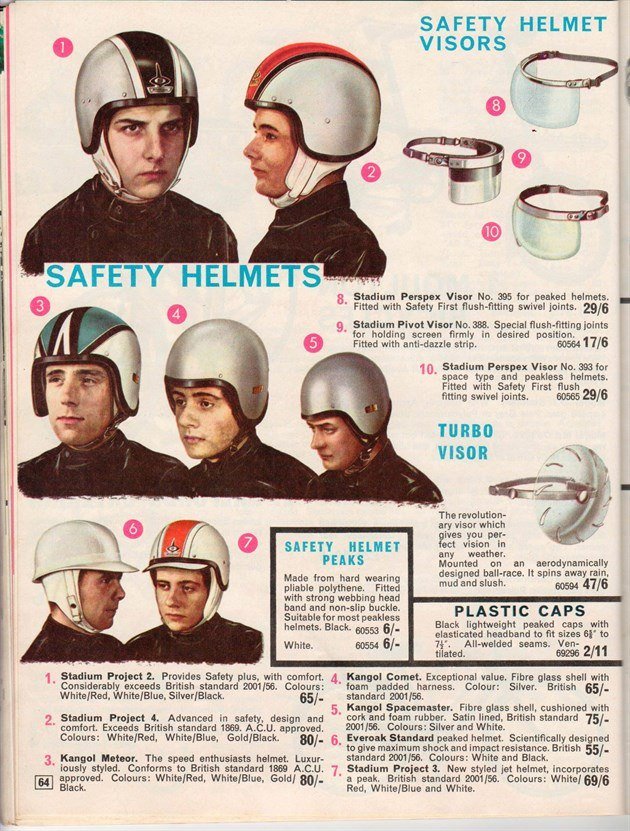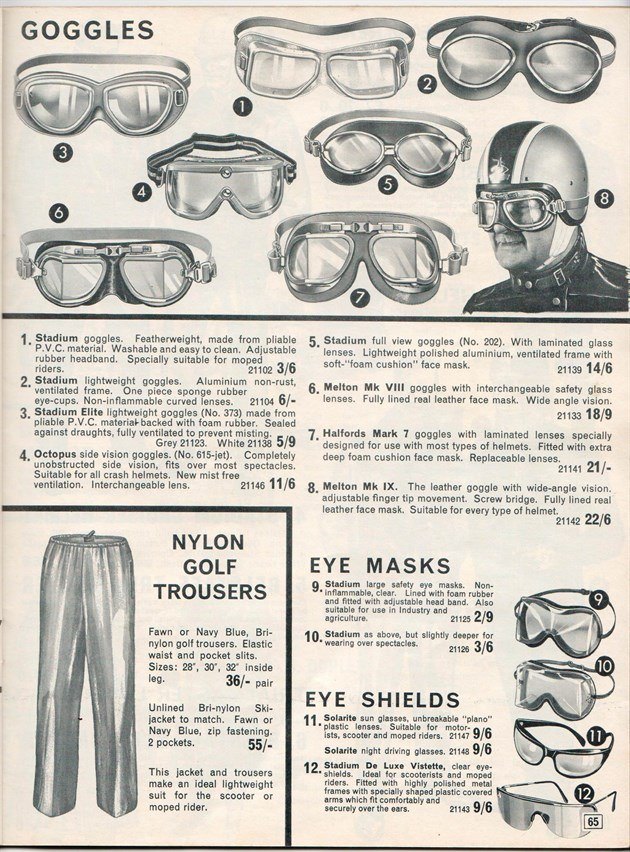 Belstaff has been re-invented as trendy fashion brand in the past decade, but back in 1965 it was producing thick waterproofs for bikers.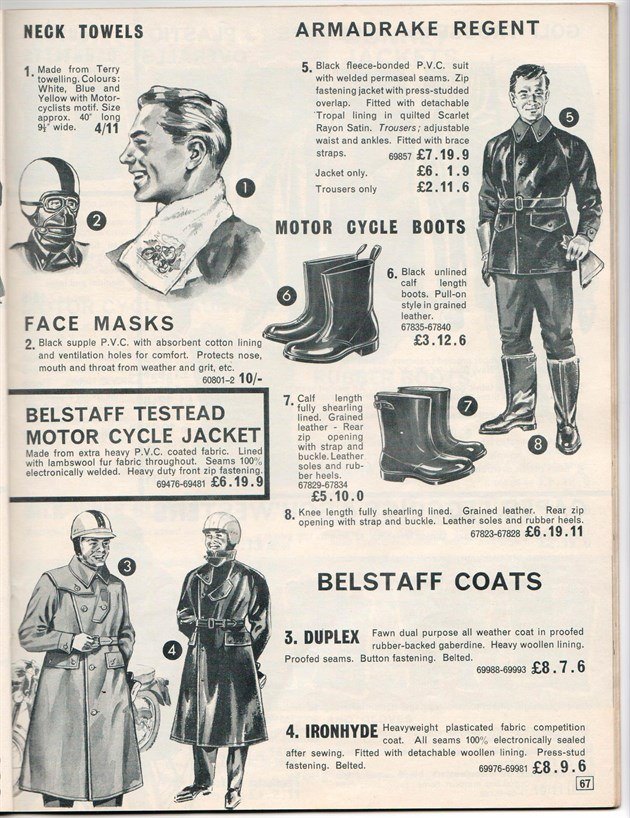 "Dave, you're going to be a model in the 1965 Halfords catalogue".
"Brilliant. Crash helmet? Motorbike leathers? Fixing a car?"
"No, we need someone to look utterly miserable, on a pushbike, wearing a waterproof cape".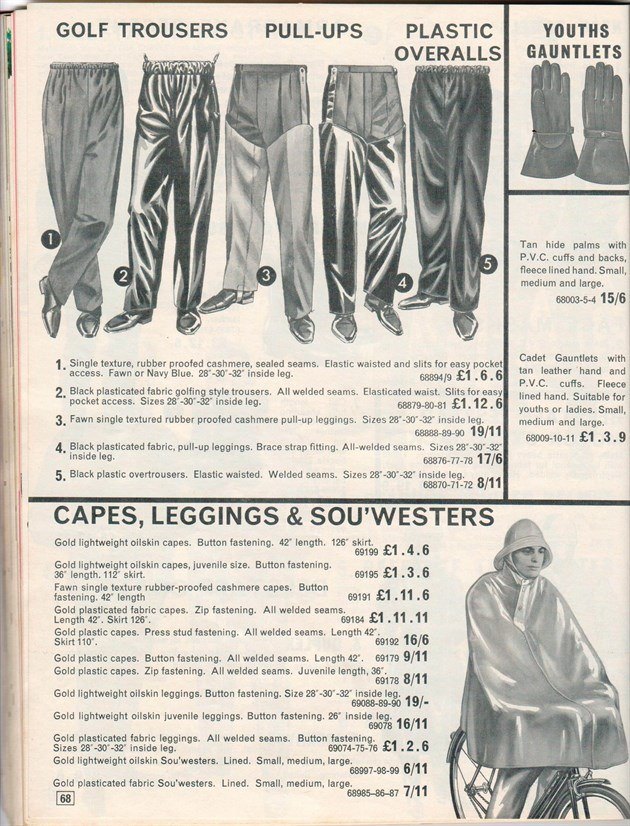 Is it time for a donkey jacket fashion revival? No.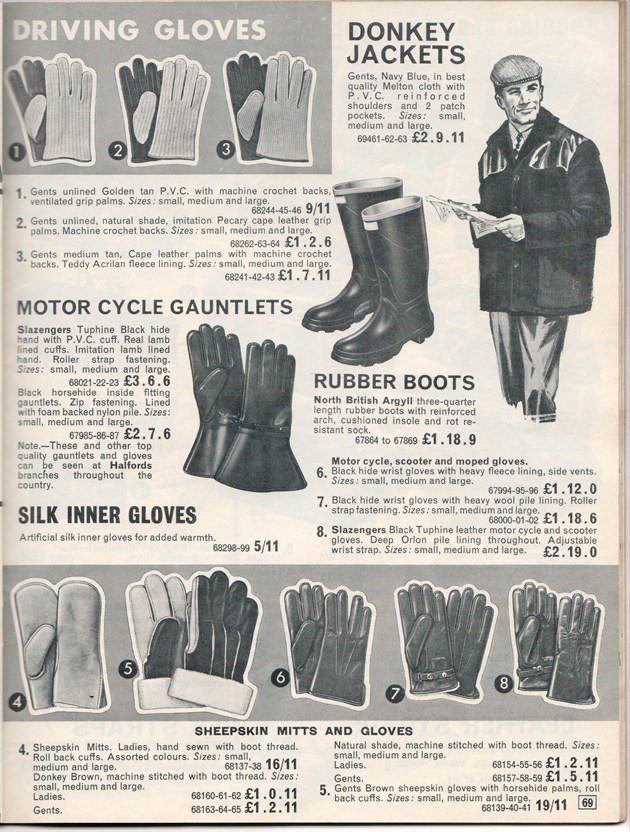 Surely accidents involving tennis raquets and cycling are being talked up here (bottom right).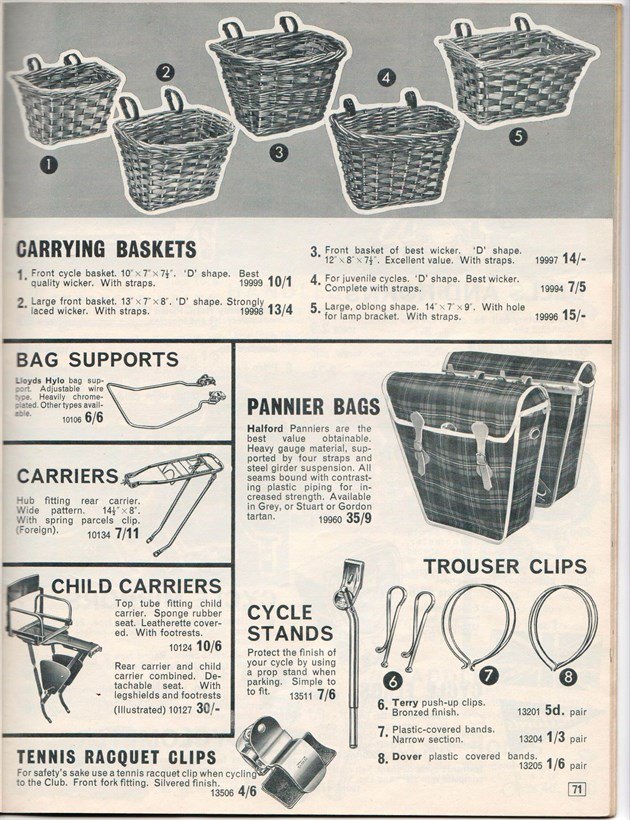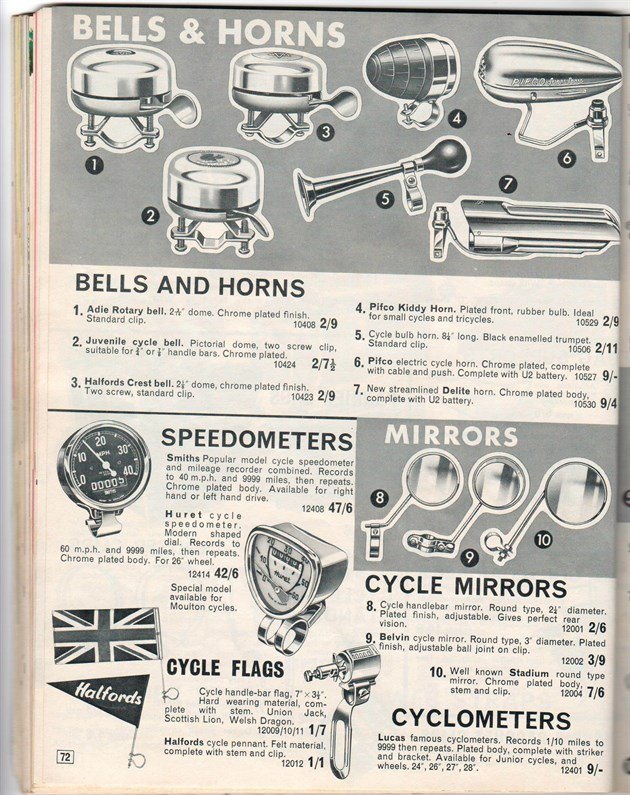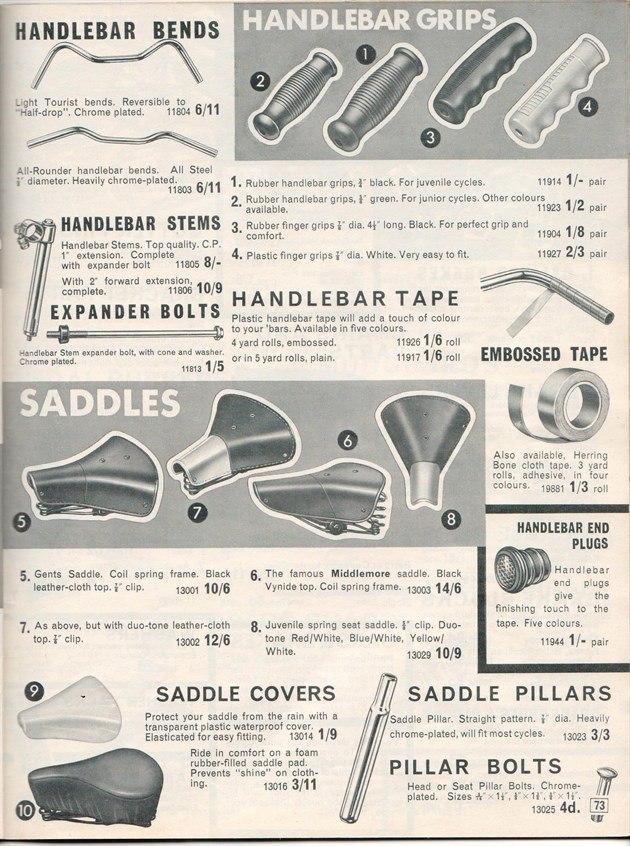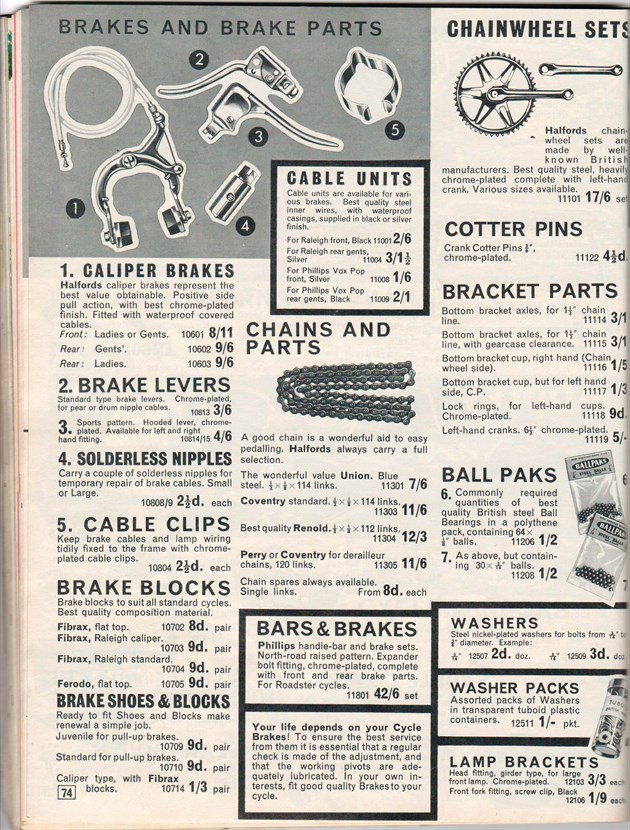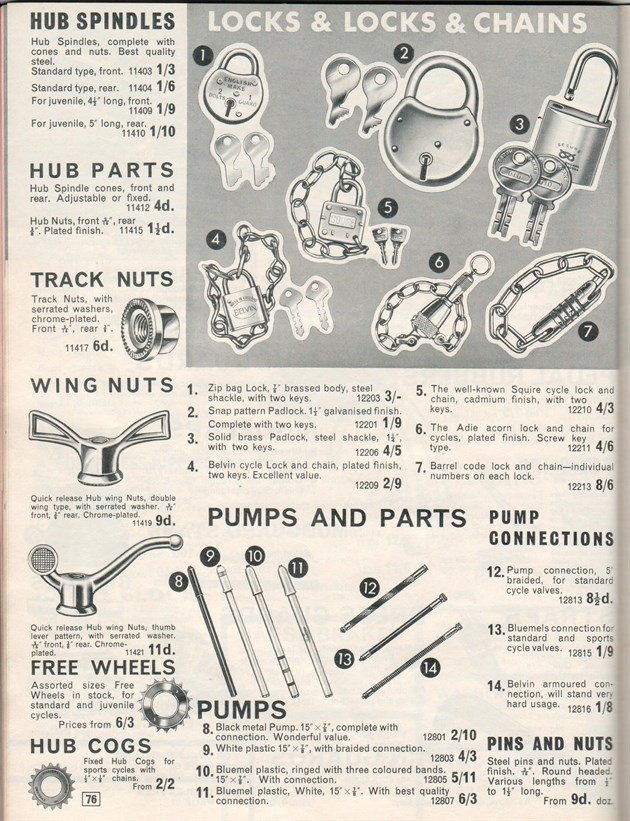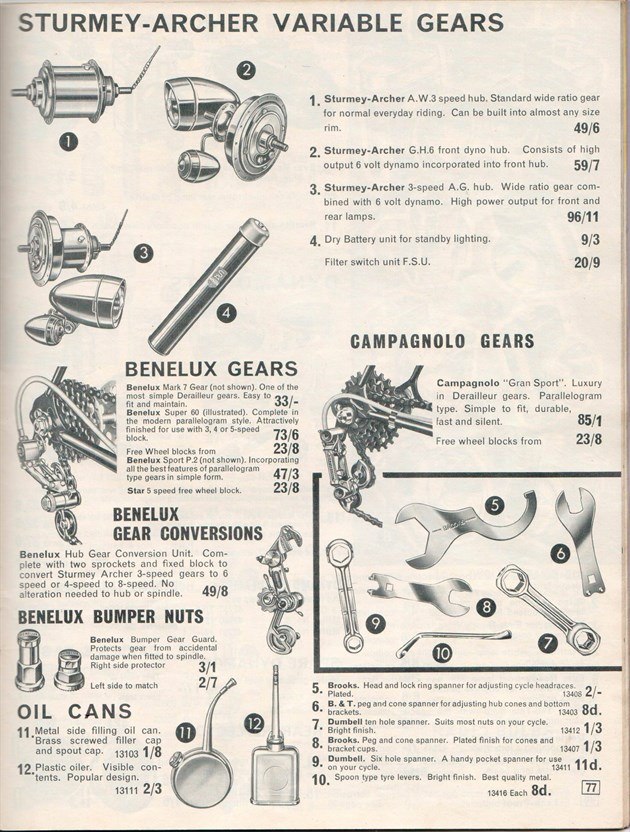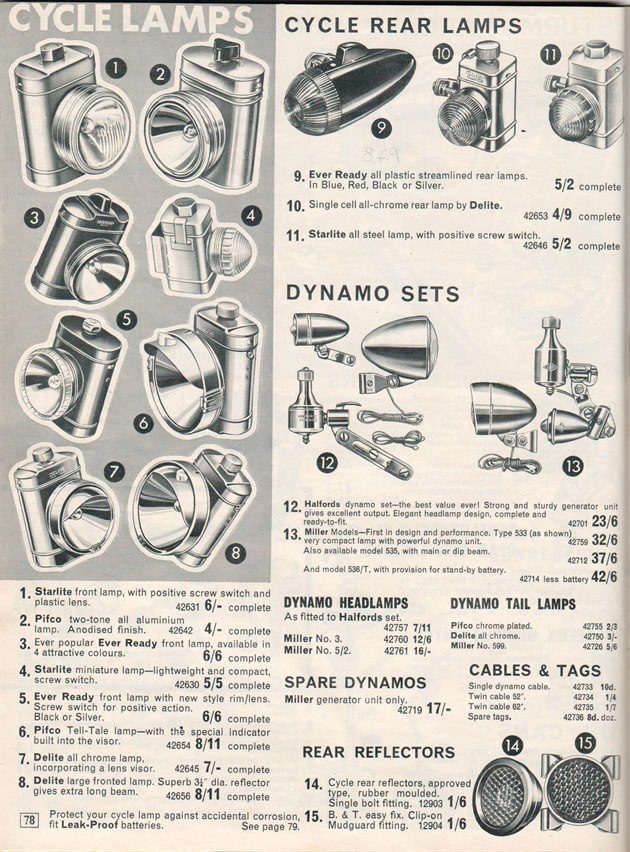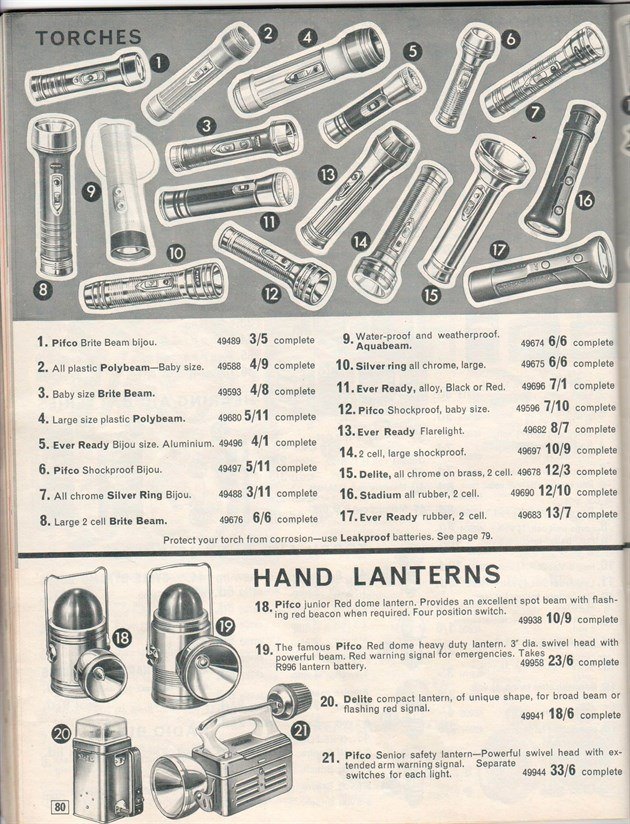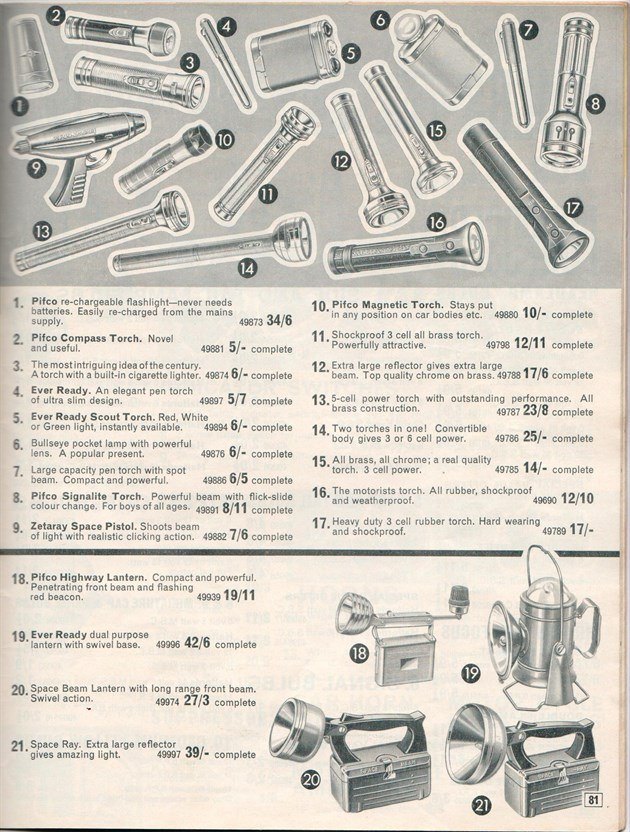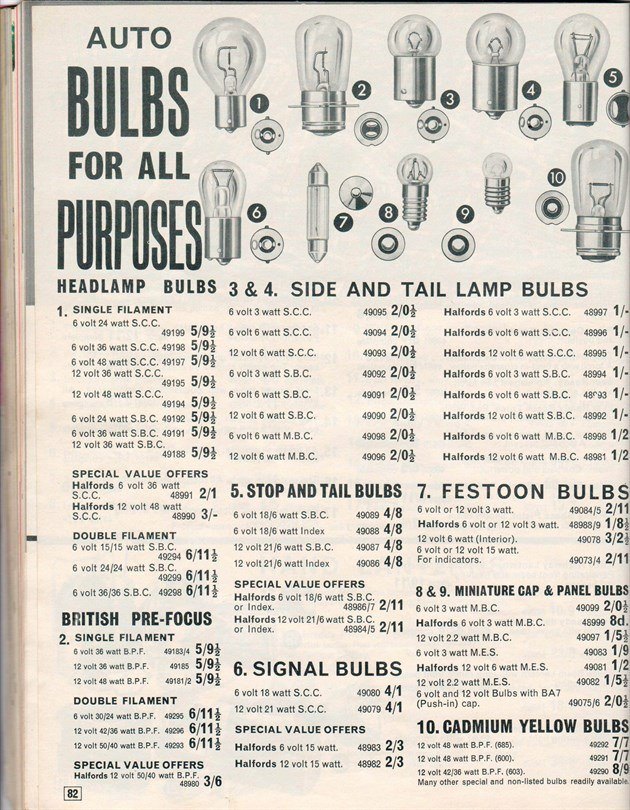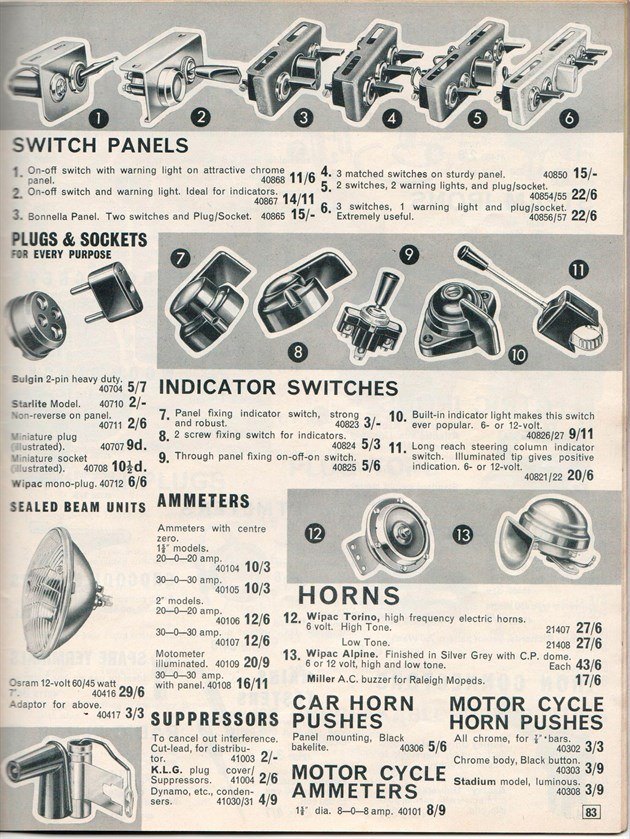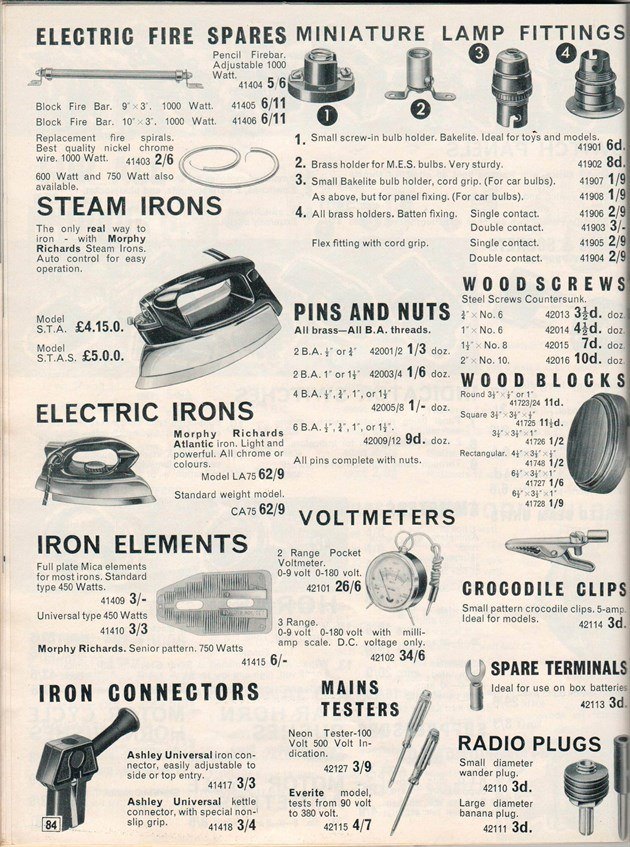 Since 1994 all electricals sold in the UK have to come fitted with a plug. It's a case of DIY in 1965.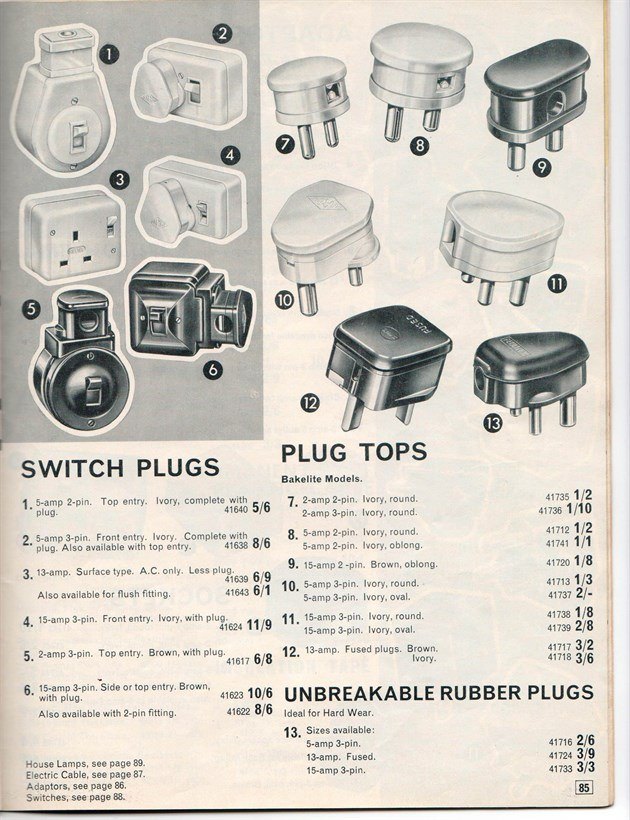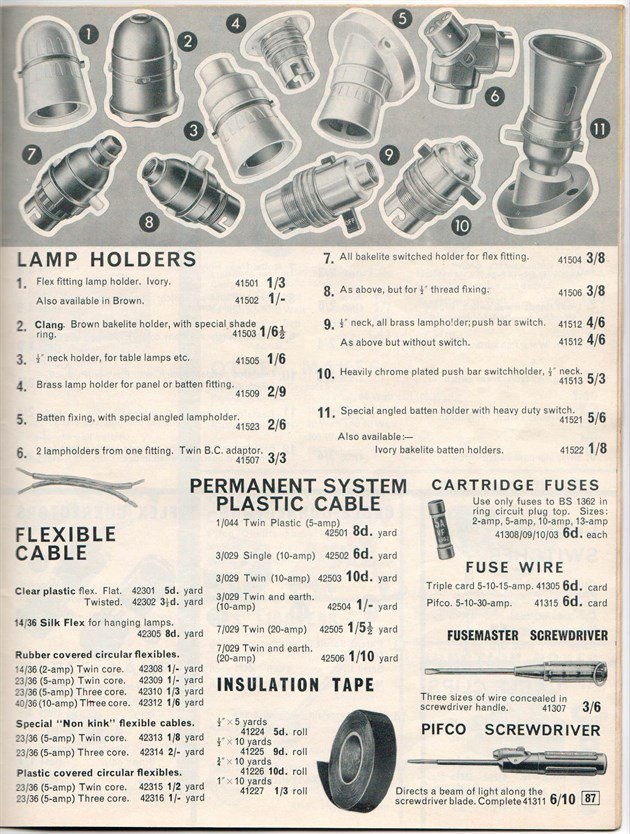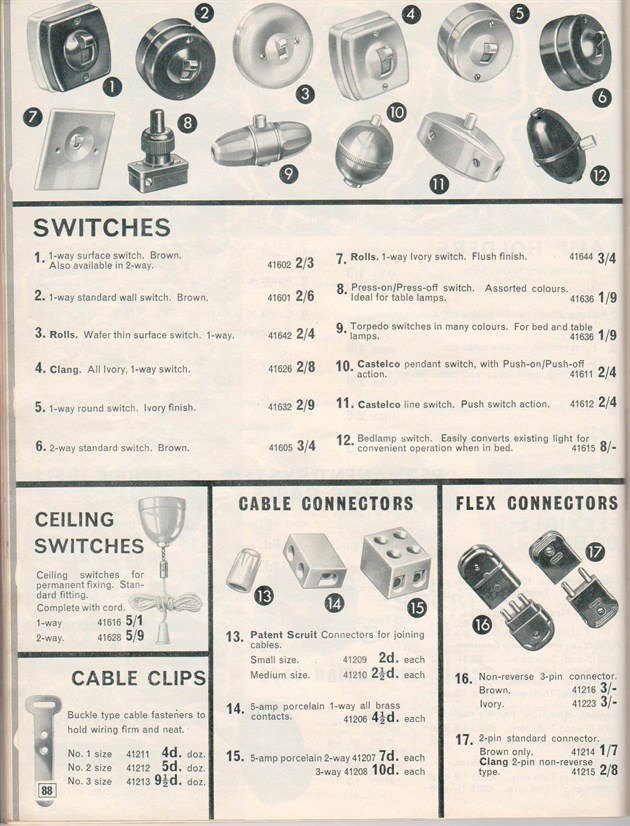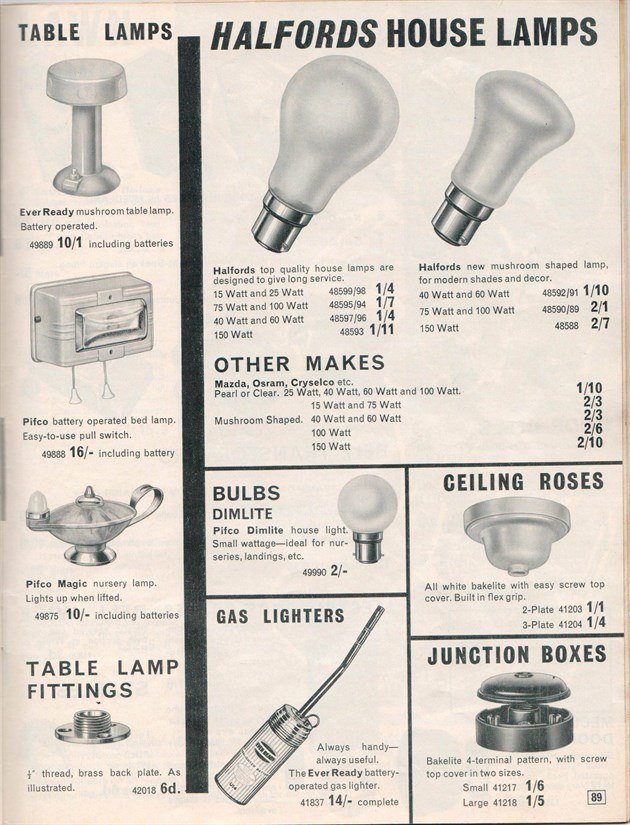 Those "modern look" doorbells must now be on millions of UK houses. The default doorbell and a quiet design classic.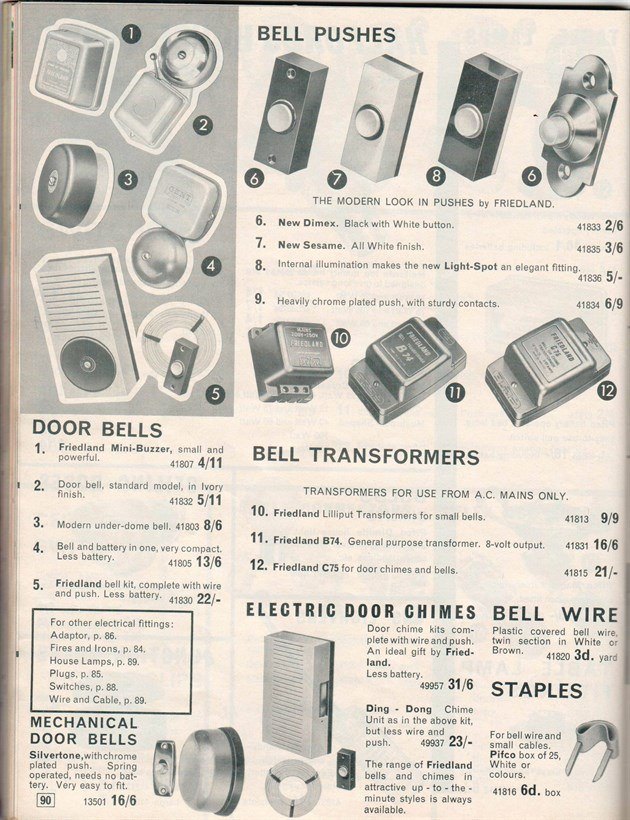 Remember when Halfords sold gardening kit? Nope, us neither.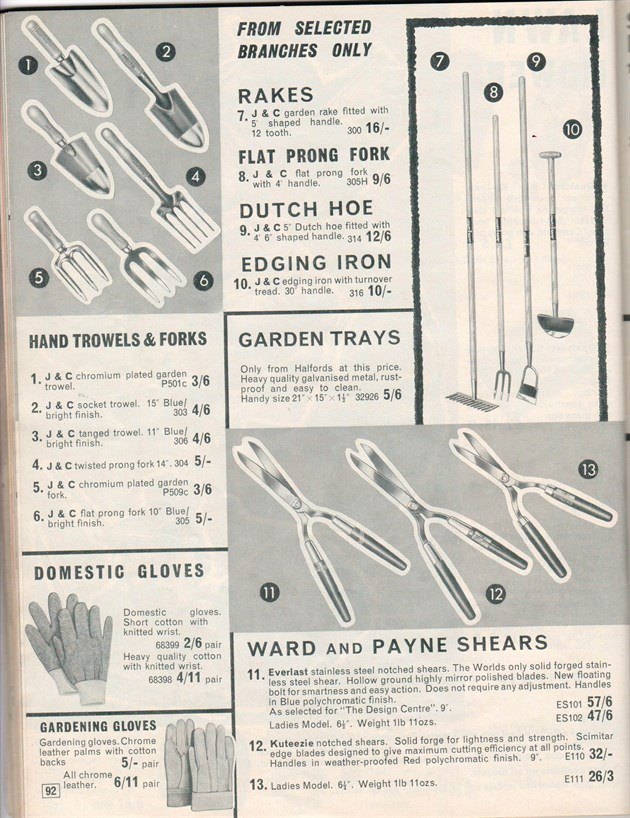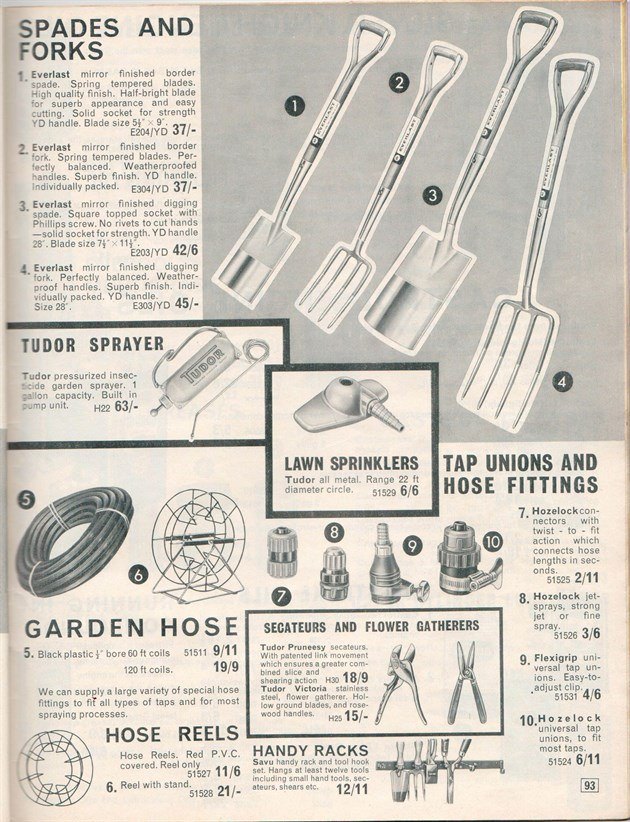 Back onto safer ground. Engine oils in proper metal containers.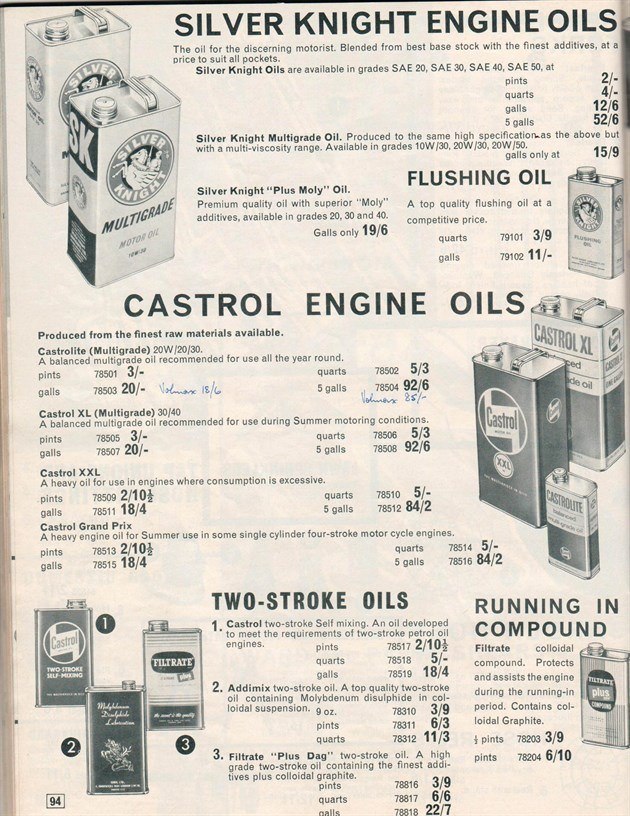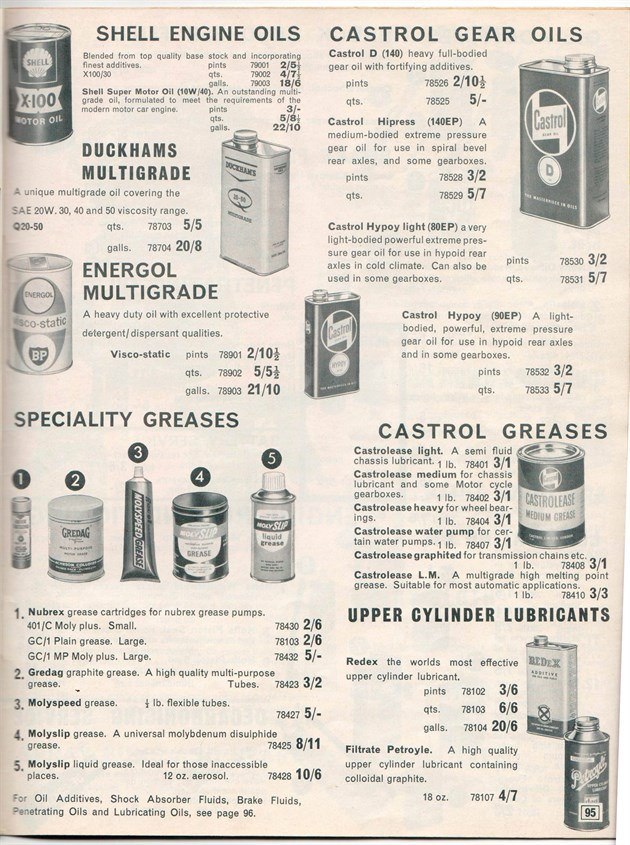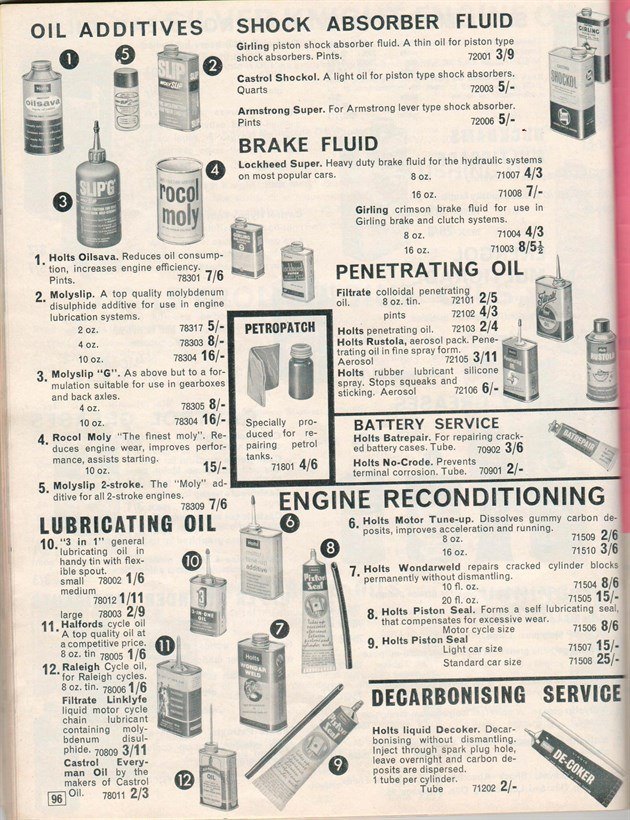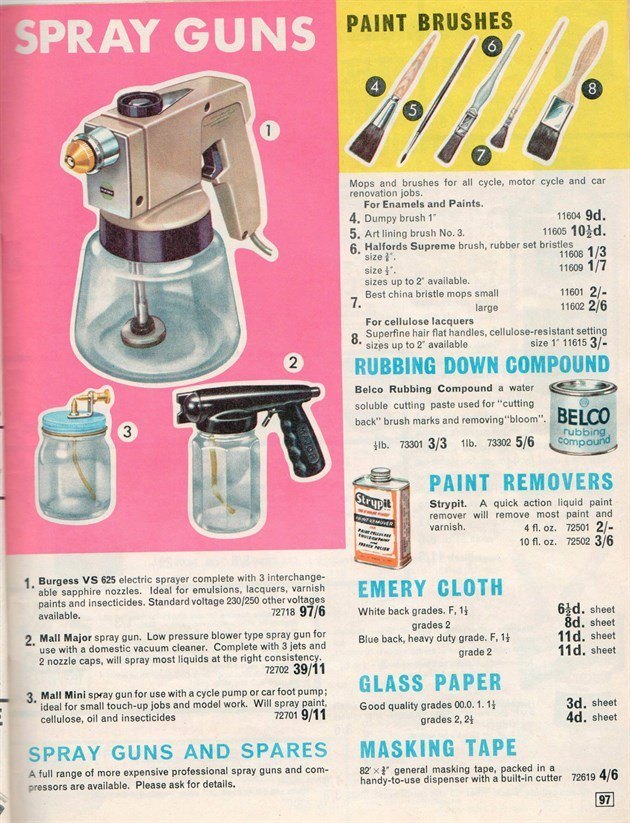 Sealants, adhesives, cleaners, polishes and solvents get colour pages. What's notable about these products is not just how many of these names are still with us today (Humbrol, Holts, Bostik and Zip Wax), but how many still have very similar packaging.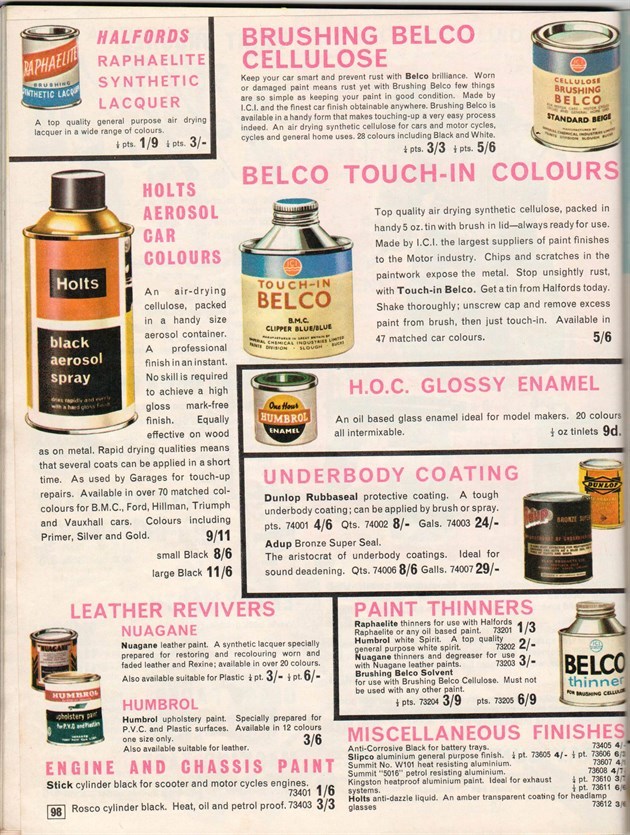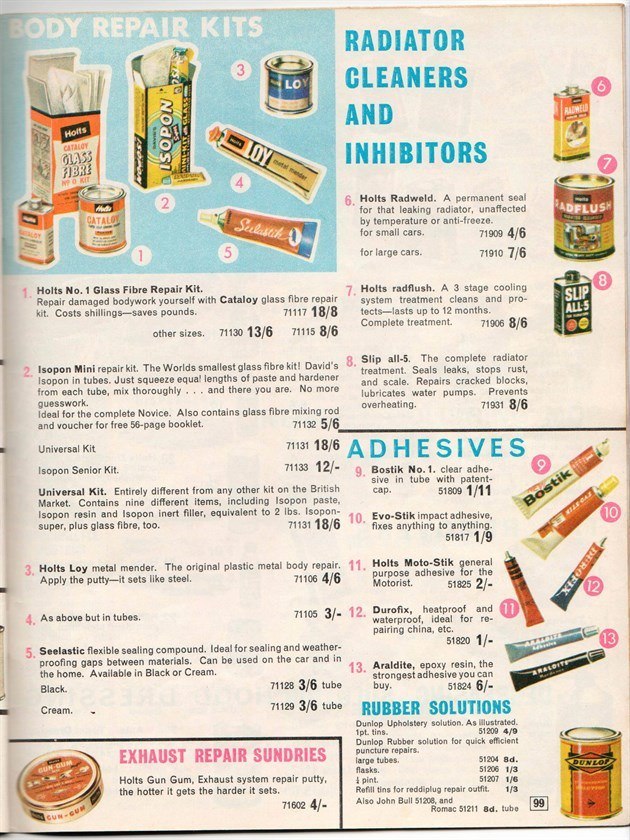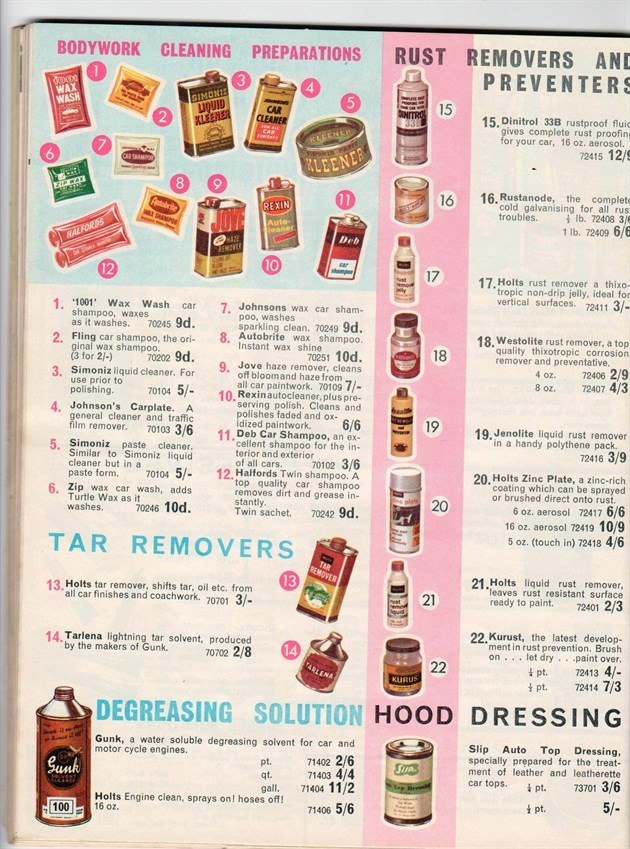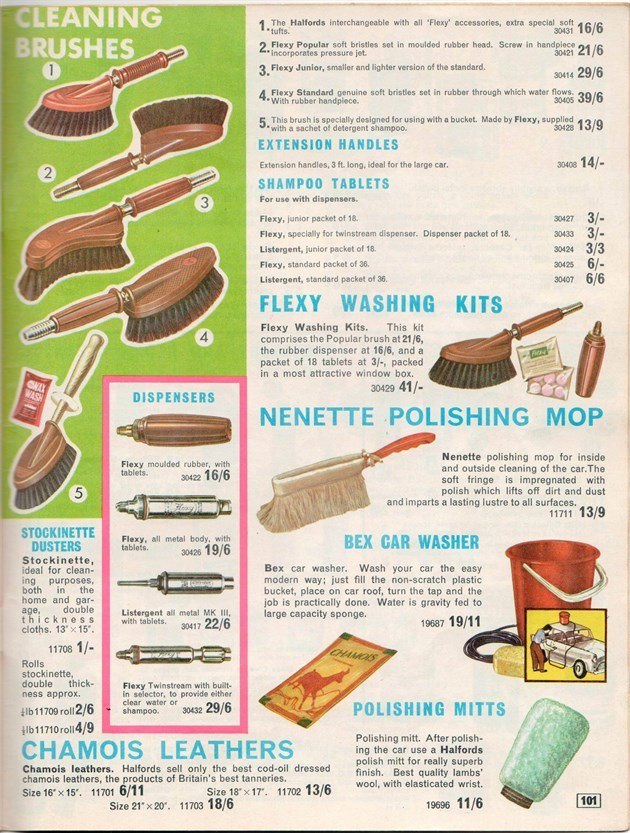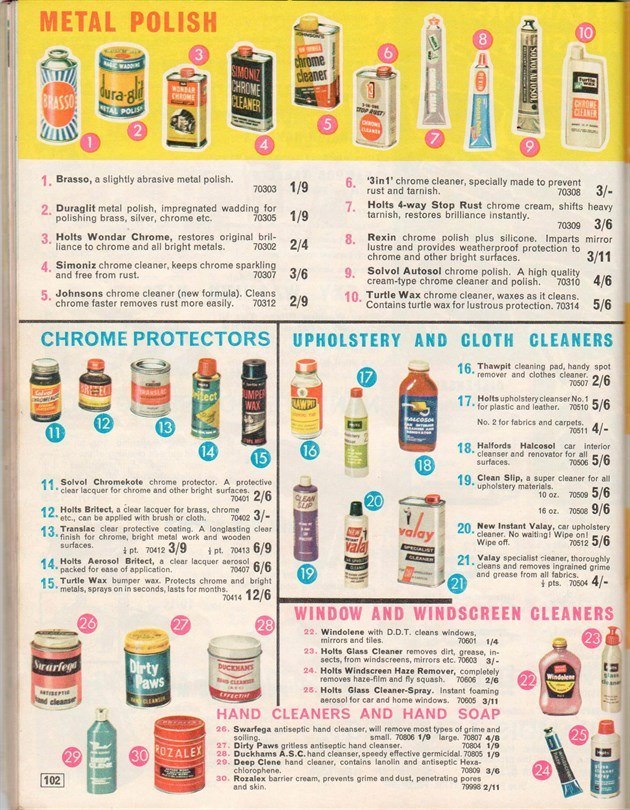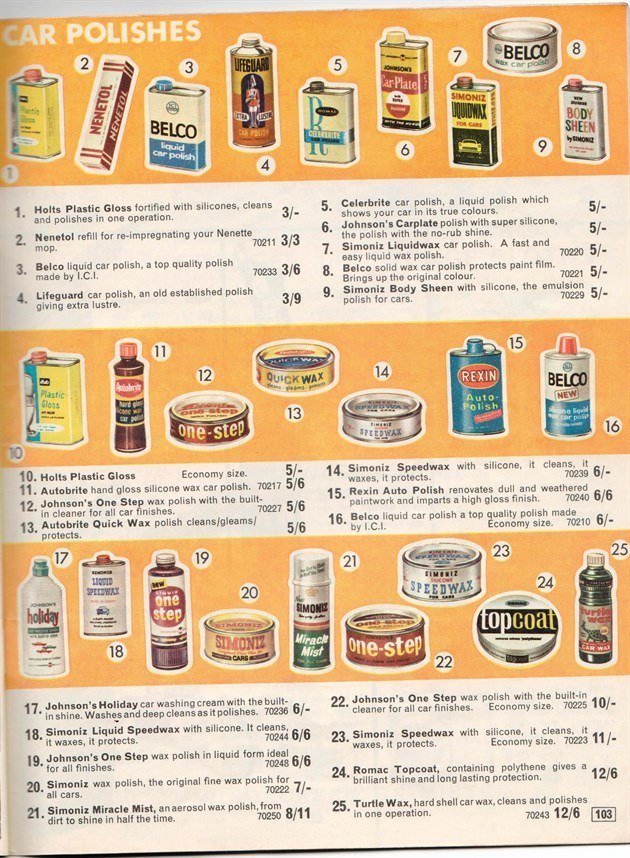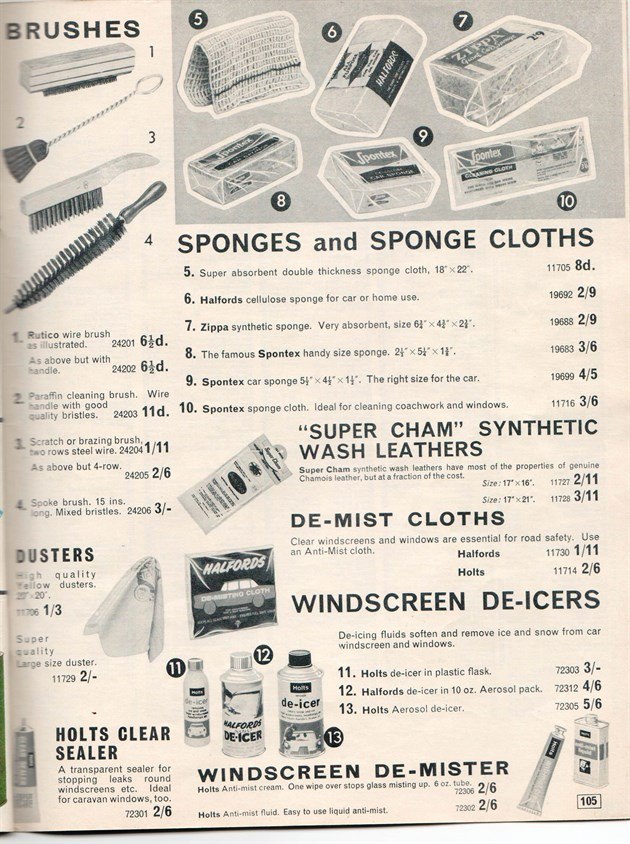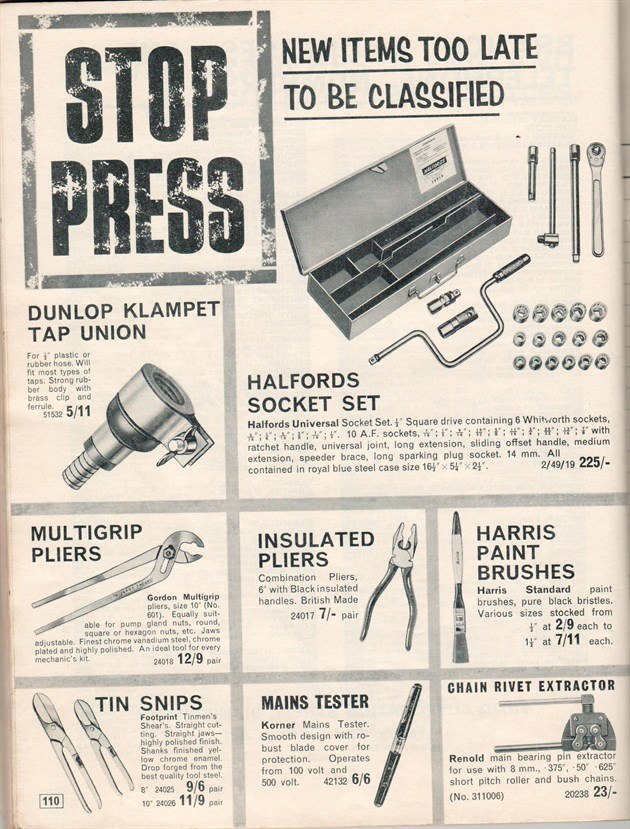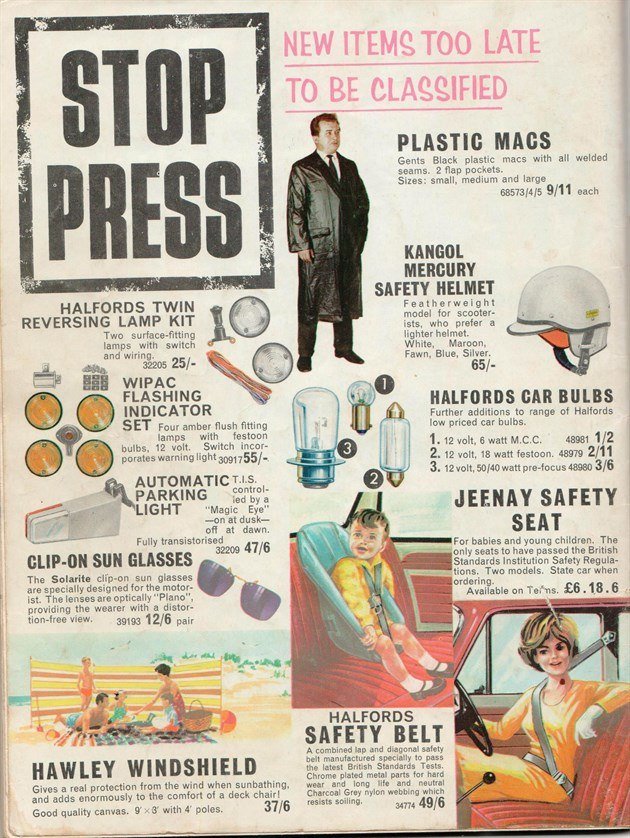 * Sometimes we show a link with a * next to it. It means that it is an affiliate link and as a result helps HonestJohn.co.uk stay free to use. It's tracked to us and if you go through it, it can sometimes result in a payment or benefit to the site.