Top 10: Retro cars at Radwood UK 2019
Published 6 August 2019
A celebration of cars from the 80s and 90s - with visitors encouraged to dress in period wear - Radwood has become something of a cult sensation in the US, with events regularly attracting huge turnouts. It's now arrived in the UK, with the first event held at Goodwood Motor Circuit on Sunday 11th August. We were there...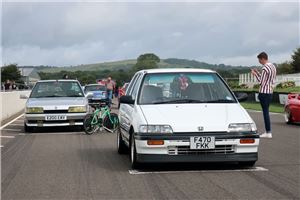 1
1988 Honda Civic Shuttle
Wagons are awesome. And the owner of this Honda Civic Shuttle is proud enough of their motor to pay extra to feature it as Radwood Royalty, meaning they could park on the grid at Goodwood. Pretty cool, huh?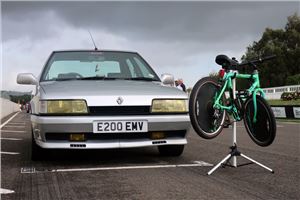 2
1988 Renault 21 Turbo
If you want a quick, 80s saloon, you could spend a lot of money on a Ford Sierra Cosworth or BMW 325i. But you don't get yellow headlights or flakey French build quality with those. Just 18 remain registered on UK roads...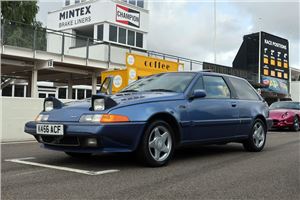 3
1992 Volvo 480 Turbo
When the Volvo 480 came along in 1985, it was most un-Volvo. A wedge-shape coupe with pop-up headlights and a Renault engine, it was also the brand's first front-wheel-drive car. Even with a turbo, its 120bhp and 0-62mph time of around 9 seconds might not sound impressive today, but that makes it no less desirable.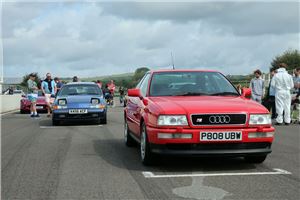 4
1996 Audi Coupe
This Audi Coupe must be the best example left in existance. It belongs to the brand's UK heritage fleet, and has covered just 300 miles. Yes, you read that right. It's in mint, as-new condition and was attracting quite a crowd of nostalgic fans at Radwood.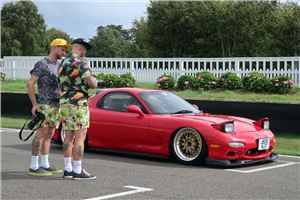 5
1992 Mazda RX-7
The Japanese car scene was on full display at Radwood, with nothing representing it better than this RX-7. Popular with those of us who grew up with the Gran Turismo series of Playstation games, the RX-7 uses a rotary motor and was something of a bargain when it was new. Also, check out those shorts...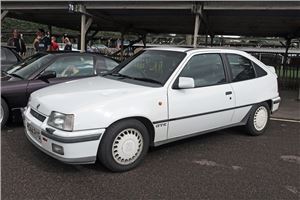 6
1990 Vauxhall Astra GTE
Moving away from Radwood Royalty, we're going to be cheeky and feature this wonderful Vauxhall Astra GTE. Why cheeky? Well, it was our steed for the show. It's owned by Vauxhall, has covered just 37,000 miles and it absolutely mint. While its handling might not be as tidy as rivals, its 150bhp from the red-top 16V engine means it still feels rather lively.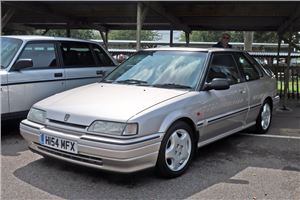 7
1991 Rover 216 GTi
The 'R8' is one of the more affordable entries into classic car ownership and the Honda-engined 216 GTi is also one of the more appealing. The slightly beige tint to this one, on display at Radwood, makes it even cooler in our book.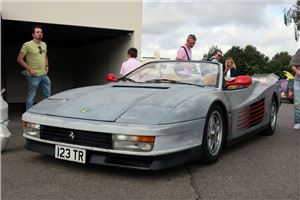 8
1987 Ferrari Testarossa
Most Ferrari owners prefer their car to look as factory-fresh as possible, but this is the 'Ratarossa'. Originally a Testaross coupe, it's had its roof chopped off and its unpainted bodywork is covered in scrapes and parking dents. It won't be to everyone's tastes, but it was certainly attracting a crowd at Radwood...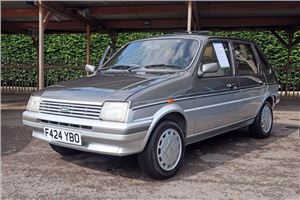 9
1988 Austin Metro Vanden Plas
Here's something you're unlikely to see at Radwood in the US. And is there anything more archetypically 80s than an Austin Metro? This one's an Vanden Plas, lovingly polished up by its current owner. That means it's got such luxuries as central locking, a sunroof and electric front windows.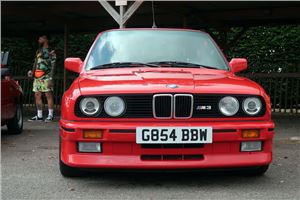 10
1991 BMW M3
We'll end on a high - an E30 BMW M3 in bright Misano Red paint. Arguably one of the most desirable classic cars on the market, values for the four-cylinder sport saloons are rocketing. With a 0-60mph time of 6.7 seconds, it'll still feel pretty rapid today.