Zastava Yugo 101 (1971 - 2008)
Last updated 19 January 2016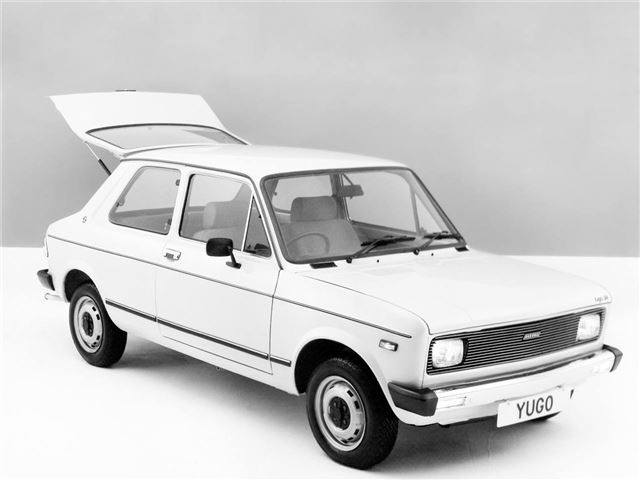 Like a Fiat 128, but more practical, and much of the Italian car's character remained intact.
Flimsy, rusty, and exceptionally few survivors
Introduction
The Zastava Yugo 311, 511 and 513 series was sold in the UK between 1981 and 1990 for Lada money, and to even the most casual observer, it was based on the Fiat 128. But it was a major improvement over the brilliant Fiat for being a hatchback, rather than a three-box saloon. But consider that the original Zastava 101 was launched in 1971, and was built in an command economy country, and the genius of this car becomes far more apparent. Why? Because the Fiat 128 was a truly modern car.
Fiat designer Dante Giacosa showed his mastery of engineering with the front-wheel drive Fiat 128, fitting it with a wonderful new belt-driven ohc engine of 1,116 and 1,301cc (which was incredibly advanced and long-lived), as well as a contemporary sounding all-independent MacPherson strut suspension layout. Adding a hatchback to it arguably created the motor industry's first genuinely Golf-class car, three years before Volkswagen.
The car proved reasonably popular when sold in the UK, although it was lambasted by the motoring press for being low-quaity and obsolete (arguably true by the early 1980s) - and today, remarkably few survive here. Effectively overshadowed by the Yugo 45 supermini, and few people noticed when imports stopped in 1990. Production continued in Serbia until 2008, by which time, more than a million had been built. 
The Yugo 311 is called Zastava 101 in former Yugoslavia, and was made in Kragujevac, Serbia (not Croatia). ZASTAVA is the name of the factory, not the town. This is where FIAT 500Ls are produced today