Volvo 850 and T5/T5R (1992 - 1997)
Last updated 11 December 2018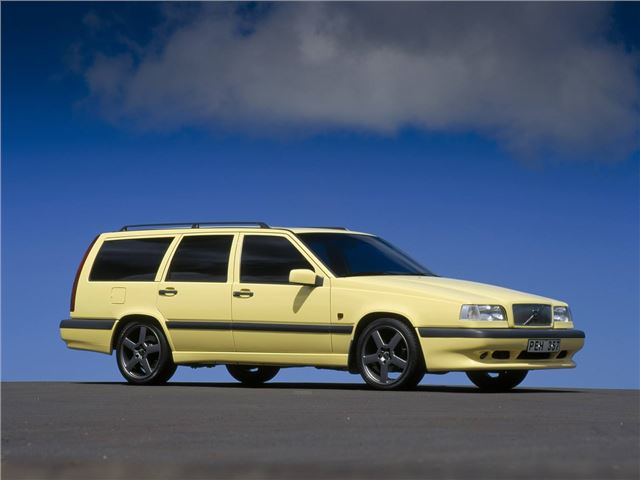 Buying Guide
Good
The first sporty, modern Volvo. Changed Volvo's image completely, especially when estates were entered for 1994 Touring Car Championship.
15' 3" (4660mm) long x 5' 10" (1760mm) wide. 1436kg - 1455kg.
T5s are seriously quick. T5 saloons or estates replaced Senators on many police fleets.
TDIs not far off T5 performance and give 35 mpg economy. Rock-solid build quality. Good, predictable, safe handling. More fun to drive than any previous Volvo. Changed the image of the company.
Engine range began with 2.0 litre 10 valve at 126bhp, 2.0-litre 20 valve at 143bhp; 2.4 10-valve at 140bhp; 2.4 20-valve at 170bhp; 2.5 TDI at 140bhp; 2.3 AWD turbo at 195bhp; 2.3 T5 at 225bhp; 2.3 T5R at 250bhp. Bi-fuel (LPG) 144bhp 2.4 10-valve engines also available.
Volvos generally had slightly below average warranty repair costs in 2003 Warranty Direct Reliability index (index 90.54 v/s lowest 31.93). Link:- www.reliabilityindex.co.uk
Bad
Estates are only commodious if you load them to the roof.
Hard ride and sharper steering came as a shock to old-school, traditional Volvo 240/940 owners.
Front tyre wear of TDI, T5 and T5R can be severe: manuals 6000-8000 miles; autos 12,000-14,000 miles.
Serious reliability problems reported by ADAC (the German breakdown organisation) in its 2001 report.
Watch
Kerb-damaged front suspension and front driveshafts.
Front tyre wear.
Retrimmed, clocked ex-police cars.
TDI timing belt drives water pump and, if water pump fails, so does belt.
Complaints of failed heater matrixes and early front wheel bearing failure.
Can be problems with electronics of Bosch fuel injection pump on diesel.
Make sure aircon blows freezing cold. Spate of aircon evaporator failures at two to four years old. £1000 job to put right. Problem with a/c pump clutch with either fails to engage or can seize altogether, throwing off the drive belt which might then become entangled in the timing belt. Volvo did a kit with varying thickness clutch plates to repair this, which cost £170, but the job is difficult and knuckle-scraping. More on the bulletin board at www.volvoclub.org.uk
Door check straps are prone to failure.
T5s running high boost can bend engine rods.
Rear main oil seals can be a weak spot - if it is leaking, the gearbox has to come off to replace the seal.
Back: Introduction
Compare classic car insurance quotes and buy online. A friendly service offering access to a range of policies and benefits.

Get a quote