Volvo 480ES and Turbo (1986 - 1995)
Last updated 11 December 2018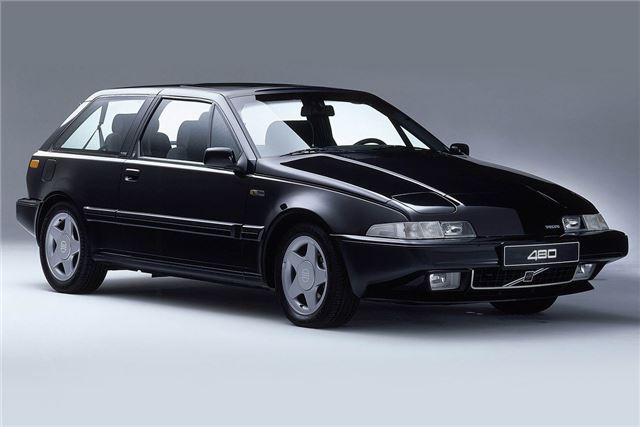 Compact, economical, quirky to look at, pop-up headlights, and a glass hatch, excellent seats and dashboard
Not as quick as it looks even in Turbo form, plenty of opportunities to rust under the skin, flaky electronics, far from solid build quality, a bit unloved so survival rate is low.
Introduction
Volvo's first front-wheel drive car came as something of a surprise, considering the clever money was on a Golf-class challenger breaking the duck. But the 480's surprise launch and rakish design resulted in people seeing the once conservative carmaker in a completely different light.
The quirky 480ES actually lent its platform to the later 440/460, but this car was a much more appealing proposition - and remains so to this day. It echoed the 1800ES's frameless glass hatchback but, from the front, it looked like no other Volvo. Or any other car, for that matter. The wedge-inspired design was dramatic and sleek with pop-up headlamps and a tiny Volvo-badged grille hiding under the front bumper.
There were interesting features such as door pillar-mounted locks, semi-digital instrumentation and an electronic information centre. Renault-based 1721cc and 1998cc engines featured with around 100bhp and there was a turbocharged version from 1989 for more grunt (170bhp). An oddball in Volvo's history (some could call it the 'anti-Volvo'), but one that's popular enough to have seen the a spiritual successor launched in the shape of the C30.
Join the club
Formed in 1962, the Volvo Owners' Club has 3000 members. It offers dedicated, expert advice to keep members' cars on the road and has helped preserve models that are still used daily. It also embraces modern Volvos and plays an important role in helping its solving the complex electronic issues modern cars can present. All Volvos are welcome, from traditional classics like the PV544 and Amazon, 1980s modern classics like the 700, and newer models like the S40, S60, V60 and XC60. The cost of joining the club is £35 (£30 membership and £5 joining fee) - but the joining fee will be waived for new members quoting HJ19.
Next: Buying Guide
Compare classic car insurance quotes and buy online. A friendly service offering access to a range of policies and benefits.

Get a quote