Vauxhall Omega (1994 - 2003)
Last updated 2 August 2017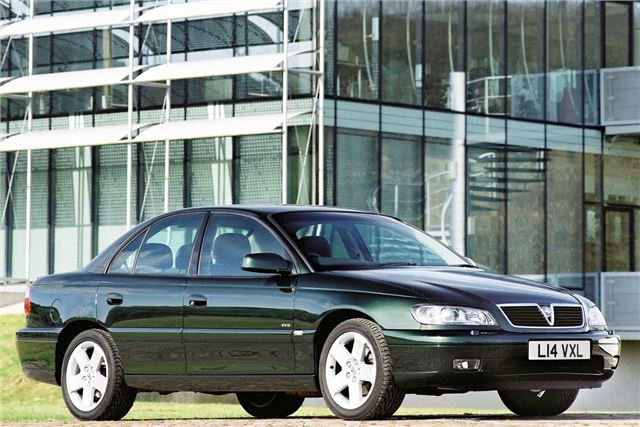 Buying Guide
Good
Handles well, with more road feel than Senator.
Both 2.5 litre and 3.0 litre V6s nice to drive.
Facelift model joint third from top in 2002 Which reliability survey of cars up to 2 years old; 98% fault free; 49 cars surveyed.
Please remember these are all old cars now and there are not many really nice, modest mileage examples left.
Three-Star NCAP crash test rating.
Vauxhalls generally had below average warranty repair costs in 2003 Warranty Direct Reliability index (index 84.4 v/s lowest 31.93) www.reliabilityindex.co.uk
2001-2003 petrol and diesel models improved to average breakdowns, problems and faults in 2003 Which survey.
Vauxhall Omega independent specialists: www.dkcarsales.co.uk
Club/helpsite www.omegaowners.com
Bad
Rear-drive Omega model canned at the end of 2003. 

Poor paint quality on some early cars. 

Large number of quality problems and complaints, often over BMW powered 2.5 litre straight six diesel. 

The police had great difficulty getting their kit into the limited dashboard and front-of-engine space. Started buying Volvo T5s instead. 

Some 2.2 litre DI 16v models thought to use a lot of engine oil, but oil from the 16v heads takes a long time to drain down and dipstick can give a falsely low reading. But engine also seems to have a genuine oil consumption problem. Apparently, the bores were machined with too high a gloss. Running-in oil has been used to attempt a quick fix, has been known to cause other problems. Vauxhall/Opel will not accept liability because it would mean expensive repairs to most 2.0 DI and 2.2 DI Vauxhall/Opel models. Several pressure groups emerged to try to get Vauxhall/Opel to take responsibility: www.zafirauk.tk and www.peachorlemon.co.uk 

Serious reliability problems of Opel badged version (exactly the same as the Vauxhall) reported by ADAC (the German breakdown organisation) in its 2001 report. 

Side bumpstrip trim on rear doors of pre-facelift cars can come into contact with partially opened front doors and become irreperably bent. 

8th from Bottom of 100 models for reliability in Auto Express 2002 survey. 

1995-2000 petrol and diesel models had highest number of breakdowns, problems and faults in 2003 Which survey.
Only 90% of cars up to 2 years old breakdown-free over previous 12 months in 2004 Which? survey.
Spring failures on models built in 1997.
Watch
Electrical and electronic problems (check everything works, including computer and especially ABS warning light). 

Electrical/electronic problems can develop between the shift lever of automatics and the servo valve box that changes the gears. 

Check the a/c, heating and ventilation system on all settings because broken flap controls are common and very expensive to repair due to complex dismantling involved. 

Ignition ignitor coils vulnerable to water ingress and condensation. 

BMW diesel must have had 4,500-5,000 mile oil changes (easy for busy company drivers to forget). 

Timing belt and tensioner changes re-scheduled from 80,000 miles to 40,000 miles on engines which have them (all apart from 2.2 litre diesel and BMW 2.5 diesel). Timing belts on 4 cylinder 16v engines also drive the water pump which can shed its impeller blades and seize, throwing off the belt, so best to change water pump too. Tensioner bolt which passes through oil pump also prone to fracture, leaving belt untensioned and apt to fly off. Timing belts and all tensioners need replacing on 4 and 6 cylinder engines every 40,000 miles or 4 years whichever comes first. 

Idle air control valve problem that affects 2.0 16v Cavaliers and Vectras also affects Omegas with the same engine. 

Reports of injector seal failure in later 2.2 16v diesels leading to fuel oil leaking into sump oil and also causing poor starting. Ignition control unit of 2.2 petrol engine is prone to burning out. Poor starting and cutting out after starting of 2.2DI 16v caused by airleaks through fuel injector seals. 

Excess wear on inside edge of front tyres usually due to worn front suspension wishbone bushes. 

Pre 2000 model MV6's have attractive twin spoke Irmscher 17 inch alloy wheels which don't survive potholes. If possible make sure they run true by seeing them spun on a balance machine. Replacements cost £230 each. Post 2000 MV6 wheels cost half this, take the same size tyres (235 45's) and are much stronger. 

Stalling problem on 2.0 16v autos can be cured by a modification to the engine crankcase breather system, an oil separator being included in the breather pipe to the cam box cover. 

If idle speed of 2.0 petrol engine is 1200 - 2000 rpm the problem is the idle adjustor control valve (Air Intake Control Valve). Needs cleaning with fuel system cleaner but if that doesn't work it needs replacing at £113 + VAT and modifying by fitting an oil separator. Tends to happen at 60-70k miles. 

Cam Covers. The earlier V6's had alloy cam covers - the later 2.5 & 3.0 (& 2.6/3.2's) had a black 'plastic' cover. Doesn't matter which type - they all leak eventually - bad if leaking onto exhaust heat shield or into spark plug recesses., various problems emanate - oil smoking when hot, ignition problems.
Key Fobs. Twin button types (pre 1999 type 'domed', and post 1999 'rectangular' protusion) probably used on a no. of VX's, both types suffer fracture of one of the battery post legs (the one in the corner). Bugger to re-solder but can be done. Symptons - you'd think the battery was dead - but it isn't. 

Power Sounder (next to Wiper mechanism / under scuttle plate. Most/all fiitted with a GM unit (pcb and batteries in a 'potting' compound) it's 'naff'. The water drain conveniently located directly over the rear of the unit and the connector. The potting seal 'cracks' over period of time, and does an excellent job of retaining ingressed water. Remove and silicone it before it goes into 'when i feel like it - I'm gonna go off - day or night' mode. Fit a cut up coke bottle bottom over top of unit as a water deflector. Other models fitted with a Bosch unit - fails as well due to overheating batteries causing track & solder pad failure - can at least be repaired - will last forever if batteries raised away from pcb & ai rvents drilled (fit the coke bottle)." 

If a door lock jams locked, try this: Remove the drivers door lock button ( it pushes upwards), remove the screws from the door handle, then gently prise the top of the door inside panel away from the door, just enough to get your hand in and fiddle about with the connection that operates the door handle, push it up, pull it down, several times, and the door should open. Then completely remove the door panel and spray a moisture dispersant such as WD 40 onto all the moving parts. Wedge yourself in the driver's seat and with the engine running try to push the brake pedal to the floor. If you can, this indicates a serious and expensive ABS pump problem.
1-8-2015: Not many Omegas left. But if tempted by an automatic it's crucial to check the coolant in the header tank. Any oil in that, it's transmission fluid from the radiator-mounted transmission heat exchanger, and as soon as coolant gets into the transmission it's curtains for the car. Heater matrixes also tend to give up and cost £500 of dashboard dismantling and reassembling labour to replace.
Recalls
1995: static sparking during refuelling. 1995 (16v: VIN R 1000001 to S1155206): fuel feed pipe may chafe. Reposition and clamp into place.
1999: possibility of failure of plastic cambelt idler pulley GF50 on 4 -cylinder 16v engines 1994-98, which can snap cambelt. Changed as an 'in service mod' when cambelts are changed at 35,000-40,000 mile intervals. (Vauxhall Recall Helpline: 01189 458500 or 01582 427200) General problem of ignition steering wheel lock failure, usually replaced FOC.
June 2000: recall of V6 models due to crankshaft fault. 2001: TSB about voltage spikes from the alternator damaging the camshaft sensor. This is prevented by unpicking the wiring loom and re-routing the cam and crankshaft sensor cables together around the front of the airbox, keeping them away from the alternator.
Back: Model Timeline
Compare classic car insurance quotes and buy online. A friendly service offering access to a range of policies and benefits.

Get a quote