Vauxhall Monaro (2004 - 2006)
Last updated 31 May 2017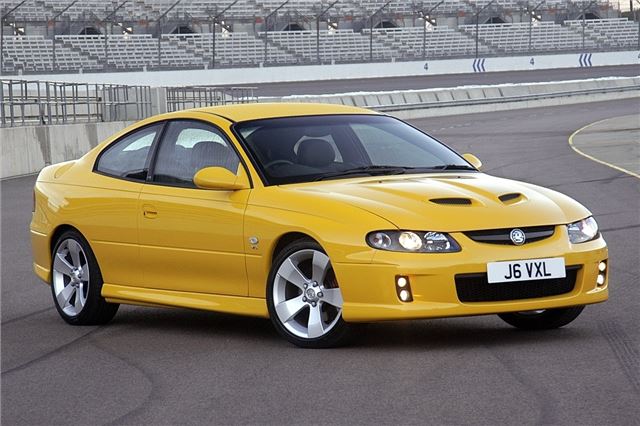 Buying Guide
Good
Very quick, especially for the money, and plenty of equipment.
Bad
Doesn't look very good. Some tuned independent imports put out 500bhp+. 

5.7CV8 launched in UK in 2004 was overgeared. Cars in Australia and USA had shorter ratios. 2005 UK Monaro 5.7CV8s were supposed to have the shorter ratio gearbox and the brochure quoted the quoted the shorter ratios, but some still had the old long gears. Gearboxes are made by Tremac and some where wrongly labelled. Cost £1,500 in USA and £6,500 in UK. 6.0VXR came with the correct, shorter ratio box 

Production of Monaros in Australia ended autumn 2005. 

"The farewell CV8-Z declares its presence with an all-new Holden col-our called Fusion; an orange-based metallic delivermg sharp gold high-lights through to darker bronzed drop-out. Exterior features include factory fitted by Holden: Design sunroof, black bonnet scoop accents, machined 18-inch, five-spoke alloy wheels with one spoke embossed with the CV8-Z logo, modified rear lamps and unique gun metal chrome CV8-Z badgihg on the rear." 

CV8-Z priced from $60,490, the same recommended retail price as VZ Monaro. Sales from early August 2005 with planned production 1200 units supplied only to Australian and NZ markets.
Watch
If a 5.7 engine is "rattly" from a cold start, walk away. 

Report from Australia that the V8 can suffer piston slap and guzzle oil. 2,000 Gen III engines built June 1999 to early 2002 affected so far, but has sometimes been a wait of up to 10 months for repairs. Each rebuild requires eight pistons and rings, conrod bolts, head bolts, gasket kit and coolant, which, if Holden were not footing the bill, would cost about Aus $3,000 for parts. The work takes 3 days and costs Aus $1000 in labour. The 5.7-litre Canadian GEN III was introduced for the VT II Commodore range in June 1999, replacing the reliable 5.0-litre Australian-made V8. Early on, some manual models of cars fitted with the engine suffered serious damage due to oil starvation when driven hard. That problem was rectified within a few months. Holden says new parts, including tighter-fitting Teflon-coated pistons and a revised piston-ring pack have been fitted to new engines and used in rebuilds since late 2001-early 2002. This has mostly solved the problems. Piston slap is usually caused by too much piston-to-bore clearance and means the piston moves around in the cylinder bore, hitting the cylinder wall. This also leads to higher oil consumption because the rings don't stay seated properly. Holden says only 2% of 67,000 GEN III engines sold in Australia are affected. Power Steering Pumps are also known to fail in Australia in the high-output cars from HSV. Read "Motor" magazine www.acp.com.au/motormag whenever they do a "Performance Car of the Year" or other comparison including these cars. 

Power steering pump problem fixed with the VZ models introduced late 2004. "Alloytec" 3.6 litre V6 with 175kw or 190kw replaced ancient Buick based 3.8 litre OHV V6. Alloytec V6 DOHC with 24 valves, 190kw with variable timing. Adventra with V6 is getting good press in Oz.
Recalls
Warranty repairs on GEN III 5.7 V8s due to piston slap and high oil consumption.
Back: Model Timeline
Compare classic car insurance quotes and buy online. A friendly service offering access to a range of policies and benefits.

Get a quote