Vauxhall Corsa (1993 - 2000)
Last updated 11 November 2019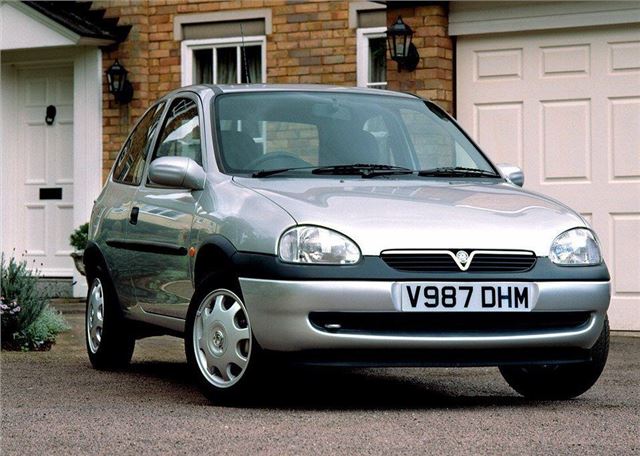 Buying Guide
Good
Good engines, especially the ultra-economical chain-cam 57bhp Suzuki 1.0 litre 3-cylinder 12-valve, often badged 'Breeze'. 74bhp 1.2 16v engine is also chain-cam. 49bhp and 66bhp 1.5 litre Isuzu diesels and 59bhp 1.6 litre GM diesel. Most powerful was 107bhp 1.6 16v GSI.
Generally reliable, last well and cheap to run.
Vauxhalls generally had below average warranty repair costs in 2003 Warranty Direct Reliability index (index 84.4 v/s lowest 31.93) www.reliabilityindex.co.uk
Bad
Still based on the Nova floorpan, so stodgy and characterless to drive. 

Awarded only a Two-Star NCAP crash safety rating in 1997.
Petrol and diesel models 1995-2000 had average breakdowns, problems and faults in 2003 Which survey.
Watch
Could have been a courier's car or a driving school car ('Engineering Education Trust' on the V5 = BSM). 

Clutch cables can be troublesome (cheap to replace). 

Heavier diesel engines promote high front tyre and suspension wear. 

All Corsas prone to front suspension wear. 

Check driveshafts for clonks by reverse turns in both directions. 

Look for cracking around door hinges on 'A' pillars of 2-door models (also look for cracks in the paint on 'B' pillars - an MOT failure point). 

Feel front discs for grooves, 'shouldering' and wear. 

Beware of any noises from the water pump. 

Check front carpets for damp signifying failed heater matrix. 

1.4s have suffered cat problems. 

Short runs may lead to sticking valves on 16-valve models (usually cured by switching to a high detergent petrol). 

See 'Recalls' about timing belt pulleys which need renewing at least every 40,000 miles. On 1.4 16v timing belt also drives the water pump, so if this fails it will lead to timing belt failure. Most likely reason for the water pump to fail is lack of water (coolant) so check this regularly. 

On 16v engines EGR valve can gum up leading to hesitation while cruising. 

Reports of repeated failures of heater matrixes. 

Central locking can fail due to failure of a small, brittle, badly designed casting (part 90540614). Costs less than £6, but £50 + VAT to get it fitted. 

Quite common for front section of exhaust of 1.0 12v to fail due to metal fatigue from vibration. 

Poor starting of Isuzu 1.5 diesel may indicate the need to have the valve clearances re-shimmed. ECUs of Isuzu diesels prone to failure and cost £500 to replace. But there is a DIY Fix: Remove air intake pipe (2 clips + plug), Unplug the DCU. Unbolt the DCU (4x10mm bolts). Remove the back cover of the DCU. Re-do obvious dry solder joint in middle of PCB. Re-seal DCU. Replace components. 

Cylinder head of 1.6 engine can crack (buyer's check: look for mayo under the oil cap.) 

Excellent club link that shows how to remove the transmission (in photos) and also hpw to replace the pollen filter and clean out the scuttle vent well drains forums.corsa-b.co.uk/viewtopic.php?f=81&t=9708&p=58727
Recalls
1995: static sparking during refuelling.
1997: (1993-1996 1.4 & 1.6 16vs only - 27,000 cars): Possibility of plastic cambelt idler pulley breaking which can snap cambelt.
1998: (diesel K to N reg: 26,000 cars): live cable may rub against bonnet hinge, lose insulation and cause a fire; (1.0 12v, P to R reg: 8,000 cars): cable may touch engine inlet manifold. (Vauxhall Recall Helpline: 01582 427200)
1998: Vauxhall Corsa diesel (K to N reg: 26,000 cars): live cable may rub against bonnet hinge, lose insulation and cause a fire.
3-6-98: Vauxhall Corsa 1.0 12v (P to R reg: 8,000 cars): cable may touch engine inlet manifold. (Specific Helpline: 01189 458500.)
February 2000: Saftety recall to reinforce front seat rails and replace fatigued or worn front seatbelt buckles. 9/3/2001 500,000 cars recalled to fit re-inforcing plates to front seat runners to prevent rails from fracturing. 9/3/2001 also recalled again to replace seat belt buckles with quality assured buckles.
Back: Model Timeline