Vauxhall Cavalier Mk1 (1975 - 1981)
Last updated 9 December 2015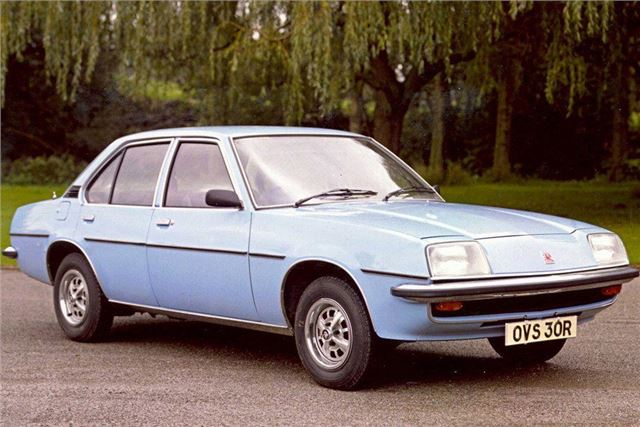 It's difficult not to associate this car with the era it was designed in, the 1970s – it's one of the functions of coming from a decade which had such memorable fashions, terrifying global events, and dark times back in the UK. And as I point its wedge-shaped nose up the A14 and towards the M1 north, it's time to ruminate on all of the changes we've enjoyed since what was actually a grimy chapter in our history.
Yorkshire is our destination, and if anywhere typifies the huge leaps we've made in living standards since the time that we were handed Green Shield stamps with our copper 'n' silver coins that constituted the change we got from a tenner's fill-up, it's 21st century Yorkshire. Back in January 1980 when our 2000GLS rolled off the line in Luton, petrol prices were rapidly rising. We were in the throes of the second oil shock of the '70s – a consequence of the war in the Gulf between Iran (the bad guys) and Iraq (the good guys).
At the start of the previous year, a gallon of four-star (the Cavalier's favoured tipple) was 75p, but as Christmas – and the Winter of Discontent – approached, it had been heading rapidly towards £1.00. If that sounds like a bargain, consider that the middle-ranking area manager who drove a car like this would have been on £100 per week, and his fleet manager would have shelled out £5363 before discount.
Even in 1980, this Cavalier 2000GLS would have looked shockingly stark. Yes, it's nicely trimmed in velour, its seats boast front headrests, and there's a few luxury touches such as full-length armrests in the doors and an excellent six-pack instrument cluster, but because the controls are all positioned around the instrument binnacle, and there's no centre console, it still looks like a basic conveyance. But the build quality is excellent, and – dare I admit this? – there's a whiff of German efficiency about it all. And that's before we all became obsessed by that country's products.
But this lack of luxury chimed well with the times – post-Winter of Discontent 1980 was all about austerity. And hardship. Up north, you could buy a very nice semi-detatched house for £20,000 at the time, but with unemployment becoming a real concern, rising from around 700,000 in the mid-'70s to approaching 2,000,000 at the start of the new decade, there were precious few buyers.
But enough scene-setting, what of the Cavalier itself? In context, it really was at or near the head of the repmobile pack – the Insignia biturbo of its day. In 2-litre form it was capable of 105mph and 0-60mph in 10.0secs (although its average owner would happily wind it round to an indicated 120mph on steeper downhill stretches of motorway) and would average 25mpg. Its principal rival, the Cortina, in recently-revised 1980 form was pretty much as quick (it also had 100bhp), had more showroom appeal thanks to warmer interiors, more modern fixtures and fittings, but on the road, the more Germanic Cavalier was the better steer. And like most of its more popular rivals, the Cavalier was saddled with a four-speed gearbox that resulted in the 80mph cruise being a 4000rpm thrash.
On the motorway, it's easy to criticise it in modern terms for being undergeared, but to my ears, used to – shall we say – noisier older cars, it settles down calmly enough at the legal limit, and it's easy to imagine the 2000GLS trading punches with the best of them. For its era, the Cavalier's also impressively stable, suffering from minimal wallow and wander, and only the bow-waves from the largest HGVs unsettling it as we steam past.
All of this makes the run up the M1 – the Cavalier's home turf – painless. The inclines marking Leicestershire and Nottinghamshire on the way to Sheffield, and the gateway of the north, pose little problem at all, and we plough onwards at 70mph where a dear old Chevette or Allegro might be down to 55mph.
At first glance, the Cavalier driver of 1980 wouldn't recognise today's Sheffield as he hummed northwards past Junction 34. The vast Meadow Hall shopping complex which greets today's travellers (and sees 3,000,000 visitors a year) was still a decade away, and his first main sighting on the Lower Don Valley would have been the city's vast steel works, which had been in terminal decline since the early 1970s. There was beauty in these giant brick buildings, darkly stained as a result of decades of steel production, but their hastening demise would have cast a gloomy shadow across the M1 and the valley below. Today's low-cloud, insistent drizzle, and a desaturated lack of vibrancy, is perfect for reflecting upon the wanton act of de-industrialisation.
We continue north, heading for the former coal mining region of West Yorkshire, as typified by Wakefield, Pontefract and Castleford. Dropping off the M1 and seeking out some A-road action is always a good passtime. Especially in a car that promises to be as good a drive as this Cavalier. With 33,000 miles on the clock (five-digits as was the way back then), and maintained lovingly by the boys at Vauxhall Heritage, there's no reason not to look forward to this.
But before heading for the best Airdale has to offer, we need to stop. Usually 150 miles holds no problem for me, but I've developed 'Vauxhall leg', an affliction I remember from my formative years. It's down to the low driving position and weirdly-positioned throttle, which leaves my right leg adopting an uncomfortable angle. Five minutes' stroll always quells it…
We push on. The Cavalier's unassisted steering should be laborious at four turns from lock-to-lock, but its responsive enough around the centre position, and on the twisting A-roads we're now on, does an excellent job of communicating the road in these slippery conditions. As for the handling – it's a safe understeerer, and the Cavalier will only kick out its tail if you hit a corner too quickly (no chance, I am babying this one), or mash the throttle in wet bends (see above). It's fun – and although limits are low in modern terms, on 2012′s clogged roads that run far more slowly than they did in 1980, the Cavalier more than holds its own through the valleys.
Rolling into Castleford is both interesting and depressing in equal measure. The vast and soulless out-of-town retail park does its best to make amends for the departure of the town's factories and mines, but it has devastated the town centre. In 1980, it would have been a thronging retail area, dominated by local businesses – butchers, bakers, candlestick makers – but today, it's run-down dilapidated in places, and in the retail units that remain are dominated by mobile 'phone stores, national chain retailers, and charity shops staffed by gloomy volunteers. Only the central arcade puts on a brave face against decades of  neglect. It's typified by the pavement-style cafe – one pensioner's nursing a cold cup of tea.
As we jump back into the Cavalier's bright interior, it's easy to come to the conclusion that in some ways, life really was better back in 1980. Heading back towards the outskirts of town, passing through the bright new retail park, it's clear there's money here – that there wasn't before – but little sense of community. Here, in the valley of the megastores, labels are king.
But it's not all grim up north. Far from it, in fact. As we head for neighbouring town Pontefract, it's clear that there's still room for town-centre vibrancy. People seem friendlier, and the shops more fully stocked with local produce, and the pedestrianised zone, nicely manicured. And despite the greyness of the day, still busy. The master butcher is the custodian of a bustling business – the shop-made pies irresistible to look at, and impossible not to buy. Yum.
Visiting Pontefract certainly undid the feeling of despondency that had descended upon me in Castleford. And I certainly needed uplifting. And this place – surprisingly – had the desired effect on me. For my 1980 counterpart, driving his Cavalier into this market town, the effect after running through a dying Sheffield and Castleford might well have been the same. I'd had Ghost Town by The Specials running through my head – a song written in 1980, and one that so beautifully captured the sense of malaise that was engulfing the nation at the time.
The group's keyboardist Jerry Dammers said about the anthem of disaffection: 'The overall sense I wanted to convey was impending doom. It's hard to explain how powerful it sounded. We had almost been written off and then 'Ghost Town' came out of the blue.'
Back on the road, and  you're going to find this quite predictable, but I'm really loving this Cavalier now. It's hard to explain why, other than it simply fits me, and makes me feel good ('Vauxhall leg', aside). I suspect that for the area manager driving this car when it was new, it would have been in the same position. He might have found navigating around these small mining towns a whole lot more difficult, as the logical network of bypasses linking them to the trans-Pennine M62 were yet to be built. But then, all he had to listen to was Simon Bates' new morning feature, Our Tune. I have my iPod, and 30 days of continuous listening…
I decide it's time to head back south, and run down the A1 instead. Again, it's easy to marvel at how this road's been improved during the past 30 years – wider lanes, eliminated roundabouts, and large, clean service stations. And yet, I bet my average speed is down on my 1980 counterpart because of the traffic density. We're struggling to get up to 70mph between pockets of congestion. But I don't mind – I'm in no hurry to get back home, such is my enjoyment of the Cavalier. Yes, it's buzzing along too loudly, the driving position's not perfect, and its simple interior reminds us how far we've come in 30 years. They were simpler times, but were they better? That's the question that constantly tasks me
Back: Model Timeline
Next: Specifications
Compare classic car insurance quotes and buy online. A friendly service offering access to a range of policies and benefits.

Get a quote