Vauxhall Calibra (1989 - 1998)
Last updated 4 August 2016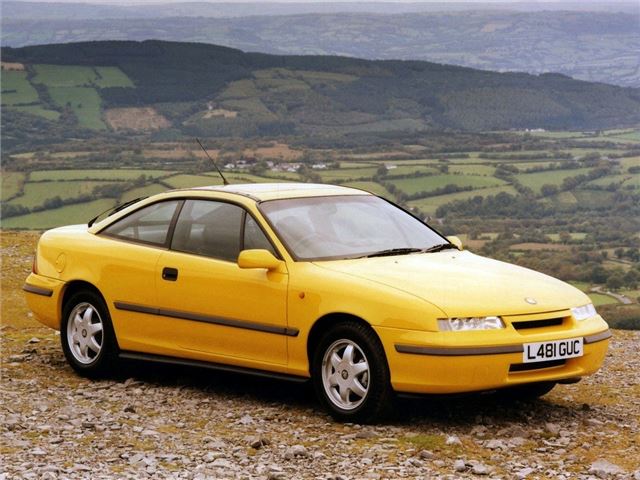 Buying Guide
Good
Good-looking, practical Cavalier-based four-seater coupe with a big, golf-bag-sized boot.
Some good engines in the line-up.
Some very fast, very powerful cars such as 201bhp six-speed 4x4 turbo.
Some nice trim combinations. 168bhp 2.5 V6s with leather and white instruments on 'R' plates can represent a lot of coupe for the money.
Usefully, had a lever behind the headlights to switch from left dip to right dip for continental driving (explained in the driver's manual). 
Vauxhalls generally had below average warranty repair costs in 2003 Warranty Direct Reliability index (index 84.4 v/s lowest 31.93). Link:- www.reliabilityindex.co.uk
Bad
Hard to see out of and very difficult to reverse.
Though they handle better than the Cavalier they still suffer from understeering limitations.
Front-drive Calibras will always come off the road front-first.
Watch
In days gone by, ex-Vauxhall Masterhire cars previously on service contracts came with trustworthy print-out of full service history, including cambelt changes every 36,000-40,000 miles.
Bulkhead may crack around steering rack mountings. Listen for steering creaks and look for cracks around steering rack bulkhead mounting points, a £700 job to repair. Abbot Racing of Spinnels Farm, Manningtree (tel: 01255 870636) have a means of mounting the rack more rigidly, and also replacing the soft rubber suspension bushes which not only solves the problem but makes the car steer and handle much better.
Six-speed gearbox on 4x4 turbo fails and costs a fortune to replace.
On 2.0 litre 16v models a problem can develop with the idle adjustor control valve necessitating replacement and modifying by the fitting of an oil separator.
Plug leads deteriorate and are ridiculously expensive to replace.
Timing belts on 4 cylinder 16v engines also drive the water pump which can shed its impeller blades and seize, throwing off the belt, so best to change water pump too.
Tensioner bolt which passes through oil pump also prone to fracture, leving belt untensioned and apt to fly off.
Back: Driving