Vauxhall Astra Mk3 (1991 - 1998)
Last updated 21 September 2016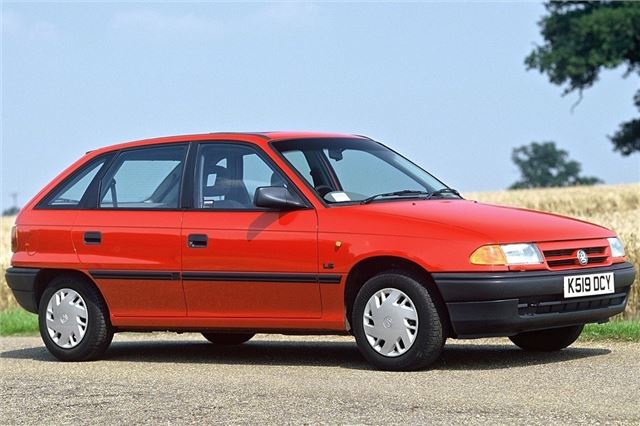 Buying Guide
Good
Estate car the most practical in the class.
Vauxhalls generally had below average warranty repair costs in 2003 Warranty Direct Reliability index (index 84.4 v/s lowest 31.93) www.reliabilityindex.co.uk
Bad
Better than the Escort when it came out in 1991, but not much better. 4-door versions look hideous. Over-light power steering and severely lacklustre handling, even on 'Sport' and 'GSi' versions. 

Door mirrors are 'snap-off', not sprung.
'High torque' 60 bhp 1.4 8v the most popular engine, but even more short of puff than E-Drive.
Watch
Sagging rear suspension on hard-used ex-fleet estates. 

Kerbing damage to front suspension (look for uneven tyre wear). 

Worn front suspension bushes and steering joints. Damaged suspension arms from jacking by them. 

Unpleasant clutch action (might be cured cheaply with a new cable). 

Electric front windows can stick. 

Valve gear gets noisy with mileage and ambitious 9,000-10,000 mile oil changes. 

16 valve versions criticised for sticking valves - usually the owner's fault for driving short distances from cold starts on the cheapest petrol (switching to a high detergent petrol might cure the problem in a few hundred miles). Unfortunately Vauxhall's cure for this seems to have been to ream out the valve guides a bit too much with the result that many 16v 1.6s have become oil burners. 

EGR valve can gum up leading to hesitation while cruising. 

See Recalls re GF50 plastic timing belt pulleys. Timing belts on 4 cylinder 16v engines also drive the water pump which can shed its impeller blades and seize, throwing off the belt, so best to change water pump too. Most likely reason for the water pump to fail is lack of water (coolant) so check this regularly. Tensioner bolt which passes through oil pump also prone to fracture, leaving belt untensioned and apt to fly off. Petrol engine cambelts need changing every 35,000-40,000 miles. 

Misting up may be caused by cable from flap control to flap coming off or failure to fit replacement pollen filter into its seal correctly, allowing water to enter cabin and soak carpets. 

Poor starting of Isuzu diesel may indicate the need to have the valve clearances re-shimmed. 

Floor around handbrake mounting and driver's seat mounting can crack (symptom: having to pull handbrake right up). This could be the reason why more than a few Telegraph readers complain of being unable to release the handbrake of Astras with drum rear brakes. 

Ex-Vauxhall Masterhire cars on full service contracts originally came with very comprehensive computerised service histories, itemised down to light bulb replacements. If this is missing the reason might be it does not match later service history after the odo was clocked. 

Watch out for dodgy histories in kerbside or auction sale cars. More likely than most to be clocked.
Recalls
1995: fuel pipe, airbag.
1995 (TD: VIN S5000001 to S5241939; S2500001 to S2707652 and S8000001 to S8216827): chafing of wiring harness and possible fire risk.
1995: airbag may fail to inflate in an accident.
1995: static sparking during refuelling.
1997 (1993-1996 1.4 & 1.6 16vs only) and 1999: possibility of failure of one or all of three GF50 plastic cambelt idler pulleys on 16v engines 1993-96, which can snap cambelt. Changed as an 'in service mod' when cambelts are changed at 35,000-40,000 mile intervals. (Vauxhall Recall Helpline: 01189 458500 or 01582 427200).
17-4-2000: 620,000 F-Type Astras built 1991-1999 recalled to check for water contamination of brake fluid and to fit rubber grommet to underside of bonnet. Customers to be advised that brake fluid is hygroscopic and a service item to be regularly replaced. Rubber fuel feed can perish and pop off injection system.
Back: Model Timeline
Compare classic car insurance quotes and buy online. A friendly service offering access to a range of policies and benefits.

Get a quote