Vauxhall Astra Mk2 GTE and GTE 16V (1984 - 1991)
Last updated 1 November 2013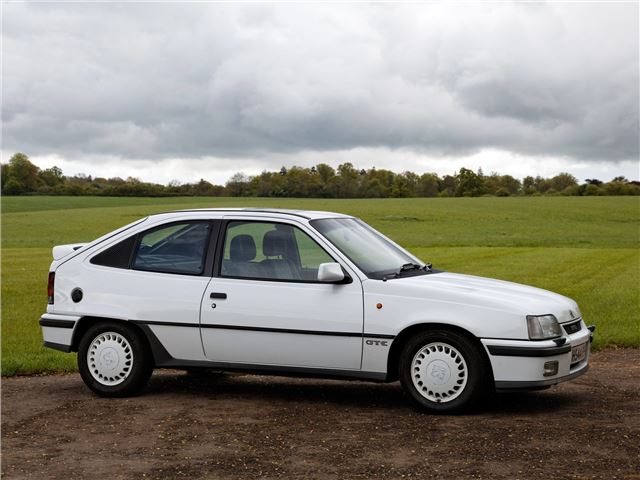 There was obviously untold technological progress between 1975 and 1990 – because on the evolutionary scale, a 1990 Astra feels as removed from a Chevette as a Bakelite radio does from your plasma screen TV.
By 1990 Vauxhalls had become re-badged Opels, and the Astra was as European as they came. If you wanted a Chevette, you had no choice – excluding the HS homologation special, it came with one engine, and it was up to you to take it or leave it. By the time the second generation came along, you had a choice of four body styles, five engines and countless trim permutations.
One look at the Astra's stats soon reveal where all of the advances had been made in the intervening 15 years. Mechanically, the Astra GTE 16V's technical armoury looks refreshingly modern and the 16V twin cam engine delivers power and performance which holds its own today. They'd learned a lot in the wind tunnel too, and the slippery bodyshell meant a high top speed and hushed motorway cruising,
The coal-hole interior of this top-spec version boasted a fair few creature comforts – electric windows, power steering and central locking were the stuff of dreams for a '75 Chevette driver. Even in 1990, you had to be quite high up the company ladder to find a car that featured these toys – and the mid-range Astras retained a feature list that differed little from its ancestors.
Climbing in and taking the GTE for a spin is a revelation compared with the Chevette.
Lighter, more direct power assisted steering give it a far more contemporary feel, and although the ride is little better than the older car's its roadholding is of a different order. Make full use of the performance on twisty roads, and you'll become intimate with torquesteer, something the Astra is legendary for, even today.
That 150bhp power plant is pretty special, though – it sounds crisp and pulls hard, delivering a 0-60mph time of less than 7 seconds, hushed motorway cruising. It's easy to see why every white socks wearing sales rep wanted a GTE – performance was delivered in thick dollops, and any rival GTI was fair game.
Obviously, by 1990, car producers had made huge leaps in performance, refinement and economy, but there was still a long way to go…
Back: Introduction
Next: Buying Guide
Compare classic car insurance quotes and buy online. A friendly service offering access to a range of policies and benefits.

Get a quote