Vauxhall Astra Mk2 GTE and GTE 16V (1984 - 1991)
Last updated 1 November 2013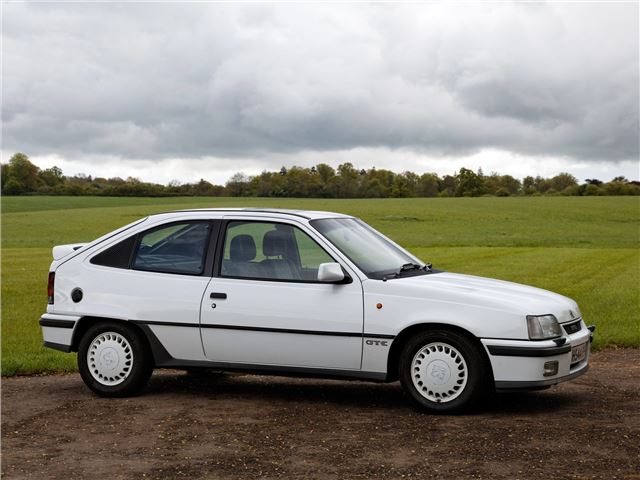 Buying Guide
Good
Not a bad car in its day. Well liked. (Lived on from 1995 to 1997 as the Daewoo Nexia.)
3,988mm long x 1,651mm wide. (Estates 4,216mm long.) Weighed 840kg to 1,032kg.
Range of engines included 54bhp 1,196cc OHV four, 75bhp 1,297cc OHC four, 88bhp 1,598cc OHC four, 112bhp 1,796cc OHC fuel injected four and 54bhp 1,598cc OHC diesel.
From March 1987, 115bhp 1,998cc OHC fuel injected four introduced in convertible and GTE hatchback.
From May 1988, 1,998cc GTE engine got 16 valves and developed a very healthy 150bhp, making the GTE a quick car. Had advanced thinking including a large display digital speedo and still drives surprisingly well. Top speed 134, 0-60 7.7.
October 1989, 1.3 replaced by 75bhp 1,389cc OHC four and 1.7 diesel replaced by 57bhp 1,699cc OHC diesel engine.
3-door hatchbacks, 5-door hatchbacks, a convertible, 3-door and 5-door estates, and a 4-door 'Belmont' saloon.
Nicely judged end-of-the-line SX and SXE hatches and estates.
Could do the distance.
Bad
Belmont saloon was truly hideous.
Solid blue and solid red paint both oxidise. Lacquers on metallics peel off.
Hard, jiggly ride not matched by good handling and road feel.
ABS pumps very expensive to replace.
Pretty convertibles suffer severe scuttle shake.
Getting old now and rusting.
Watch
Could have done 500,000 miles, particularly diesel estates, so look for all the signs.
Clutches stick (may need a cheap new cable or may have damaged bulkhead).
Suspension bushes wear.
Main problem is camshaft wear, which can be terminal for the engine. Listen for thrashing noises and look for signs of oil weeping from top of engine.
Fuel evaporation problem with all late injected models.
Check for driveshaft wear by doing reverse-turns in both directions. Split driveshaft boots are common and an MOT failure point.
Regular 3,000-mile oil changes essential. If not, engines will sludge up and rattle.
Cambelts must be changed every 35,000 miles; tensioners every 70,000 miles.
Always lift the boot carpet and look for signs of accident damage repairs because bodyshells are very difficult to pull back into proper alignment. Check the floorpan of convertibles for rust caused by leaks.
Still worth buying a good 150bhp GTE, but make sure the digital instruments still work.
Back: Driving
Next: Specifications