TVR Tasmin/200-450 (1980 - 1991)
Last updated 21 October 2013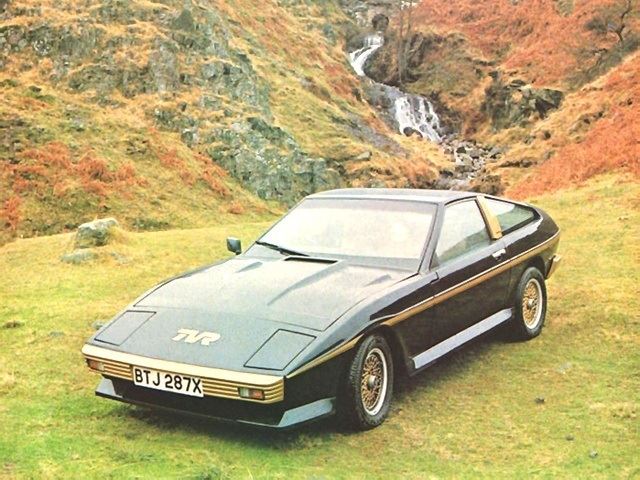 V8 models frighteningly quick, V6 models smooth and effortless, all good fun.
Styling can be off-putting, wet weather handling on more powerful cars can be scary, reliability, cooling problems, body and paint finish not good, four-cylinder 200 model is not worth the bother.
Updated 1 October 1991
TVR Wedge production ended
Introduction
The TVR 'Wedge' range was a long-lived and enduring success, thanks in no part to new owner Peter Wheeler, who had the enterprising idea of installing a V8 under the bonnet in 1983. The original Tasmin was launched in 1980 as a two-seater coupé, but the range expanded with a 2+2 and convertible in 1981.
Like the outgoing 3000M, the engine was by Ford: the Cologne V6 from the Granada 2.8i. A five-speed gearbox was introduced in 1983; the following year the Tasmin was rebadged 280i. There was a Ford Pinto-powered Tasmin 200 2.0-litre (with 100bhp!) for a short time; not popular.
At the same time, the Rover V8 was fitted into the Tasmin. The much lighter engine, along with revisions to the suspension, brought a significant handling improvement. There was a Series II version from 1985 with larger rear lights and no bonnet vents. 
In 1985, the Wedge was uprated to SE-spec. Its Rover V8 bored out to 3.9-litres, and at this point, TVR really staked its claim as a performance car manufacturer. The rear axle received a TorSen limited-slip differential, ducts were added for brake cooling, and the aerodynamics were tweaked. All models were convertibles.
SEAC (for Aramid Composite), was launched in 1986 - the body was created using carbonfibre and Kevlar. Around 40 of the 300bhp 420SEACs were built, along with 17 of the 450 version, which added 25bhp. The huge rear wing does nothing for the car's appearance, but an awful lot for high-speed stability. 
The final 'Wedges' were the 1988 SE models. The 390/420SE and were, in effect, glassfibre versions of the SEAC. Interiors were improved, with better seats and materials, and more curves. Eventually made way for the 1990s V8 S-Series and Chimera/Griffth.
Next: Model Timeline