Triumph TR6 (1968 - 1976)
Last updated 22 August 2014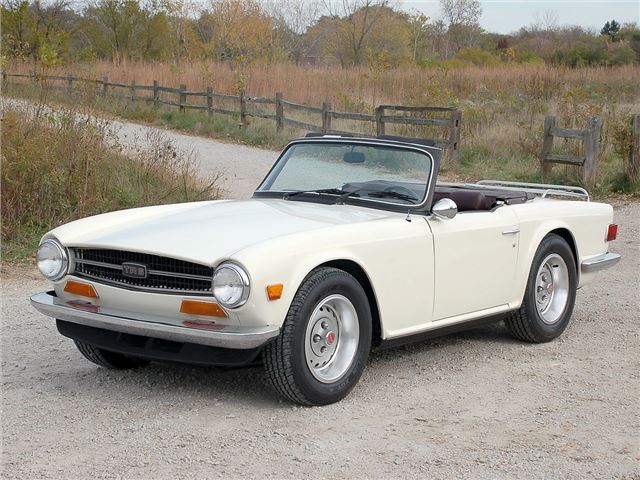 The Triumph TR6 was an interesting development of the long-running TR-line of sports cars. The engine was carried over from the TR5 but new styling was cooked up by German coachbuilder Karmann. Actually, 'new' is something of an exaggeration, for what was actually done was a strictly-to-budget redesign of the front and rear ends of the TR5 hull. It was surprisingly effective, as the new TR6 didn't just look completely different but also came across as very fresh and modern.
The TR6 was a actually quite a success - with 94,619 units finding homes until the end of its life in 1976. Nevertheless, it came in for a few barbs because however good it looked on top, underneath it was the same old formula that had been going for years. And potential buyers were starting to notice that other rivals were now starting to surpass what the British had to offer.
Character
There's is little pretence at cultivation with the TR6. It's a blunt tool, a TR in the true sense of the letters. Despite the modern-looking body, it displays all of the traditional personality that made this range of sports cars such a success. It's a driver's car, one that rewards those skilled enough to tame it properly with the sort of old-fashioned charisma that makes it easy to remember why we all like classics so much.
On the road
It's oversteer you have to be wary of with the TR6. Despite the best intentions of Triumph in fitting independent rear suspension and making this series much-better behaved than earlier incarnations of the breed, this is still a car that displays many traditional handle quirks…that quirky traditionalists seem to love.
If you change your mind about the speed you're doing halfway through a corner and attempt to sort things out, you will find yourself in just the same sort of trouble as an MGC would put you in, with the rear end breaking away. But overall, the TR6 comes across as a lot more of a docile beast if you drive it with an ounce of sense or skill.
Performance is more than adequate, with a 0-60mph time of less than 10 seconds, and a rorty, deep-chested soundtrack to accompany it. So, if you plump for a TR6, you're be more than capable of keeping up with the flow with typical modern traffic - and you'll have a laugh in the process.
Ride
This is where it all gets a bit choppy. The TR6 offers a far from comfortable ride…but then again, neither would you expect it to. It's an old classic British sports car cast in the traditional mould, and so anybody should expect the rides to be firm and bouncy.
Hit a big bump in the road, and you'll feel it straight away in the cockpit. This isn't such a bad thing of course – the ability to feel what the road is doing beneath you and the provision of excellent feedback from the steering is something desirable. But if you're looking for a drive that will leave you feeling fresh and relaxed by the end of the journey, then look elsewhere, because this car doesn't do subtle.
Gearbox
The TR6 has a heavy, positive change as you'd expect with a car with this amount of torque. It sports an overdrive as standard, operating on the top two gears. It's a useful fitment, because if your speed doesn't drop too low, you can quite easily drive around just diving in and out of overdrive when you need a little bit of a lower ratio.
There really is that much grunt from the engine being translated through the transmission mechanicals. It's operated by a stalk that sticks out of the steering column. Somehow, too, it's more satisfying too to use the TR6's system. The means of engaging the overdrive on the Triumph somehow just doesn't seem impressive enough.
Braking
The front disc/rear drum set-up does its job well enough with the assistance of a servo unit. You press the weighty middle pedal, the car stops within reasonable limits and without causing the driver to break out into a serious sweat unless he has left things late.
Cabin and Controls
No surprises from the inside of the TR6. Yes, it's the trademark Triumph slab of wood in front of the occupants, beloved of TR enthusiasts the world over. The TR dashboard is as neatly organised as that of the MGC, although it prefers to have its instruments in the centre and put the knobs and switches grouped together around the steering column. The passenger compartment does its best to envelop any passengers and make them feel as if the car has shrunk around them.
Luggage Space
The obvious place to casually sling any items is in the small luggage area behind the seats. There isn't a lot of space here, but it's handy enough for just somewhere to put things when you're in a rush. For those moments when a little more security is called for, there's always the boot.
The Triumph is generously endowed, albeit still with a few sports car limitations. It's commodious for a car of this nature. However, when Karmann revamped the TR5 into the TR6, one of the things it did was add a large lip at the rear, so you have a bigger lift upwards to get anything inside that you did with previous TRs. Still, that aside, extra points to Triumph for managing to incorporate such a useful boot on a convertible sports car.
Running Costs
IT'S the initial purchase cost that will take the lion's share of your cash when it comes to owning and enjoying a TR6. Once you've got the car safely back to your garage or driveway, then it can get a lot cheaper. The TR6 is one of best-served classic marques when it comes to specialists. Parts suppliers and those with an expert knowledge of looking after a Triumph TR6 are positively oozing out of the historic woodwork.
There's little to be frightened off when contemplating home maintenance. The fuel injection system on the TR6 can be a little off-putting, but elsewhere, it's little more than bolt on, bolt off stuff. In fact, Triumph actually advertised the TR6 as such in America, trumpeting such features as the ability to change wings easily so you could have different looks.
Verdict
The TR6 is a very enjoyable car to drive with a rorty sountrack and effortless performances. As the ultimate development of the TR breed before things went wedge-shaped, the TR6 was a mature and well-rounded performer that still retained a lot of the character of the old school Triumph sports cars. But it could never be confused with just a four-cylinder Triumph TR4A…
Back: Introduction
Next: Specifications
Buy a Triumph TR6 from £14,981
Compare classic car insurance quotes and buy online. A friendly service offering access to a range of policies and benefits.

Get a quote