Triumph Spitfire (1962 - 1980)
Last updated 10 May 2013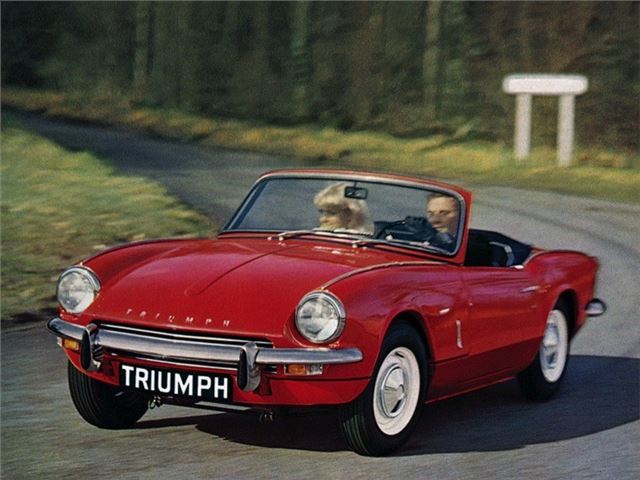 Buying Guide
Body
Rust is a Spitfire killer. But it's also esy to spot when looking over a car; less easy to fix correctly.
Check the sills - are they rust-free? They corrode where the they meet the rear wings, and it's tough to fix there. Also take a look at the leading edges - holes here will trash them in no time.
Also pay attention to the the rear quarter panels
Door bottoms
Boot floor
Windscreen frame
A-posts
Wheelarches
Headlamp surrounds
Front valance.
Floorpans rust, either through the sills or via damp interiors. Damp footwells are a sure sign of trouble.
Is the shell straight and true? Easily checked, if you look at the door shuts - if they are wonky, the chances are the car is twisted, probably due to rushed sill replacement.
Electrics
Not much to report here. The main problem you'll find with Spitfires is weirdness caused by poor earthing.
Interior
Trim can get shabby without too much difficulty, but luckily, just about every parts has been remanufactured.
Engine
The 1147cc is rare, lacking power, and will have probably been upgraded by keen owners along the years. There's little that goes wrong with these cars, but do ensure it's been fitted with the correct oil filter with non-return valve.
On the 1147cc and 1296cc engines, check for rattling on start-up - a sure sign the big ends are about to go.
Top end noise can be caused by the erosion of the rocker shaft and rockers themselves. Bebuilding top- and bottom-end isn't prohibitively expensive and easily DIYable.
The 1296cc engine can suffer from worn thrust washers, which causes play in the crankshaft. Check this pulling on the front pulley - if it moves fore/aft, walk away, as you're staring down the barrel of a wrecked crank and bottom end if the thrust washers fall out. Rumbling noises from the bottom end are the give away.
The 1493cc suffers from crank wear, along with the pistons and rings. Blue smoke under acceleration is the giveaway here - but again, costs aren't out of order for repair or replacement. If the engine has had it, your best bet is to fit an exchange rebuilt unit at around £1000.
Transmission
Check the synchromesh is good. Listen and feel for baulking between gears, a sure sign it's worn. If it is, budget on £300 or so exchange. DIY replacement is a piece of cake.
Overdrives can give problems. Check they engage and disengage as they should, and that fluid levels are as they should be. If there are no leaks, non-operation is probably an electrical issue.
Worn universal joints are given away by clonks as the drive is taken up when moving off in forward or reverse.
Clutches are straightforward, and easy to replace - feel for judder and slippage, and make sure it's all oil-tight.
The differential can whine when it's worn, but rarely does it fail. Rebuilt units cost around £350.
Suspension, steering  and brakes
At the front. the nylon bushes in the brass trunnions can wear, so check for play. Replacement is simple, and cheap (bushes are a fiver; trunnions are £15). They corrode if EP90 oil hasn't been applied every six months or so, due to water ingress. The vertical links can also suffer - budget on £100 per side.
Anti-roll bar links also break, but at just £8 each that's nothing to worry about. The same goes for the rest of the front suspension; there are all sorts of potential weak spots but they're all quickly and cheaply fixed.
At the rear, the wheel bearings are hardest things to fix, so make sure they're quiet. They wear out and need a press to remove.
Also check the condition of the dampers and leaf springs.
The rack-and-pinion steering and disc/drum brakes are unlikely to cause problems. All parts are available, and straightforward to replace.
Back: Model Timeline
Next: Running