Suzuki Cappuccino (1993 - 1995)
Last updated 5 April 2018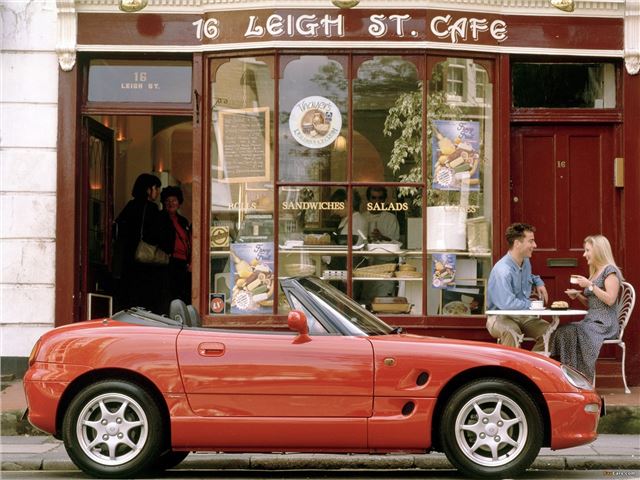 Buying Guide
Good
Tiny 679-725kg sports 

car

 just 10' 10" long and 4' 7" wide.
Powered by 

turbocharged

 657cc 

engine

 developing 64bhp and getting it to 60 in 11.3 seconds.
Top speed limited to 83mph.
Red lined at 9300rpm, but peak power at 6500rpm.
Top composed of folding canvas back with two hard top panels overhead. 
According to the VOSA website, there has never been a recall for the Cappuccino
Bad
That revvy engine can do itself in and some parts are hard to find.
UK owner's club seems to have disappeared.
Watch
When buying you need to be very aware that these cars rust.
Floorpans, sills and arches can all rot, although many of the lower exterior panels are plastic anyway – but the panels behind them aren't.
Check around the rear number plate as it is susceptible to corrosion, as is the engine bay. Buy a car that's been Waxoyled from new.
The roof panels, boot lid and bonnet are all made of aluminium, and are fragile. Check these carefully as they are expensive to repace. The seals that go round all these panels crack and let water into the cabin – a complete set will add up to over £150 but the biggest problem is a damp interior.
Oil changing every 3000 miles to protect the turbocharger. This is usually very reliable but if it's a £2000 fix. Check for white turbo smoke and, while you should be able to hear the turbo, it shouldn't be particularly loud.
If the car has been chipped chipped, the chances are that ithas been thrashed.
Cambelt need changing at 60,000 miles – make sure this has happened.
Most equipment, such as air-conditioning and electric windows, are usually trouble-free.
Parts prices are high; new exhaust is over £400, as is a headlight unit. A starter motor is more than £200, and if you need to replace the centre and side panels for the roof you're looking at £750.
If you can't tell whether you're looking at a grey import or not, take a look at the indicator casing If it sits flush with the bodywork, it's an official UK car, if not it's a grey import.
To meet type approval, there were 23 changes to make the Cappuccino suitable for the UK market and these indicator cases were one of them.
Rear brake calipers prone to leaks. Rubber seal around side windows prone to cracking and leakage.
Back: Driving
Next: Running