Smart City Coupe (2000 - 2004)
Last updated 30 July 2018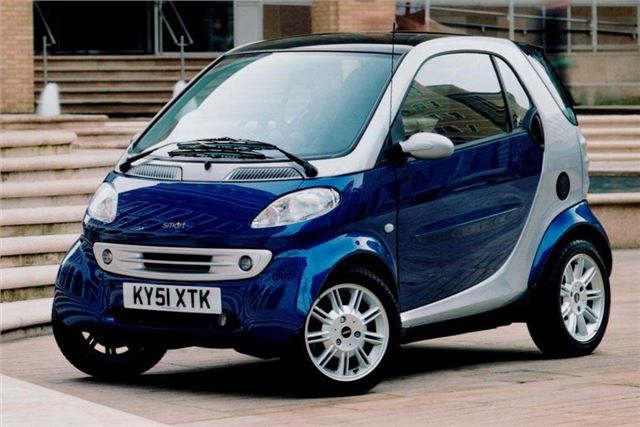 Model Timeline
February 2000
Quite powerful 599cc 44bhp to 54bhp petrol engines coupled to six-speed sequential autoboxes. Much faster than other microcars. And, of course, has city style which other micros lack. Handy 8' 1" long by 5' wide and weighing from 720kg.

Euro Type-Approved. 799cc CDI diesel from autumn 1999 has 41 bhp, 74lb ft, does 85 mph and 85 mpg - and, at 90 g/km, has ulltra-low carbon dioxide output. This qualifies it for free UK annual VED from march 2007 and London Congestion Tax exemption from February 2007.

Convertible version from early spring 2000. Also mean-looking 70 bhp Brabus version for under £10,000.

10-10-2000: Launched in the UK

11-05-2001: Summer 2001 facelift brought a power boost from 54bhp to 61bhp for the Smart & Pulse plus better front suspension. Official combined consumption 57.6mpg; CO2 emissions 118g/km. RHD due early November 2001. RHD Prices: 44bhp Smart & Pure: £6,295; 61bhp Smart & Pulse: £7,295; 54bhp Smart & Passion: £7,995; 54bhp Smart & Passin City Cabriolet £9,995.

16-09-2001: Daimler Chrysler showed a hybrid concept version of the Smart at Frankfurt. Dubbed the Smart Hyper (hybrid and performance) this combines a diesel engine with electric motor drive to offer extra economy and performance. Fuel consumption is less than 3 litres of diesel per 100 kilometres in the new European driving cycle (NEDC), which corresponds to CO2 emissions of less than 80 g/km.
The system allows spontaneous starting when the combustion engine is shut off (automatic start-stop system). The electric drive bridges the time needed for starting and torque build-up. As well as this, it compensates the traction interruption caused by the system during gear shifting. At low speeds it can drive the car on its own. Like the Citroen Dynalto, driving performance also benefits from the electrical energy which is supplied to the drivetrain in addition to the engine power. The car accelerates from zero to 60mph in just 17.4 seconds, two seconds less than the Smart CDI.
Back: Introduction
Next: Driving
Compare classic car insurance quotes and buy online. A friendly service offering access to a range of policies and benefits.

Get a quote