Smart City Coupe (2000 - 2004)
Last updated 30 July 2018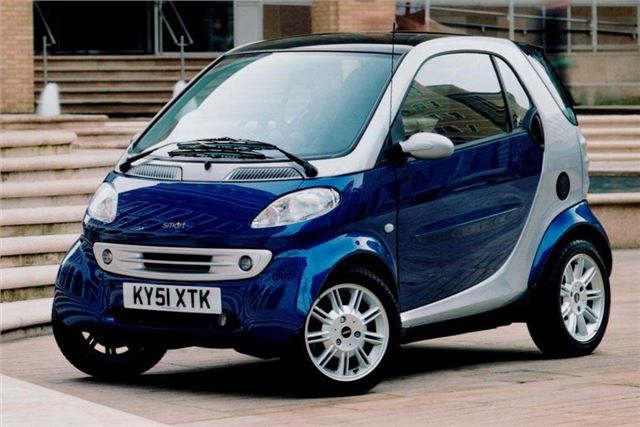 Buying Guide
Good
Did well in German TUV/Auto Bild front offside crash test.
Three-Star NCAP crash safety rating.
Smart City Coupe and Cabrio 5th overall in 2003 What Car? J.D. Power Customer Satisfaction Survey. 100% breakdown free in 2003 Which survey. 19th top car out of 137 in 2003 Top Gear survey.
A reader recommended source for LHD CDI diesels, complete with English handbooks, is Anthony Clutterbuck at the Surrey Smart Centre, tel 020 8686 2606.
Good independent spares supply and servicing from Top One International in Kingston, Surrey, tel: 020 8549 8188.
A Smart ForTwo has reached 339,600 miles on its original engine and transmission, with just one new clutch at 96,000 miles.
Modifications giving more luggage space www.smartsrus.com/clever_models.htm
Smart social networking site www.destinationsmart.co.uk
Bad
Gearbox and accelerator can take some getting used to.
LHD only up to early 2002.
Two seats only.
Definitely doesn't handle like a hot hatch, though handling can be hugely improved by fitting wide wheels and tyres to the front.
Watch
With first generation Smarts, take care on corners, or fit wider front wheels and tyres.
Rearmost side windows can be prised off with bare fingers giving access to thieves. So never leave valuables in the car.
At least one instance of rear window shattering violently due to minor prior damage exposed to extreme temperature change. Replaced without demur under warranty.
Engine life can be short and exhaust silencer boxes very prone to rusting inside out.
Exhaust manifolds can crack and cost £380 + labour of about £300 to replace.
Coil spring failures becoming increasingly common. The springs fail at the tops.
Recalls
May 2000: Official recall by Daimler Chrysler via DVLA records on all 602 MCC Smarts imported in 1998 and 1999 to uprate part of the stability control system software, to check the front axle ball joints for water ingress and corrosion and to check the throttle pedal module. Any replacements free of charge wherever the car was purchased.
June 2003: Stickers sent out to Smart owners to put over the air intake on LHS of the car warning drivers and filling station attendants that it is not the fuel filler hole. 7/4/2003:24/6/2003 VIN KMHEN41EPXA000380 to KM11WF35H82A526636: On some cars with side airbags there is a faulty connection onto the SRS wiring loom under both front seats. This will cause the SRS warning light to illuminate and the airbag system will be disabled. Re-route and secure the airbag cables and connectors.
Back: Driving
Next: Running
Compare classic car insurance quotes and buy online. A friendly service offering access to a range of policies and benefits.

Get a quote