SEAT Arosa (1997 - 2005)
Last updated 11 July 2017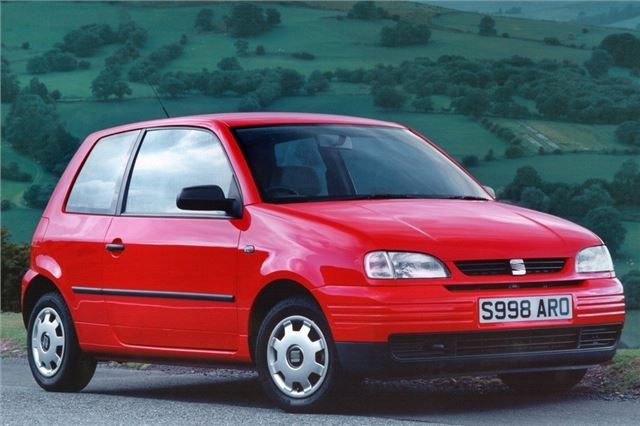 Buying Guide
Good
Did well in German TUV front offset crash test.
Tall body good for entry and exit by the elderly.
Joint 3rd top make in 2002 'Which?' reliability survey cars 2000 - 2002.
SEAT generally 2nd lowest average warranty repair costs in 2003 Warranty Direct Reliability index (index 39.83 v/s lowest 31.93) SEAT 5th top top of Reliability Index for 2004 combining very average cost of repair of £328.32 with 22.69 failures per 100 Warranty Direct policies. www.reliabilityindex.co.uk
SEAT self-help group: www.seatcupra.net
Bad
Handling not to standard set by Ford Ka, but it's okay. Clutch cables stick and may break. 

Door mirrors feel a bit cheap. 

The 'Comfort Pack' of height-adjustable seats, parcel shelf, better trim etc. cost £245 new and is well worth looking for on second-hand examples. 

Came 8th = from bottom in 2005 JD Power/What Car Survey of 23,000 cars reg Sep 2002 to Aug 2003 with satisfaction score of 73.6%.
Watch
Make sure servicing up to date and warranty still in place. 

Have been known to misfire so make sure the cat isn't torched by having it MOT emissions checked. 

Quite common for doors to drop on their pins. 

Clutch replacement unusually expensive on 1.0 version (more than £500). 

Quite a few problems both from Wolfsburg and Barcelona production. UK never got 1.2 litre '3L' super economy diesel because UK diesel tax is too high to justify the cost. 

Plastic timing belt tensioners of 1.4 16v engines now failing regularly, though fortunately the belts are rarely flung off when this happens. 

One reader's comments on his Arosa 1.7SD: "Diesel MPG average: 72 mpg (I commute on the A1 when there's no traffic at 60-65 MPH). Best was 80.2 MPG. Fuel log kept. Warranty claims: 11 non-scheduled visits in one year. Front tyre wear due to incorrect toe-in setting at factory. Seems to be a SEAT problem as a friend with a new Arosa TDI had a similar problem. Door mirrors are useless: cannot be adjusted from inside the car. Replaced by just as bad. Minor oil leaks due to improperly fitted gasket. Chronic Stereo static (still not fixed after 6 visits). Squeaky rear suspension (may be bushes-not yet investigated). Dealer support: Friendly, yes. Expensive: Very. Standard 10,000 mile "there-was-nothing-to-adjust" service was over £225, reduced to £165 after serious complaining. My wife's Mk IV Golf had a full VW 2 year service, laser 4-wheel alignment and fluid changes and I still got change from £222. Oil change is a shocking £80, but takes 15 minutes and parts costs £30. Cambelt change due next year and will cost a whopping £312 which is odd since the belt is under a plastic cover and is easily accessible, and that includes access to the idler pulley. I will take the car to France for this work which is 30% cheaper (while on a booze-cruise). Overall: An excellent small car. Very comfy, fair handling, good build quality (except mirrors). Overpriced main dealers." 

Bonnet cable can come off. If it does, here's how to open the bonnet (with thanks to Derek Logan): 

1. Gently push in the Silver Seat symbol on grill. It will fall inside but, is easliy retrieved later. 
2. Gently but, firmly push in the plastic grill till it pops of the locking tabs at both sides. 
3. Ease out the grill, a bit fiddly but, will come out. 
4. Release the upright stay directly behind the grill TorX top and bottom). 
5. Mark with permanent marker or scribe, round the locking mechanism frame around the fixing bolts for repositioning. 
6. Undo the two bolts (TorX) either side of the locking mechanism and release the mechanism. The bonnet is now be free. 
7. I found that the release cable from the lever inside car was adrift at a joint half way along the drivers side wing. 
8. Reconnect and reclip the cover that keeps this in place.
Recalls
11-5-2013: From Kyle Fortune's Used Buying Guide for related VW Lupo 1.6 GTI: Wide doors can drop on their hinges. On the Lupo 1.6GTI 16v look for blue smoke from the exhaust that could signify blocked crankshaft breathers or failing valve stem oil seals. Rear spoiler can develop paint problems. Electric windows can stick. Neither 5-speed nor 6-speed manual gearboxes are strong and casn suffer wear on their selector rods. A full set of nylon suspension bushes is a worthwhile modification.
SEAT admitted a cold weather fault with the 1.4 automatic, manifesting itself in a loud noise when changing up from 1st to 2nd gear. Replacement parts were fitted free.
June 2002: 120,000 Polos, Lupos and Arosas built during 1998 and 1999 recalled because cracks in the brake vacuum pipe could lead to loss of servo assistance to the brakes.
6-7-2002: 7,157 Arosas recalled because tension cracks in vacuum pipe to brake servo may occur. Pipes to be checked and replaced if necessary.
Back: Model Timeline
Compare classic car insurance quotes and buy online. A friendly service offering access to a range of policies and benefits.

Get a quote