Rover 75 (1999 - 2005)
Last updated 10 August 2017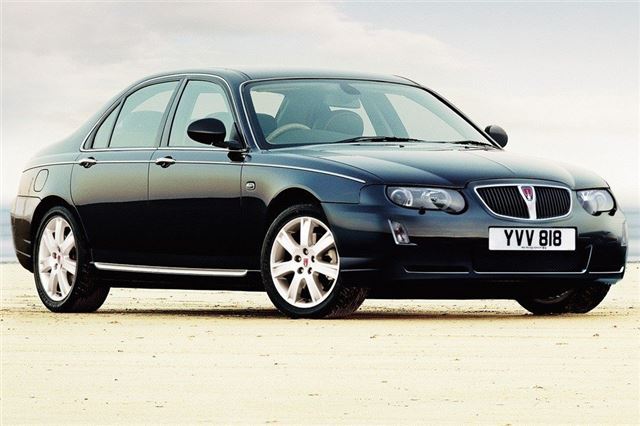 Model Timeline
Replaced both 600 and 800. Very good looking with styling cues from 1950s Rover P4. Looks a bit like a Rolls Seraph from the back, and sits in the market exactly where P4s did between 1955 and 1965. Nice retro-look cream oval dial instruments. 1.8 litre 120 bhp K Series four; 2.0 litre 150 bhp KV6, 2.5 litre 175 bhp KV6, or pleasant, quiet and torquey 2.0 litre 115 bhp BMW common rail direct-injected diesel. All front-wheel-drive. JATCO 5-speed automatic or Getrag 5-speed manual. Softish, cosseting ride quality. Not a sports saloon, but still handles fairly well. Good sized but fairly shallow boot. Excellent cool face/warm feet ventilation system. Prices from £16,494 including three year warranty.

'Tourer' estate car and shift to production at Longbridge in Spring 2001 brought across-the-range handling improvements.

Developed into MGZT with 180bhp front wheel drive and up to 385bhp rear wheel drive.

LPG version of 75 1.8 from July 2002 at an extra £2,195.

The 75 settled down into the market very well indeed. BIK tax beating 150PS 1.8 turbocharged version from August 2002. 215Nm (159 lb ft) torque and low CO2 rating of 193g/km for both saloon and Tourer qualified it for a BIK tax base of 20% of the list price, which worked out at £3,659 for the 1.8T Classic and meant a 40% taxpayer forked out £1,463.60 a year. The 1.8T gets to 60mph in 9.1 seconds, from 30-50 in 7.1 seconds and from 50-70 in 7.4 seconds. The torque allows the higher 3.9:1 final drive of the 2.5litre to be used, giving 22.6mph per 1,000rpm in 5th and a 130mph top speed for the saloon. Official combined consumption is 35.3mpg. Tyres are 195/65 15s giving much better ride quality than low profiles.

XPOWER Power Boost kit for Rover 75 and MG ZT diesels from September 2002 lifts output to 131ps and torque to 300Nm, pulling 0-60 back to ten seconds and giving much better mid range acceleration. Cost £490 from MG Rover dealers. All official Rover 'new' CDTis from Feb 2003 chipped to 131PS, but 114bhp CDT continued.

12-02-2004: Facelifted in Spring 2004 and lost its classic British look. Spec upgrade for 2005 with Smartnav on all but entry level classic models.

02-11-2007: XPart's XPower diesel upgrade relaunched November 2007 raises power by 15bhp, reducing the 0-60mph time by up to ten percent. Towing capability is also improved with a 15 percent increase in torque across a wide rev range. Available through XPart's 240-strong AutoService centre network. XPart's XPower diesel upgrades are performed using the T4 diagnostic equipment which was utilised by the original MG Rover franchise dealer network and is now standard across XPart's AutoService centre network.
To perform the upgrade, centres must order an installation pack which is unique to each vehicle. The pack contains a software CD, a one-time use ECU unlock code which is tied to the vehicle's VIN number and an owner's certificate of authenticity. Once the pack has been delivered to the AutoService centre the performance upgrade can be made in a matter of minutes. XPart's diesel upgrade pack is available from any of its 240 AutoService centre or its accessories website (www.xpart-accessories.com) for £199.99 plus VAT and installation.
September 2013
Alongside Xpart, www.75-zt.com has developed replacement stainless steel coolant pipes for both the early and later variants of the V6 engine cars. www.75-zt.com members have also been developing and improving the Variable Intake System motors for the V6s which tend to fail due to oil ingress. Another project alongside Longlife exhausts has been the development of an OEM quiet stainless exhaust for the 75s. There is now also a quarterly magazine devoted to Rover 75s and MG ZTs.
Stretched VDP version with 200mm more legroom in the back. The 75 Vanden Plas was modified by specialist coachbuilders S. MacNeillie & Son Ltd. Came in Connoisseur trim level only, with the 130kW (177PS) 2.5 KV6 which develops 240Nm (177 lb ft) torque, mated to the standard 5-speed JATCO automatic transmission.
Price £27,995 with metallic paint.
Armour plating and bulletproof glass were extra. Smart move by Rover because there weren't any 'British' alternatives and Government and some 'British' industry captains felt obliged to be seen in it, which in turn gave Rover excellent publicity.

Facelifted in 2004.

Some parts of the facelift LWB car continued in production in China.
Back: Introduction
Next: Buying Guide
Compare classic car insurance quotes and buy online. A friendly service offering access to a range of policies and benefits.

Get a quote