Rover 75 (1999 - 2005)
Last updated 10 August 2017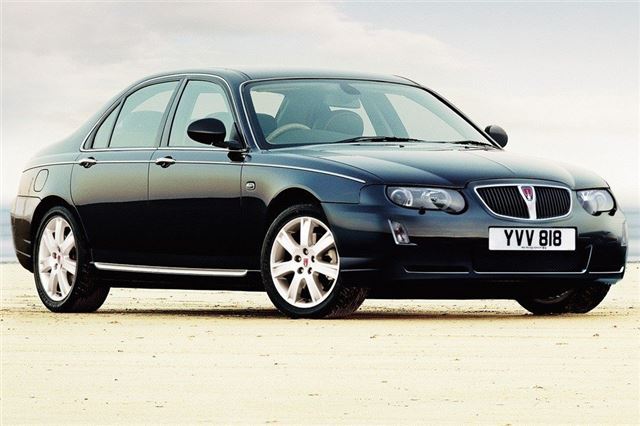 Buying Guide
Good
Very good score or 30 points in Euro NCAP crash safety tests. 

S and T reg cars came an excellent sixth in 2001 Top Gear / JD Power Customer Satisfaction Survey.
Diesels RECOMMENDED. Report of 215,000 miles from one with minimal trouble.
For parts, try www.britishcarparts.uk.com
www.xpartautoservicecentre.com
www.rimmerbros.co.uk 

Exhaust systems from www.longlife.co.uk 

Clubs: www.the75andztclub.co.uk
Haynes Manual from November 2006
By 2012 Rover 75s and MC ZTs (particularly the 2.0 litre BMW engined diesels) were developing a strong following and values were starting to rise. Not just because of the looks of the car and potential future classic status, but because they are proving to be good long-life cars.
Rovers generally had slightly below average warranty repair costs in 2003 Warranty Direct Reliability index (index 93.69 v/s lowest 31.93), just beating Nissan www.reliabilityindex.co.uk
All petrol and diesel models average for breakdowns, problems and faults and rated 'Worth Considering' in 2003 Which survey.
Bad
Parking dings in easily damaged slab-side doors. 

A nice surprise is that Longbridge cars are better built than Oxford cars with better handling. The easy way to distinguish a Longbridge (MG Rover) built 75 from a Oxford (BMW) built 75 is that Longbridge 75s have body colour sills and Oxford built cars have black sills. 

Early Oxford-built black-sill 75s need checking carefully for rust along door bottons and lower edge of boot. They also need checking for rusted front to rear brake pipes (well known problem). All Longbridge cars are fully EOBD compliant (3 oxygen sensors). Check clutch operation if buying a diesel. 

Head gasket failure common on 1.8 petrol engines because very low coolant capacity of engine means small leaks rapidly lead to overheating. Weakest point is water heated inlet manifold 'O' ring gaskets. 1.8 K Series head gasket failures website link www.shame.4mg.com Bore liners of this engine can also drop. First reported failures of similar failures of KV6 beginning to feed through, but these are still rare. K-Series engine failure class action solicitor is: www.irwinmitchell.com/groupaction/our_work/defective_products/other_products/rover_k-series_engine.asp 

Coolant level sensor kit available for the MGF and TF for £89.99 from MG Specialists such as Brown and Gammons (01462 490049) www.ukmgparts.com may also fit Rover 75. 

XPart offers the MLS head gasket set which comes with a strengthened lower oil rail and new head bolts, as well as a water pump, from www.xpart.com In designing the new kit, XPart and SAIC have used a combination of the revised lower oil rail designed by MG Rover engineers, higher tensile 10.9 grade long stretch bolts and a new single piece multi-layer steel gasket engineered by SAIC for its new N-series engine. The gasket should not be fitted in isolation and it is the kit together with revised torque settings that provides the best known repair. The XPart parts warranty only applies when the full kit has been used. 

Have been problems obtaining body parts. 

Have been problems with broken keys with owners being quoted up to £160 for programmed replacements. 

Reports of electrical problems, especially in the electric seat wiring. Battery drains may be from boot light switch failure and boot light remaining on. If you hear a whirring noise after switching off, this comes from the fan unit on the f b heater that has started to run. It should not unless the engine is running and the outside temp. is below 3C. The pcb of the fuel burning coolant pre-heater is the likely problem. This will also drain the battery, simple fix is to unplug the power cord at the heater (plug-in type). Approx cost of new pcb is £300, yes that correct £300, hence the unplugging. (On some models you can have a timer you set so the car is ready to drive off with a nice hot cabin but as Rover was going down the pan they stopped fitting them so not all cdts have them.) 

Tend to wear their tyres unevenly, especially their rear tyres. Possibility that some cars were supplied with misaligned suspension, maybe through undetected transporter damage. Rear tyre inner shoulder wear common, especially with lower profile tyres.

Cabin can suffer water ingress as the result of blocked or kinked plenum chamber drains and water from this can damage ECU. Garages frequently remove plenum chamber drain filter plugs to help water drain faster, but if the pipes then get blocked with debris as a result the problem can be worse. Take care that the ventilation plenum chamber drains are not blocked before putting through a carwash, otherwise can flood the ECU which then requires replacing at a cost of £1,000. 

The two scuttle ventilation plenum chamber drains (later models have one plugged) can become blocked by leaves etc. This allows a water build up wth the car standing during rainfall which can enter the car. Water settles in a well area where the ECU is located and will eventually cause damp/condensation in the ECU. 

A few complaints of clutch noise on diesels, especially CDTIs. Cured by new sprung clutch plate. 

Some problems emerging with 5-speed autobox on diesels: clutch packs breaking up after 3-4 years. 

On automatics, a piston cracks and a 3rd to 4th gear problem shows up, then gradually spreads as the bits from the damaged piston spread. Reverse goes next. and soon there is no drive at all. Reconditioned JATCO 5-speed automatic transmissions £900 + VAT from www.ashcroft-transmissions.co.uk  Another highly recommended specialist is http://ajautomatics.co.uk/

On the 1.8T a coolant hose can chafe through against the turbo with davastating results if the engine loses all its coolant. Check and try to relocate the pipe away from the turbo. Flexible pipe between exhaust manifold and cat converter of the diesel often fails and costs £480 for a pattern part to replace. 

Parking brakes are separate small drums inside the rear discs and are very effective (BMW design, as on the BMW 3-Series) but require maintenance to remain effective. The system works very well if the correct sequence of adjustments is carried out. They are extremely fiddly to adjust and highly sensitive to bedding-in of the brake shoes. To keep them working properly you need clean and lubricate the linkages at the hub (using specialist brake grease), then adjust the shoes to binding point, which is somewhat tighter than the official Rover instructions. (Thanks to SK) Alternatively the linings may be worn out or grease from the bearing has contaminated them. 

On the KV6 cambelt replacement at 90k miles can be very costly. There are 3 belts, the main belt and then one belt on the rear of each bank from inlet to exhaust. The 75 is more crowded under the bonnet than the ZS/45 and the job is more difficult on this application. I think this is because the 75 has a double bulkhead, thick panels, large inner wings, etc and is BMW-like in its construction in an attempt to limit NVH. 

Also, the KV6 seems to suffer from the VIS system packing up. Most owners do not seem to realise and merely report "VTEC" like engine characteristics, where the car will surge from certain RPM. The engine uses a plastic inlet plenum, which is a sealed unit and houses two sets of valves for the VIS system. Two motors drive the two sets of "balance" and "power" valves. Oil from the engine breather system seems to cag up these plastic valves and sliders, meaning the small motors which drive them burn out/the plastic rack in the motor wears where the motor jumps teeth trying to shift the stiff valve mechanism. 

You can change the motor, which may resolve the problem for a short while, until it burns out again. The cure seems to be either taking the manifold off and cleaning it, which is difficult as the thing is sealed, cleaning it up in situ, by taking the motors off and pulling the sliders too and forth while spraying in some carb cleaner or something to get rid of the gunk. Or replacing the manifold (costly and mostly unnecessary). 

Another common 75 issue, especially as they are getting over 4 or 5 years old is the cooling fan packs up. If someone is not on the ball, low coolant capacity with wet liner construction can mean it heats up very quickly and gives a big bill for a cooked engine. 

Finally, failure of the fuel pump O ring gaskets is so common on all 75s that AA and RAC patrolmen now routinely replace them as roadside repairs." 

On CDTs and CDTIs injectors are prone to seizing into the heads." 

Fuel tank sender pumps are a common failure: either the pump itself, the relay or the earth. 

JATCO advises owners not to carry out AUTOMATIC transmission fluid changes themselves because it's difficult to ensure the correct amount is added (the gearbox needs to be run to a specific temperature - This requires diagnostic equipment) and probably they will use the wrong oil, e.g. Land Rover Discovery ATF is different from a Land Rover Freelander, and Jaguar X-Type (Jatco) uses different ATF to a Land Rover Freelander (Jatco). 

A rumbling noise may be caused by the roof support from B pillar to B pillar becoming unbonded from the roof itself. Needs re-sticking with mastic. Obviously will not happen if the car has a factory fitted sunroof as that has a different structure. But does happen to the rib between the 'C' pillars of Tourers whether fitted with sunroofs or not. 

HOW TO READ THE DIPSTICK OF A 2.0CDT OR 2.0CDTI. A false LOW reading seems to be obtained whenever the dipstick is left in place after running the car and returning home. Even reading the dipstick the morning after with the engine now completely cold, the first time the stick is extracted will give a false LOW. 2. On wiping and re-inserting immediately afterwards , a correct FULL reading will be obtained. 3. Also, If the dipstick is taken out and left on top of the engine whilst in the garage, then on reinserting a correct FULL reading will be obtained. Similarly ANY reading taken after first removing the dipstick and re-wiping will be CORRECT. 

If speedo fails and ABS and Traction Control lights come on it could be because one of the front wheel ABS cables has chafed through. Reconnecting and properly insulating the cable may get your speedo back and the ABS and T/C lights off. Of course, this may also be the reason for an MoT failing ABS light coming on.
20-4-2011: Bumpers for 2004/2005 facelift MGZTs were unavailable for a while, but a fresh batch was commissioned by XPart. The new bumper is hand-manufactured, with tolerances tightly controlled to ensure fast, simple fitment. The bumper can be ordered from any XPart wholesaler under part number DQC001031 from www.xpart.co.uk.
19-1-2012: On 2.0 litre (BMW) diesels, damped 'dual mass' auxiliary belt crankshaft pulley can eventually fail.
1-9-2012: Airbag warning light problem common, but easily fixed. Caused by a loose connection underneath either the driver of passenger seat. With the engine switched off, pull apart the yellow connector blocks, clean with contact cleaner and re-connect. For a more permanent fix you can remove the terminal blocks and solder the wires together. An easy and inexpensive fix. It is important to wait 30 minutes after switching off to allow the residual energy in the air bags to dissipate before attempting this operation.
15-8-2014: On 1.8 K-Series engines in the Rover 75 (and in anything else), replacement 'Multi Laminated Steel' (MLS) cylinder head gasket can help prevent head gasket failure. The main cause of coolant loss will then be the gaskets between the plastic resin water heated multipoint injection inlet manifold and ther head itself.
2-6-2015: Dual Mass Flywheels and clutches on diesels can last 180k miles, but expensive to replace. 
1-7-2015: Heater and a/c fan motor failure is apparently common at about 60,000 miles. A 63k mile 2003 75CDT Tourer also needed replacement glowplugs. In addition, after the fuel tank sender pump and high pressure injection pump were replaced the fuel tank sprung a leak.
12-3-2017: Early Rover 75s can display a line of micro-blistering across the front of the bonnet where the tack welds to the frame have made the metal thinner and moisture had got in between.
V8 feels crude and undeveloped to drive. A Mustang with the same engine drives better. 
Production line shut down in April 2005, so any V8s or Vanden Plas models wearing 57 plates were at least 30 months old when they were first registered.
Watch
Badly-timed debacles over the future of Rover marred its launch. 

Fiasco of March to May 2000. 

Driving position and handling at speed not in same class as Mondeo. Rear-seat passengers feel confined. Suspension clonks. Susceptible to strong side winds. Not easy to reverse. Hazard light switch hard to find. Standard 114bhp diesel is a bit underpowered. 

2004 facelift marred classical good looks of the car. 

Production line shut down in April 2005, so any wearing 57 plates were at least 30 months old when they were first registered. 

Only 90% of cars up to 2 years old breakdown-free over previous 12 months in 2004 Which? survey, which is strange because the same survey found the MG ZT and ZT-T 100% breakdown-free and these are the same cars built on the same production lines. Some engine parts for rare 2.0 litre KV6 unavailable. 

By March 2007, engine parts for CDTs and CDTIs were becoming slow to come through from BMW. Some parts becoming difficult to get or unavailable by July 2007. For example, engine radiator cooling fans back order to February 2008.
Fuel pump 'O' ring gasket for V8 is prone to leaks.
Recalls
13-3-2000: 8,550 cars VIN RJ 001242 to RJ 127623 built between Feb '98 and Oct '99 recalled to correct crankshaft position sender fault which could cause the engine to cut out, announced Radio 4 News 10/3/2000. Sensors to be replaced with modified units. 11-07-2002: 12,592 75s from VIN RJ001242 to RJ133299 recalled because "vehicles operating in high corrosion areas may experience fracture of the front suspension road springs" which may lead to puncturing of the inner wall of a front tyre. Front springs to be replaced.
Back: Model Timeline
Next: Running
Compare classic car insurance quotes and buy online. A friendly service offering access to a range of policies and benefits.

Get a quote