Rover P4 (1949 - 1964)
Last updated 14 March 2013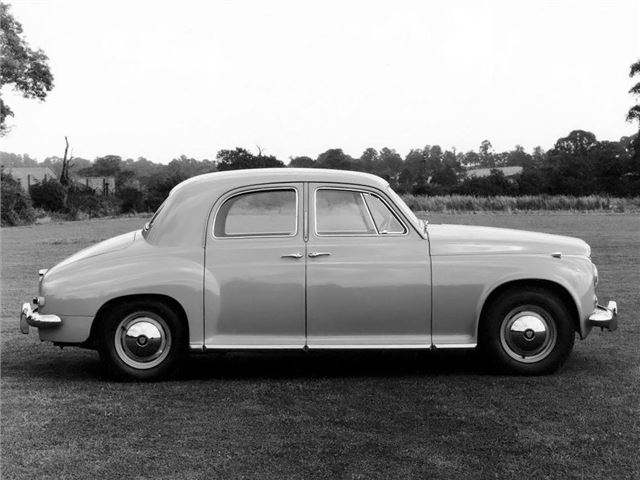 Model Timeline
August 1949
Rover P4 75 'Cyclops' went on sale
The Rover P4 'Cyclops' went on sale, and was initially powered by the silky-smooth 2.1-litre straight-six inlet-over-exhaust engine that had served the company so well in the pre-war years. Brand new smooth and modern styling, gave the car a confident air that it wore well throughout its long production run. From launch, the car had a four-speed column-shift manual transmission with integrated freewheel feature.
August 1953
Rover P4 60 went into production
In 1953, the appeal of the P4 was widened considerably by the arrival of the lower-cost (but equally luxurious) four-cylinder model. The 2.0-litre engine was also used in the Land Rover, and after the smoothness of the straight-six was something of a disappointment. It wasn't much slower than the standard car, and was slightly more economical. This engine remained in the P4 line-up until 1959, when it made way for the more powerful 2.2-litre 80bhp engine.

July 1954
Rover P4 90 launched
After its first facelift, Rover's 2.6-litre inlet over exhaust engine producing 90bhp was installed, giving it a 90mph top speed and effortless motorway cruising. That was soon replaced by the P4 100. The later 100, powered by a short-stroke version of the P5's engine was even smoother in service and continued Rover's reputation for excellent refinement. Performance was up and overdrive improved refinement at speed.
August 1954
Rover Cyclops went out of production
July 1956
Rover P4 105R launched
The fastest P4s took some time to arrive, but when they did, they impressed - mainly because they easily topped 100mph for the first time. Introduced in 1956, the 105R and 105S shared the same engine as the 90, but had a highcompression cylinder head and twin SU carburettors to boost power to 108bhp. The R and S designations referred to their transmissions – the 105R featured a Roverdrive automatic, while the 105S had a four-speed manual with overdrive.
August 1959
R and S models dropped
August 1962
Final Rover P4 60/80 rolled off the line
August 1964
Final six-cylinder Rover P4s dropped from the line-up
Back: Introduction
Next: Specifications
Buy a Rover P4 from £4,495