Renault Laguna (1994 - 2001)
Last updated 22 May 2018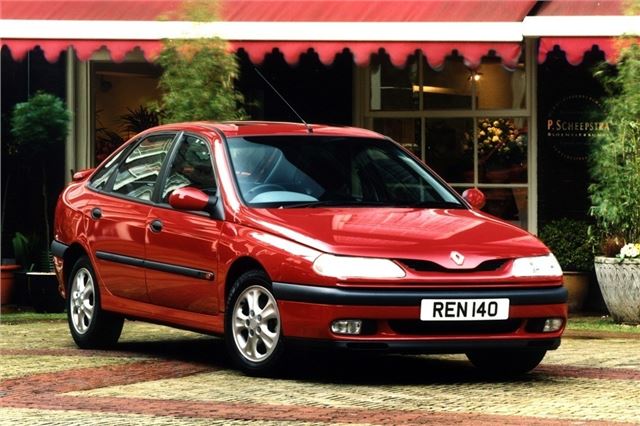 Buying Guide
Good
Cheap. But for a reason.
Bad
85 bhp 2.2 diesel sluggish on the open road. 

Long-backed drivers find themselves sitting too close to the top of the huge windscreen. 

Old 95 bhp 1.8 and 115 bhp 2.0 litre 8-valve engines outclassed. Old 170 bhp 2,963 cc V6 not a very good package. 

In June 2001 Renault was rated by Motor Warranty Direct as Britain's joint 4th worst out of 22 marques for used car warranty claims.
On petrol models if lambda sensor fails whole manifold may need to be replaced.
Renault had above average warranty repair costs in 2003 Warranty Direct Reliability index (index 114.24 v/s lowest 31.93) www.reliabilityindex.co.uk
1995-2000 petrol and diesel Laguna average for problems but poor for breakdowns and faults in 2003 Which survey
Watch
Look for leaking power steering on all Laguna. 

Fishy smell inside and condensation on screen usually indicates failure of heater matrix, many of which were poorly made. Heater matrixes fail in the welds. Dashboards expensive to remove to replace bulbs or heater matrix.
Poor quality electrics lead to all manner of irritating failures, including alternator and the auto gearbox multi-function switch. 

Power steering failure common. 

More than its fair share of recalls. 

Immobiliser keys have rolling codes, can't be coded by locksmiths and cost £120 to replace at Renault dealers. 

Automatics troublesome. Front drive clutch drum splits, or ATF cooler in engine radiator splits allowing coolant into the transmission. Check automatic transmission fluid for signs of overheating (will be black instead of dark red), or for signs of coolant in it. 

Manual gearboxes subject to bearing failure after 6 - 7 years and 60 - 80,000 miles. 

Timing belt of diesel drives the water pump and these have been known to seize at as little as 59,200 miles and two years old, stripping the teeth off the belt and causing £1,100 worth of engine damage. 

In June 2001 started to get reports of noisy front dampers on 2000W reg Lagunas due to faulty batch of dampers. 

Reports of failed hatchback locks. Reports of short-lived rear wheel bearings. 

Check for 'clonking' from wear in front anti-roll bar bushes. 

2.2 litre diesels could have been cabbed and clocked. 

Check tyres for uneven wear denoting crash damage, suspension damage or simple misalignment. 

Need cambelt changes every 35,000-40,000 miles. On the V6, Renault advises a timing belt, tensioner and waterpump change before 5 years or 73k miles and quote £1,058 for the job, so beware 3.0V6s on which this hasn't been done. 

Try to feel the brake discs as these may need replacing. 

If aircon fitted, make sure it blows cold. 

Damp under carpets may be due to this or failed damp-proof membranes inside doors. 

Make sure keyfob transmitter was replaced under free recall. 

Pulling to one side or the other may be due to failing front coil springs. 

Make sure bonnet opens as cable from one side catch to the other is prone to snapping and costs £150 to fix. 

Poor starting can be cause by corroded cable from ignition to engine management unit.
Recalls
1996 (May '94-Aug '94 build): Automatic transmission may lock up.
1996 (Jul '94-Dec '94 build): Airbag warning light may be faulty.
1996 (April '96-Aug '96 build): Fuel injection system computer may be faulty.
1997 (April-August '96 build: 12,494 cars): Engine ECU may malfunction causing exhaust manifold to overheat and set fire to bulkhead insulation.
1998: failed heater matrixes replaced FOC.
1998: 'plip' key transmitters can go out of sequence due to static or fiddling with them in the pocket. Improved 'plip' key transmitters now available free of charge to Laguna owners.
(Per BBC 'Watchdog' 12/2/98) 1998: 17,000 cars recalled due to possibility of inadvertent deployment of airbags.
Cambelt tensioner on diesel engines may lead to premature cambelt failure. To be checked as a TSB item at services.
2000: July 1998 build only: driveshaft CV may fail and affect steering.
All Lagunas: possible sudden failure of gear selectors.
12-1-2000: 4,422 F9Q diesel engined cars built Dec '98 to May '99: brake vacuum pump may leak allowing oil to enter the brake servo resulting in loss of servo assistance to the brakes. Magnetti Marelli brake vacuum pumps to be replaced; servos to be inspected for oil ingress and replaced if necessary.
21-2-2000: 29,000 cars built Jan '99 to Nove '99: possibility that brake servo valve may malfunction resulting in loss of servo assistance. Valve to be inspected and replaced if necessary.
18-4-2000: 1,000 diesel-engined cars built February to April 2000 may be fitted with defective brake vacuum pumps. Sympathetic FOC replacement of rear door damp proof membranes on Lagunas up to 5 years old.
September 2002: All 1.9 diesels built 1997-2000 with gold colour alternator pulleys recalled because pulley can fail and cause the timing belt itself to fail or jump a few teeth.
15-11-2002: 1,645 Lagunas recalled because engine may surge intermittently when first started when ambient temperature is between 0 and 5 degrees Centigrade. Recall to re-programme ECU (VI does not make clear if Laguna I or Laguna II).
Back: Model Timeline