Renault Espace (1984 - 1991)
Last updated 4 December 2015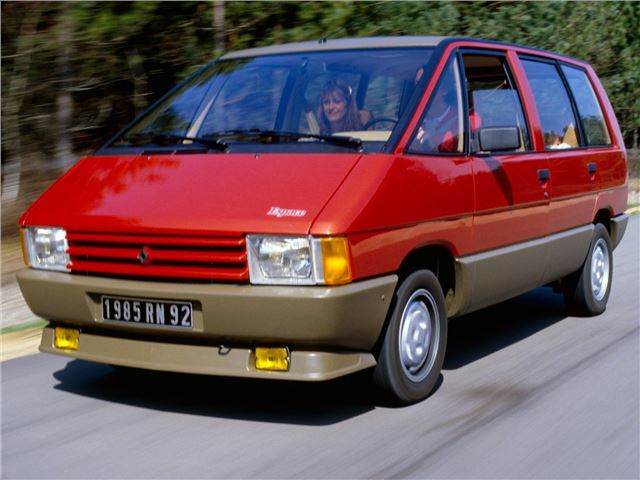 Buying Guide
Good
Immensely practical design.
Mostly fibregless body on steel subframe.
Individual seat removal system much copied.
Easy to see out of and to park.
Early models up to the first (1991) facelift handled nicely.
Nevertheless, your best bet is the facelifted 2.1 litre turbodiesel.
Clutches will last 3 years and 120,000 miles in mostly motorway use.
Engines can run up to 200,000 miles with few problems.
Low 3 out of 9 point death rate from accidents in this model.
Bad
Strange relationship between driver's seat and accelerator pedal leads to ankle cramp, so aftermarket cruise control is a good idea.
Trim is a bit flimsy, not up to hard family use.
Serious reliability problems reported by ADAC (the German breakdown organisation) in its 2001 report. In June 2001 Renault was rated by Motor Warranty Direct as Britain's joint fourth worst out of 22 marques for used car warranty claims (www.warrantydirect.co.uk)
Watch
Clocked ex-taxis.
Dodgy electrics.
Chipped or cracked windscreens (expensive to replace).
Wear in front and rear suspension from carrying heavy loads.
Clonking driveshafts.
Wear in gearshift linkage.
Clutch wear (can last up to 120,000 miles, but depends on usage).
Leaking or groaning power steering.
Automatics best avoided. Automatic transmissions have a history of problems. ATF cooler in radiator so if it breaks coolant gets into transmission and wrecks it.
Make sure 2.1TD has received regular oil changes. Pull the dipstick and look for clean oil in all petrol versions, especially the V6.
Look for mayonnaise under the oil filler cap, signifying cylinder head problems.
Family damage from baby's bottles, food, sweets, felt-tip pens, dogs, etc.
Check that seat locking mechanisms aren't damaged from misunderstandings.
Fishy smell inside and condensation on screen usually indicates failure of heater matrix, many of which were poorly made. (Time consuming to get at and replace.) Make sure the heater works on all speed settings, not just maximum (a common fault).
There was a recall over a wiring loom problem. Make sure recall work has been carried out.
Check for water ingress and for floorpan cracks at back of engine compartment.
Be very careful driving the diesel in standing water as apt to suck it up and blow its cylinder head off.
Galvanized floorpan known to crack from the point where an earthing wire is tapped into the welded seam behind the engine across to the footwell and wheelarch. Car then lets in water and can become dangerous.
Back: Introduction
Compare classic car insurance quotes and buy online. A friendly service offering access to a range of policies and benefits.

Get a quote