Renault Clio Williams (1993 - 1995)
Last updated 4 September 2017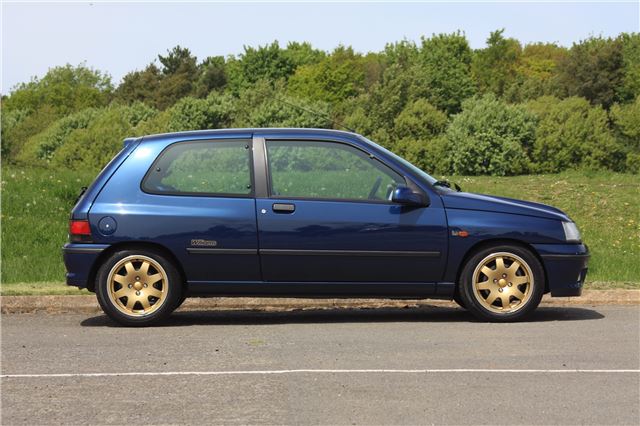 The Renault Clio Williams was launched in 1993, and for many, marked the end of what had been a fallow period in hot hatchback development.
The glory years of the 1980s, so epitomised by the Volkswagen Golf and Peugeot 205 GTIs, and Renault 5 and Fiat Uno Turbos, had long gone - to be replaced by easy-to-insure, hard-to-steal '90s sensibilities - however, no one Told Renault of this...
---
Classic road test: Renault Clio Williams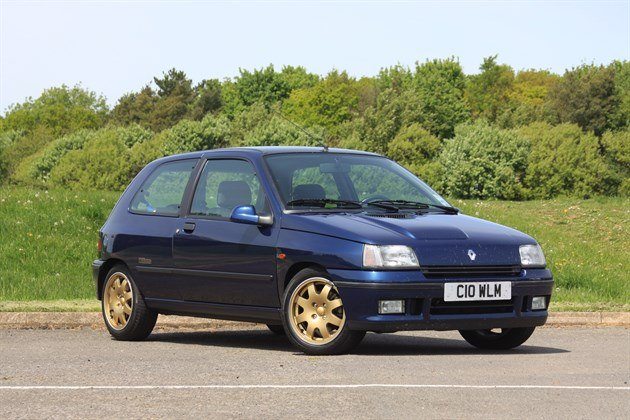 The Renault Clio Williams' DNA was rooted in motor sport. It was named in honour of Renault's F1 partnership with Williams Grand Prix engineering - which, in 1993 was its absolute zenith following Nigel Mansell's sensational championship season. But its raison d'être was rallying. The 2.0-litre Clio was built for homologation in order to gain its maker entry into Group N of the French Rally Championship. 
And that meant although Renault's super-hot hatch was a brilliant F1-related marketing exercise, there was genuine talent underpinning it. The Clio Williams was based on the standard 16 Valve, but that car's 1.8-litre 16V 'F7P' engine was treated to a new crankshaft, pistons, camshafts and con rods, upping the power to 145bhp at 6100rpm. If the maximum torque figure of 129lb ft at 4500rpm suggested a peaky drive - as so many 16V cars seemed at the time - 85% of the maximum torque was available from 2500rpm.
To effectively harness the additional power, it received a reinforced front subframe that had been used on the Clio Cup race cars together with specific springs, uprated shock absorbers, front anti-roll bar and rear torsion bars. The new Speedline alloys were shod with super-low profile Michelin MXV3A 185/55x15s, and were painted gold with polished chrome rims. And all Williams models were metallic Sports Blue.
Ultimately, three versions of the Williams were made. At the time, that caused a number of problems, as owners of the original car felt agrieved with Renault as many had bought theirs, assuming that it was part of a never-to-be-repeated run, but the Williams 2 and 3 were subtly different, meaning the original really was original - even if it didn't seem it back in 1994-'95.
In total, 1180 Clio Williams models were imported into the UK, split into the following: Williams 1: 390, Williams 2: 482, Williams 3: 308, and production numbers were 5400 for the original version, with a further 6700 2s and 3s made.
About the Renault Clio Williams
The Clio Williams was an early adopter of the less-is-more approach to hot hatch tuning. In order to keep its price and weight down, Renault omitted ABS, electric mirrors, a sunroof, and an audio system. These were all standard on the cheaper 16V - but for Williams owners, the additional power and uprated suspension, more than made up for it. Besides, it still had electric windows, central locking and an immobiliser - more than the bare minimum.
Inside, the Williams was also rather different. It was fitted with figure-hugging velour seats with blue inserts. The seat belts and instruments are coloured to match, and look great - and unlike the car it replaced, the Renault 5GT Turbo, the Clio's interior feels well made and seems well screwed together. But as the one we're driving is effectively a 'new' car, that's to be expected. With 100,000 miles on the clock, it might be a different story...
On the road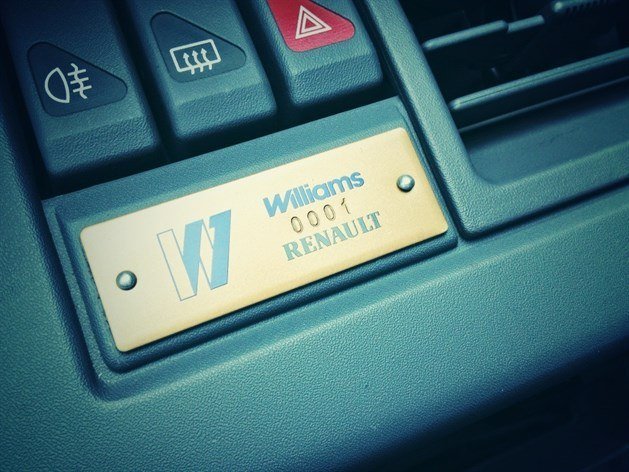 Oh yes, our Clio is a bit special, unique even. It's car number 0001, and it used to be owned by Sir Frank Williams. It was sold back to Renault a few years back, and understandably doesn't come out to play very often, as it has less than 1500 miles on the clock. So with that in mind, we're going to treat it nicely, even though it's in thoroughly roadworthy condition, and riding on fresh, recent (energy) tyres.
With that in mind, we'll take Renault's performance figures on trust. The maximum speed is 134mph and 0-60mph time is 7.8 seconds, and it certainly feels that quick on the road. But it's not the fastest hot hatch you could buy - in 1993, if you wanted the ultimate pace, you could buy a Vauxhall Astra GSi or Volkswagen Golf VR6, both of which were endowed with more power and torque. But they were both far more expensive when new, and aren't remembered now - 20 years on - for their dynamic brilliance.
The alterations to the Clio's suspension set-up certainly created a car that's great, almost brilliant, to drive. On typical English B-roads, the Williams is at its entertaining best - the combination of its short-throw, wonderfully mechanical gear change, well-weighted accurate steering, and torquey engine, it's capable of quick progress. But it's not the speed that impresses, but the balance and traction, both of which are very good indeed. Cambered and lumpy roads really flatter the Williams - the suspension might be firm for low-roll cornering, but it's also beautifully damped, rounding off all but the sharpest irregularities.
The steering, although lacking in ultimate feel (and we'll put that down to this car's energy tyres), is certainly accurate and allows you to hit every apex with millimetric perfection. Plant the throttle at this point, you'll marvel in the Williams' brilliant traction, allowing the engine's ample torque to slingshot you to the next corner and do it all again. And the faster the corner, the more planted it feels.
And that's what makes the Clio Williams so special - its dynamic brilliance.
The HJClassics Verdict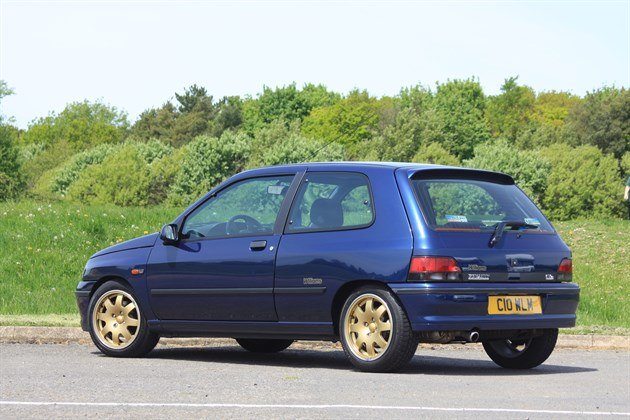 The Renault Clio Williams exploded on the scene in 1993, and went a great deal of way to rehabilitating the hot hatchback after a years of joyrider, yuppie-fuelled bad publicity. The hot hatch bandwagon felt like it had blown itself out in the early 1990s with the 205GTI coming to an end, the pert Golf Mk2 becoming the Mk3 bloater, and the popular Escort XR3 utterly losing the plot. The Williams proved that '90s sensibilities weren't incompatible with joie to vivre lift-off oversteer moments. And thank goodness for that.
The Clio Williams also established Renault as the manufacturer to beat in the hot hatch sector. After years of Volkswagen and Peugeot hegemony, this was something of a breath of fresh air, and arguably, a new balance of power that remained in place well into the 21st century.
But less of that. The Clio Williams might occupy a fascinating place in the history of the performance car, but it's also exceedingly good, being pretty much the perfect classic hot hatchback. It has almost everything going for it - it's quick without being anti-socially fast, and handles so well, you feel rewarded every time you attack your favourite back road. It's also less of a compromise than the 205 or Golf GTI, or indeed a 5GT Turbo, because the interior won't implode with miles, you can cruise fairly effectively on the motorway, and it's easy to live with.
But it's also special, is appreciated by true aficionados, and will definitely appreciate in years to come. That being the case, grab one now, cherish and enjoy it. You'll never regret it.
Back: Introduction
Next: Buying Guide
Compare classic car insurance quotes and buy online. A friendly service offering access to a range of policies and benefits.

Get a quote