Renault Clio Mk1 (1991 - 1998)
Last updated 31 October 2016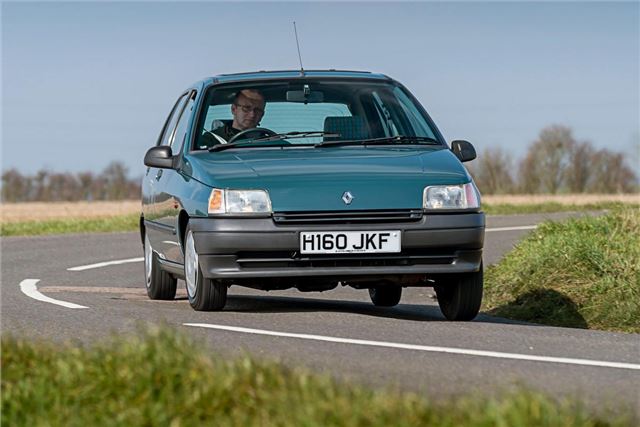 Twenty-five years after it was first launched, the Mk1 Renault Clio is still a timeless design. Even back in 1991, it was a cut above the other superminis on the market. It was more than a match for the Ford Fiesta, Vauxhall Nova, and Rover Metro – but today, this first generation of Clio feels like it has all but disappeared from Britain's roads.
With a 1.2-litre fuel-injected single overhead cam engine under the bonnet, its 60bhp power output might feel horribly outdated now – but thanks to a kerbweight of just 857kg, the peppy short-stroke can just about keep up with modern traffic… even if it does take 14 seconds to reach 60mph. Like the good old days though, you'll have to do a bit of forward planning if you're four-up with luggage and there's a hill on the horizon.
What really impresses, though, is how quiet the engine is. Once you're up to speed, you barely know that it's running. And, although there's no rev counter, it'll happily make its way up to the electronically-imposed redline – handy as the power band is 3500-6000rpm. Running one every day won't hurt you too much at the pump, either – we averaged 39mpg in our time with the car.
These cars had a good reputation for ride quality when they were new, but don't let that fool you into thinking handling is sacrificed. Sure, there's plenty of body lean and the unassisted steering is a bit woolly, but this is a car that really talks to you. It's no surprise that it got its own one-make racing championship.
Away from the sporty stuff, we were also impressed by the amount of interior space available in the cabin – and also how light and airy it is. There's plenty of room for a six-footer behind the wheel, even if the seats are designed for someone who is five-foot tall.
And there are just enough creature comforts to make you feel at home. There's a radio, a heater, rear screen demister, two-speed wipers. Perhaps that's because the car occupies that space in time where handling and reliability had been improved, but before styling dictated that the driver had to feel cocooned by being surrounded by moulded black plastic.
Back: Introduction
Next: Buying Guide