Porsche 944 (1981 - 1993)
Last updated 22 January 2016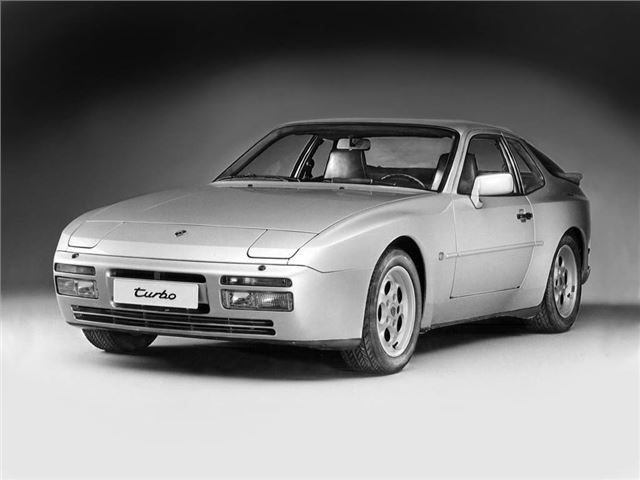 Brilliant handling, torquey and refined engines, brisk performance (fast in the turbos)
Lots of cheap, tatty versions still around, will take time to be truly appreciated, 944S 16V suffered from fragile valve gear and complicated belt and chain-drive for camshafts.
Introduction
Despite it looking like a tuned 924, the 944 was vitally important for Porsche. A new 2.5-litre slant-four engine that was developed from the 928's V8 proved just what was needed to give the front-engined model a genuine boost. The 944 shared the 924's profile, looking like a smoothed-out 924 Carrera GT - and that was enough to give the new car genuine road presence. 
Handling and grip were sensational, and deservedly the 944 went on to outsell the 924 - keeping Porsche afloat during the tough years of the early 1980s. Interior revisions in 1985 gave it a swooping dashboard not dissimilar to the Citroen SM, as well as revised door panels. For 1988-'89 - the last year of eight-valve 944 production – the engine capacity rose to 2.7-litres (making it one of the largest four-pots you could buy), improving throttle response even more.
In 1987, Porsche went to town on multi-valve cylinder heads. The 928S became the 32-valve 928S4, and the 944, became the 16-valve 944S. The 16-valve twin-cam head was developed for the 1981 924 GTP Le Mans racer, and on the roadgoing 944, upped power to almost 190bhp. 
For 1989 the range was simplified when the 944 S2 replaced both eight- and 16-valve 944s. A new aluminium engine block reduced weight up-front, while an expansion to 3.0-litres resulted in the power going up by 21bhp over the. The S2 adopted the smoother nose and tail panels from the 944 Turbo, and top speed for the naturally aspirated car approached 150mph. The Turbo's braking system was also fitted as standard. For the final two years of production a cabriolet version was offered, proving remarkably popular in the UK.
But the ultimate 944 was the Turbo. It was launched in 1985, and meant the front-engined Porsche was knocking on the door of the 911 in performance terms. Its 2.5-litre engine was boosted by almost 60bhp, which went in tandom with an uprated clutch and gearbox. The Turbo looked the part, with new front and rear styling, helping justify the price increase over the standard car.
In 1988, the Turbo SE was introduced, upping power to 250bhp thanks to the fitment of a larger turbo. The transmission was further beefed up, a limited-slip diff was standard, brakes were uprated and Koni dampers were fitted. This turned the excellent 944 into a near-brilliant sports car. Between 1989 and '91, the SE specification was adopted for the normal 944 Turbo.
Next: Buying Guide
Buy a Porsche 944 from £5,250
Compare classic car insurance quotes and buy online. A friendly service offering access to a range of policies and benefits.

Get a quote