Nissan Micra (1992 - 2003)
Last updated 4 June 2018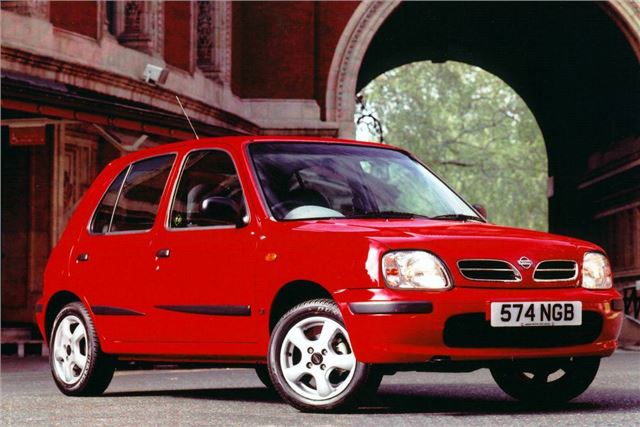 Buying Guide
Good
Well built, in Sunderland. Sensible parts prices (cats are £200).
Special pre-facelift 1998 run out 1.0 litre model had CVT and power steering.
16th from top of 100 models for reliability in Auto Express 2002 survey.
Joint 20th from Top in 144 car 2002 JD Power / What Car? Customer Satisfaction Survey of V and W reg cars.
Nissan generally had slightly below average warranty repair costs in 2003 Warranty Direct Reliability index (index 94.77 v/s lowest 31.93).
1995-2003 models rated fewest problems and faults and average for breakdowns in 2003 Which survey.
1998-2002 Micra 6th most reliable car in 2005 Warranty Direct Reliability Survey with 13 repair claims per 100 cars.
Most reliable supermini in 2006 Reliability Index survey.
1998-2002 Micra 10th most reliable car in 2007 Warranty Direct Reliability Survey with 11 faults per 100 cars. 
Bad
Some early cars did not have power steering.
Average performance in NCAP crash tests.  
High 7 out of 9 point death rate from accidents in 1998 - 2000 models.
Watch
Clocking. Dirty oil. Must have clean oil. Vital to change the oil at least every 6 months especially if the car does an ultra low mileage. If the timing chain rattles on a car you're thinking of buying, walk away. You could be in for a £400-£500 tensioner replacement job. Stretched timing chains upset the timing and the running of the engine. Big job to replace. 

Japanese 'March' models look the same but many parts are not interchangeable. 

May have suspension damage from kerbing - most likely and most damaging on power steered cars. 

Clutches of early cars don't last, but most will by now have been replaced. 

Previously reliable CVT started to develop same electromechanical clutch problems as Puntos. If it thumps when you move the lever to drive, or if the lever is hard to move, leave the car alone. 

At 6 years old or more, front chassis cross-member may fail due to rust (the metal strut below and in front of the radiator). The rust can result in MOT failure and costs £208 to replace the part, most of it labour. Cross-member itself costs £55. Sills also rust and result in MOT failure. Check rest of underneath carefully for rust. 

On 1996/1997 Micra the plastic headlamp bulb holders can eventually melt due to an electrical fault. Not covered by warranty. 

Can suffer from poor starting in damp conditions due to suceptibility of the spark plugs to condensation. Poor starting can also be caused by the wrong temperature sensor which leads the combustion chambers to flood and the ECU to shut down the engine to prevent spiking the catalytic converter. 

Throttle body incorporates mass airflow sensor which fails and quite a lot of complete throttle body assemblies reported to have needed replacing at £450 to £500 a go. Throttle bodies also get choked by short runs from cold starts and slow running on cheap detergent free petrol. But worth checking the small fuse box located behind the radiator near to the battery. One of the fuses in that box supplies the fuel injection system. Road dirt and moisture can enter the fuse box resulting in corrosion and overheating of the fuel injection fuse. Simply cleaning the contacts and renewing the fuse might solve the problem of misfiring/cutting out. Another possible cure (from Australia) is to remove the throttle body (quite an easy task) and in turn remove the square metal plate on the side. This reveals a PCB with a number of soldered joints which over time can become "dry", a soldering iron is then used to touch each of these joints, preferably adding a blob of solder.
24-11-2012:  In the box of replacement starter motors is a warning notice stating "This vehicle application suffers with ignition switch problems. The switch must be checked or replaced prior to installation of new starter motor. Failure to check or replace may cause the starter motor to  continually engage, consequently it will burn the starter motor out."
5-11-2017: Report that K11 Micras are astarting to suffer severe rust problems that weites them off at MoT time. Typically corrosion on the chassis from the door post aft to the rear wheels on both sides. The garage stated this was due to a design fault in that either this area collected more water, salt, etc. and allowed it to remain, or this area was never given sufficient corrosion-proofing at the time of manufacture. It also said the same failing applied to the front frame, and that they had scrapped 4 Micras this year due to this very fault.
Recalls
1994: (Sep 92-June 94 VIN 000001-237783) floor may crack next to handbrake.
18-3-2003: Concern identified with driver's seat walk-in device. If ignored may cause unintentional movement. Fit a modified component to the walk-un device mechanism.
6-5-2003: The steering wheel retaining bolt may not have been tighetened to the specified torque. If ignored it can potentially lead to loss of steering control. Check torque of the steering wheel retaining bolt and tighten where necessary.
Back: Model Timeline