Nissan Figaro (1991 - 1991)
Last updated 10 May 2015
Buying Guide
Good
Extremely cute Mk1 Micra based coupe from Nissan's Pile factory, with the looks of a mid 1950s Goggomobile.
3740mm x 1630mm x 1365mm.
Turbocharged 987cc Micra K10 engine puts out 74bhp, but is fed through a 3-speed autobox so performance isn't a strong point.
Range of pastel colours: Baby Blue, Mint Green, Topaz (Beige) and Lapis Grey. The four colours represent the seasons of the year. Blue=Summer, Green=Spring, Topaz=Autumn and Lapis Grey=Winter. (Some have been re-painted: pink and black seem to be the most popular colours.)
Hand operated canvas roof and glass rear window goes down all the way to rear waist level.
Really nice retro look interior.
 White plastic knobs and steering wheel rim (now partly re-incarnated in new Micra).
Celeb owners have included Jayne Ross and Vanessa Feltz. Normally fitted with CD player and a/c.
Bad
All are imports, so early history impossible to check unless you can read Japanese. Micra Mk 1 underpinnings not ideal (see Micra Mk 1 for problem areas).
Before you buy, make sure you can find someone to look after it. Only 20,000 built and originally demand was so high they were sold by lottery.
Watch
Be very careful what you pay. Mid-'90s prices were about £7k to £10k, but age is now taking its toll and by October 2007 even good ones only fetched around £4,500 at auction. £5000 seems to be the going rate in 2013
Any damage, particularly to unique switchgear, is very difficult to obtain replacement parts for.
See Micra Mk 1 for problem areas.
Danger points are timing belt failure. And, unless the design was changed for the turbocharged Figaro, fuel pump diaphragm failure can lead to petrol draining into the sump and an engine fire.
These cars are now all at least 16 years old, and only built to last the standard Japanese 7 years.
Quite a few are starting to rust. The first easily visible place is around the rear wheel arches.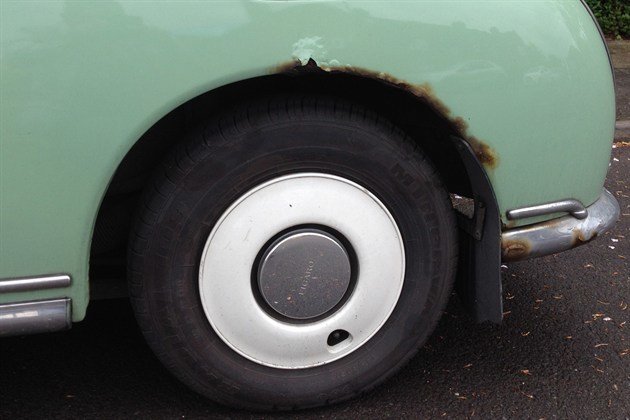 Back: Introduction
Next: Running
Compare classic car insurance quotes and buy online. A friendly service offering access to a range of policies and benefits.

Get a quote