Nissan Bluebird (1986 - 1990)
Last updated 13 June 2019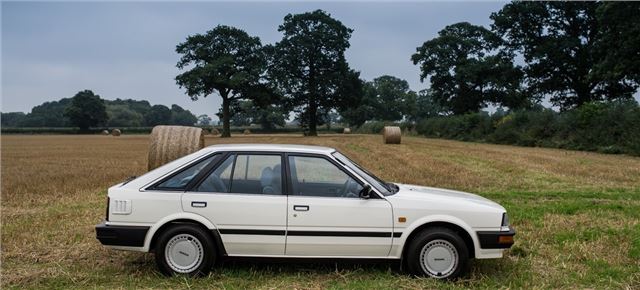 Reliable, a car that proved Britain could build cars as well as the Japanese
There's no nostalgia for this one yet, the history is far more fascinating than the car
Updated 1 September 1990
Bluebird ceased production in the UK
The Bluebird is replaced by the Primera after a production run of 187,178 in the UK.
Introduction
The Nissan Bluebird has a complex genaeology behind it - and is also a hugely important car in manufacturing industry terms. Shame, then, that the car itself is really rather dull. First thing to remember is that when the '86 Bluebird was launched, it was replacing a car with the same name that had only been on sale in the UK for a couple of years. And that's because the Bluebird T12/T72 was actually the second-generation T11-generation Stanza (as we knew it) or Auster. Viewed in that way, the evolution of the first UK-built Nissan becomes a whole lot simpler.
It was also the first car that Nissan built at its greenfield factory in Washington in the North East. Being a UK-built product, the Bluebird range was devised very much with fleet car managers in mind. So it was possible to buy in a wide variety of trim levels and 1.6- and 2.0-litre petrol form and with the minicabber's favourite 2.0-litre diesel. All were capable and competitive in the power and economy stakes, as was the 1.8-litre turbo that found its way into the ZX and Executive variations. Dynamic and ergonomic masterpieces they weren't though – and when pitched against the class-leading Montego and Peugeot 405, the Bluebird was found wanting by the contemporary road testers. But, boy, was it well-made and reliable - and consequently, it's not that unusual to see 25 year old examples still being used on a daily basis.
Next: Model Timeline