Mitsubishi Evo VII (2001 - 2003)
Last updated 2 February 2018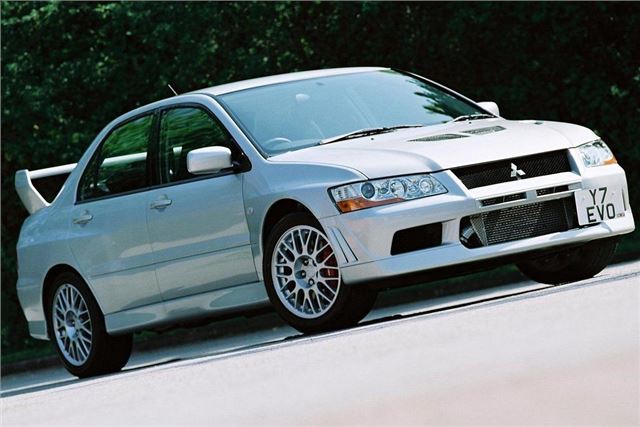 A sensationally quick cross-country car in all conditions and the safest way to blow Ferraris into the weeds.
The speed at which points keep appearing on your licence. Can work out expensive if it hasn't been maintained properly.
Updated 1 January 2001
Mitsubishi Evo VII launched
Two EVO VIIs available: RS II 276 bhp model with Active Yaw Control and Recaro seats list priced at £29,995. Also a 300bhp version of the same car called the EVO VII 300 priced at £31,495. Both...
Introduction
An all-new platform and less-dramatic styling marked the Evo VII out as very different animal to its predecessor – the Evo VI. At the time of its launch, the question that every motoring journalist asked was, 'Has the Evo VII gone soft?'
While the styling was less pointy, the Evo VII still had the 2.0-litre turbocharged four-cylinder the bonnet (that's the 4G63T, fact fans) and came with the arousingly-named 'torque-vectoring active yaw control'. No one really knows what it did or how it worked, but the resulting grip was biblical. In fact, if you ran out of traction in an Evo it was almost certainly game over.
To answer the question posed earlier – no the Evo hadn't gone soft. In fact, the Evo was harder than ever – 50% stiffer to be precise. There was some noise about softer on-road manners from car scriblers, but the clutch was still so sharp you could shave your legs with it. Yep, the Evo VII was still a heart-thumping, licence-losing, tarmac-gripping weapon capable of destroying almost anything in its path and the subject of posters on bedroom walls all over the world.
Plus, it kept alive one of our favourite battles since Blur took on Oasis – Evo vs Impreza. Without that, Autocar would have had nothing to write about. Here were two cars capable of capturing the imagination - and it's a poorer world without them.
When the Jap attack cars were launched, there was an unwritten rule that power would remain at 276bhp. No-one really knows who blinked first, but by 2001 this had gone out the window and we were treated to a variety of faster and more powerful iterations. UK importer Ralliart was soon fiddling with computer pixies to give us the FQ200, the 339bhp Extreme, and the 320bhp RS Sprint.
While demand is still high for these rear-wing all-wheel drive wonders, it's a brave driver that spends their cash on one. They've almost all be mercilessly thrashed, and with 5000-mile oil change intervals a good history is a must… as is an accident check. But just look at it - somehow Evo ownership makes the tax, insurance, fuel consumption, running costs, tyre wear and back-breaking ride quality worth it. Just remember if you're buying one, you'll need a constant supply of clean underwear because you will scare yourself - but at least you'll be smiling.
Next: Model Timeline
Compare classic car insurance quotes and buy online. A friendly service offering access to a range of policies and benefits.

Get a quote