MINI (BMW) One (2001 - 2007)
Last updated 18 September 2019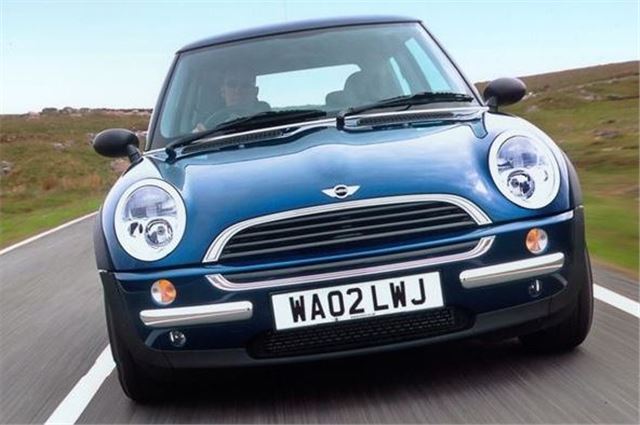 Model Timeline
March 2000
BMW's MINI shown at the 2000 Motor Show and taking orders from July 2001. Chain cam Brazil built engine is 90 bhp 8-valve 1.6. Deliveries from September 2001.
Unlimited mileage two year full manufacturer warranty followed by one year full dealer warranty from November 2001, making total three year unlimited mileage warranty. Paint warranty also extended from 12 months to 24 months. 'tlc' five year or 50,000 mile servicing package for just £100 is an essential add-on.
MINI One with Toyota's 75bhp, 123lb ft torque chain-cam 1,364cc D4-D diesel delayed to June 2003. 12.9 second 0-60mph, 106mph top speed, 64.2mpg combined economy and 117g/km CO2 output.
March 2002
Controlled second-hand programme launched March 2002 called 'MINI Cherished'. Offers used buyers a complete package of at least 12 months unlimited mileage warranty and Europe-wide emergency service, plus accident management throughout the car's life. Most Cherished MINIs will come with the remainder of their £100 five-year MINI tlc service pack.
All will get a full service prior to sale (if a service is due within 4,000 miles), a thorough multi-point check and road test, a fresh MOT if over 3 years old and an independent history and mileage check. Also a commitment that if any demonstrable fault is found within 30 days or 1,000 miles which can't be fixed then the car will be replaced like for like. Will benefit first owners of MINIs by protecting their investment.
December 2003
Spice Pack seasonal changes


MINI One – SALT pack
Floor mats
Brilliant silver interior trim
Passenger seat height adjustment
Storage compartment pack
Front fog lamps
Rev counter
On-board computer
Interior light pack
£350.00

MINI One – PEPPER pack
MINI Cooper S steering wheel
Chrome line exterior
15" 8-spoke alloy wheels
Floor mats
Brilliant silver interior trim
Passenger seat height adjustment
Storage compartment pack
Front fog lamps
Rev counter
On-board computer
Interior light pack
£750.00

02-07-2004: Minor facelift with enhanced interior including rev counter, coin tray and passenger grab handle and new Getrag 5-speed transmission giving better mid-range flexibility and bringing 50-75 down to 11.9 seconds. Price rise to £10,780.
October 2005
MINI One Seven launched October 2005 features Solar Red metallic paint, 'Seven' cloth and 'Seven' interior trim, MINI Seven decals and 15" Delta spoke alloy wheels. MINI One Seven also includes Automatic Stability Control and Traction (ASC+T), sports leather steering wheel, rear spoiler, floor mats, passenger seat height adjustment, storage compartment pack, front foglights, manual air conditioning, on board computer, interior lights pack and white indicators. Price £12,565.

Superchips does a Bluefin programmed for the MINI One applied via the OBDII diagnostics port, removing the artificial throttle sensor stop and allowing the engine to develop an extra 33bhp and 34NM torque. More at www.mybluefin.co.uk

11-08-2007: Michelin has launched a new size of its run-flat Primacy HP ZP (Zero Pressure) tyre which is suitable for fitment to the MINI. The 195/55 R 16 87H size is available with immediate effect and a V rated version will be available in August 2007. Like the standard Michelin Primacy HP tyre, the Primacy HP ZP offers class-leading longevity along with excellent wet braking and handling performance, combined with the ability to run-flat in the event of a puncture.

Run-flat tyres are normally associated with a trade-off in terms of rolling resistance but in the case of the Primacy HP ZP this has been minimised. The level of rolling resistance offered by this tyre is similar to Michelin's competitors' standard non run-flat tyres. To highlight this, the tyre is marked 'Green X'.
Back: Introduction
Next: Buying Guide