MINI (BMW) One (2001 - 2007)
Last updated 18 September 2019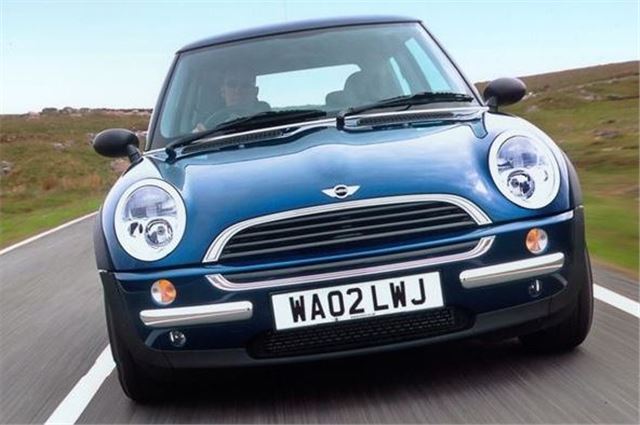 Buying Guide
Good
Great to sit in with retro dials and switchgear, good seats, straight-ahead seating position, adjustable steering column.
User group: www.mini2.com
Achieved an excellent four star rating for crash safety in 2002 NCAP tests.
Average for breakdowns, problems and faults and rated 'Worth Considering' in 2003 Which survey.
Which? used best buy £5,000 - £10,000 2004.
Came 20th from top in 2005 JD Power/What Car Survey of 23,000 cars reg Sep 2002 to Aug 2003 with satisfaction score of 82.1%.
Bad
Not how the original Mini was conceived, but offers more accessible fun than any other production car. Not much room in the back seat (but was there ever in a Mini?) 

A/c not standard. Extras to make it desirable can add thousands to the price. and heavily affect used values. 

Jiggly ride on optional Sports Suspension. 

Doesn't look right in all colours. Avoid the colour yellow like the plague. It makes the MINI look like a hideous mess of mismatched panels, especially with stuck-on chrome bumper trims.
Watch
Do NOT drive through floodwater. 

Faults include pulling to the left (despite alignment checks), dashboad rattles and faulty fuel gauges.

Batteries flattened by a batch of single CD players which did not switch off by the ignition. 

Other electrical glitches with central locking system. 

Cat converter is low slung, so best to avoid driving off roading as crud and grass can get trapped between the cat and its heat shield. 

Report of several MINIs hydraulicking due to ingesting shallow flood water (modification apparently made to later production). 

Reports of problems with airbags. Underseat wiring loom becomes loose, setting off the airbag warning light.

Reports of windscreens cracking in n/s bottom corner www.mini2.com/forum 

Report of rear wishbone of high mileage MINI failing. 

On early cars door check straps rust unless regularly greased. 

Independent imports without £100 tlc service package will cost you an extra £500 in servicing. 

Massive used MINI price confusion because the cost of extras could easily add £4,000 to the price of the car. Some cars have the right extras. Others don't. Check screen for cracks. Radiators of cars 3 years old or more can corrode. 

By 2007 transmission failure of 2001/2002 MINIs had become increasingly common. 

Paint problems at rear of light coloured cars seem to be caused by exhaust emissions. 

Reports of PAS problems. The electric motor which runs the pump packs up and sometimes takes the wiring loom with it (through overheating). BMW dealers quote £750 to repair, but BMW will sometimes approve 'goodwill' of half the cost of parts and labour. Reports of frequent steering column failures (sometimes BMW will pick up the tab).
Fuel tank retaining straps of 7 - 8 year old MINIs can rust through.
18-2-2011: Report of shortage of thermostat housings - a common failure on R50 engines.

Early cars pulling to nearside: caused by early type front struts identified by domed ca on centre nut. Replace struts complete with top mounts and anti-roll bar links. 

All MINIS pulling to n/s: front suspension turrets pushed up. Replace top mounty and repair turret on jig. 

Early MINI Ones, Coopers and Cooper S extra noisy power assisted steering with low oil level. PAS seals have failed. Replace track rod ends. 

MINI Ones, Coopers and Cooper S PAS failure due to failed pump or corroded wiring to pump. Replace pump and/or wiring. 

All MINIs noise from steering column means steering column upper bearing has failed. Replace upper and lower steering column depending on age. 

All MINIs excessive footbrake and parking brake travel indicates rear calliper(s) have failed. Replace calliper(s). 

Early MINI One, Cooper and Cooper S: ASC, ABS, RDW+ handbrake warning lights on with possible intermittent loss of speedo and rev counter and sometimes gradual loss of electrics amd fire/smoke from engine bay. ABS pump wiring shorted out on pump bracket. If minor wiring damage, repair loom. If major, replace main vehicle wiring loom. Always fit a protective edge cover to pump bracket. 

Check manual transmission for noises and change quality. Failures after 3-5 years are common. 

Aircon may gurgle due to airlock in refrigerant. Difficult to purge. 

Rear exhaust silencer boxes rot inside out and also deposit rust particles on the rear of the cars. particularly noticeable on white and yellow.
ABS/ASC modules starting to fail after 3 - 4 years. Unlike VAG, BMW dealers will separate the two parts and effect a reasonably priced repair: about £600 - £700.
14-12-2013: Another Electric Power Pump Steering failure reported, this on a 44k mile 2004/54 R52 MINI Convertible.
18-9-2019: Report of intermittend fault with Power Assisted Steering of 2003/53 MINI One.
Recalls
All BMW MINIs recalled due to danger of static electricity causing fires while re-fuelling. Seems that special paint used to earth the filler neck wears away when filler nozzles are inserted.
10-01-2002: Recall to replace the non-switching off CD players which flattened the batteries of early build MINIs.
01-07-2002: 24,000 MINI Ones and MINI Coopers built Nov 2001 to May 2002 recalled to have gearchange cable modified to prevent box sticking in gear.
4-3-2002: 822 MINIs recalled because front lower suspension arm mounting bolts may become loose and arm may fall off. Also outer balljoint pins may become loose leading to detachment. Also some tyres may suffer shallow cuts on the inner sidewall.
11-12-2002: All MINIs recalled because handle of parking brake can twist slightly, leading it to slip of the ratchet.
Back: Model Timeline
Buy a Hatch from £16,000
Compare classic car insurance quotes and buy online. A friendly service offering access to a range of policies and benefits.

Get a quote