MG RV8 (1993 - 1995)
Last updated 27 November 2018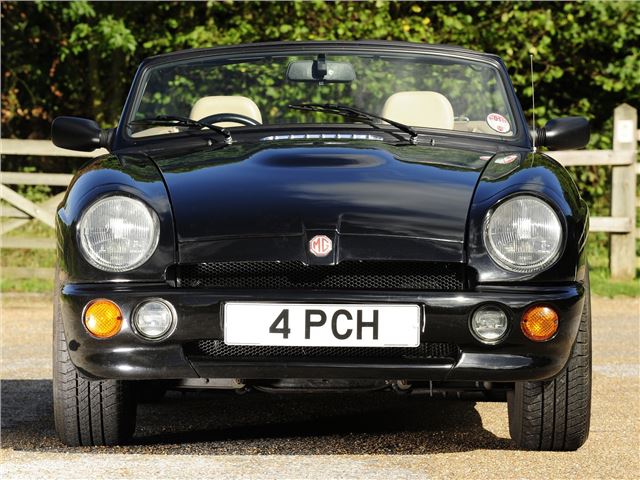 Take a few moments to consider that iconic powerplant. Conceived in aluminium by General Motors during the late-'50s but quickly abandoned. The pushrod V8 would have been an interesting footnote in history, had its death not coincided with Rover's need for a new power unit. Company chief William Martin-Hurst spotted one abandoned in an American boat yard, and in 1965 he arm-twisted GM into selling the tooling.
The effortless V8 has proved irresistible for the sports car fraternity. MG was first to get its hands on it engine, when the Abingdon engineers shoehorned it into the MGB GT in 1973. The car should have been a smash hit, but arrived in a world plunged into energy crisis. It sunk without a trace. So, who would have thought that Rover would exhume the car almost 20 years later, and use it as a springboard from which to relaunch MG for the 1990s?
Introduction
THE MG RV8 actually came about after Rover was caught wrong-footed by the launch of the Mazda MX5 in 1989. The moment the Japanese roadster appeared, the green light was given in Rover – a new MG was needed fast.
Enthusiasts had been waiting for a new MG sportscar since the Abingdon's closure in 1980, and rumours of the new car was music to their ears. Thanks to surprisingly audacious thinking by Rover, the relaunch came in 1992, and in the best possible way.
Although it is a widely held belief that the MG RV8 is little more than a Heritage shell clothing re-used MGB parts, it was actually 75 per cent new. Put together by Rover Special Products (the team that helped create the Mini Cooper and MGF) under the codename Adder, the idea was to use the new MGB bodyshell as a means of putting the B back into production.
Project Adder fused a large slice of MGB technology – live axle and leaf springs – to the Rover V8 engine and gearbox. If the basic package sounds scary, the rear axle had been reined in, and those infamous lever arm dampers were ditched in favour of telescopic KONI dampers. As we'll see, that makes all the difference on the road.
Performance
As soon as you fire up RV8, you know it is going to be a more relaxing experience than the TVR. Compared with any MGB before it, the RV8 goes well. The V8 provides that reassuringly familiar low-rev beat, and it is complemented by a muted woofle from the exhaust that promises easy pull from low speeds.
It's a promise fulfilled. In the RV8, you get linear power delivered consistently, and it catapults up the road with an effortless shove in the back in the process. Because you get a helpful 236lb/ft of torque at 3000rpm, there's no need to hang on to gears – half throttle and 4000rpm upchanges will have you moving along very nicely indeed. It seems to be the most fitting way to drive this grand tourer.
Quick acceleration is there for the taking. From a standing start, 60mph comes up in 5.9 seconds, and it doesn't stop pulling until 135mph. In previous MGBs, such brutal treatment would have the rear axle hopping around in protest, but the RV8 ditches this disagreeable trait thanks to those crude but effective anti-tramp rods.
Handling and ride
Acclimatise yourself to the heavy steering and within a few meters of setting off, you'll be marvelling at the RV8's ride quality. At no point does it jar, or become uncomfortable – in normal driving it take an observant driver to pick up on the rather archaic suspension.
The RV8 may be a cruiser built for country lanes, but it is here where things turn ugly if the driver demands too much. Camber changes and sharp ridges result in too much vertical movement, and if corners are added to the equation, they can all too easily upset the skittish rear end. Sophisticated damping obviously lessens the problem, but RV8 owners need to keep their KONIs in tip-top shape if they are to avoid their cars turning into bucking broncos on demanding B-roads.
That is not to say there isn't a great deal of pleasure from piloting an RV8. Turn down the wick and waft along at a rapid rather than rabid pace, and there's fun to be had. Even at fairly modest speeds the rear end can get playful, but treat it with respect – slow in, fast out – control the slides, and you'll enjoy the ride.
There's also an impressive feeling of solidity in the shell, and scuttle shake is only apparent in the most arduous situations. Brakes are strong and faithful – despite rear drums. Do remember there's no ABS.
The inside story
Your first impressions are dominated by the commanding driving position its leather buckets put you in. Although there's an air of modernity inside, it's masked by the upright wheel and cramped cabin.
Despite a lack of elbow room, the driving position is nigh on perfect, with all the major controls falling nicely to hand. You can have a whale of a time playing 'spot the part', from the corporate bin. Despite that diversion, it all looks terrific and hangs together well. The polished wood compliments the beige leather interior, and there's a real air of quality inside the RV8.
A major complaint we have is the low screen, which hampers the view forward if you're over 5'8".
Classic appeal
There may have been 2000 RV8s built at Cowley, but they remain rare. A fair number may have been exported into Japan, but many are now returning, and numbers are rising. Despite that, the RV8 has cast-iron classic credentials but also proves to be a perfectly useable everyday car, should the owner choose to treat it this way. It does arouse interest in others, but mainly of a curious nature – on the roads, be prepared to turn a lot of heads.
Verdict
The MG is a smooth and traditional cruiser; and if you enjoy a flexible, effortless open-topped grand tourer, it's nigh-on perfect. And quite beautiful as well. It was tuned specifically to the needs of traditional buyers. We can confirm that Rover Special Products succeeded in meeting those aims. It is definitely an MGB for the '90s, and as a result is a likeable, charismatic steer, and one we wish more enthusiasts could enjoy.
You'd take the RV8 for balmy summer evening drives to the pub, and enjoy turning heads in the process. It's an all-time classic, and probably the best MGB of them all.
Back: Model Timeline
Next: Buying Guide
Compare classic car insurance quotes and buy online. A friendly service offering access to a range of policies and benefits.

Get a quote