MG Midget (1961 - 1980)
Last updated 27 November 2018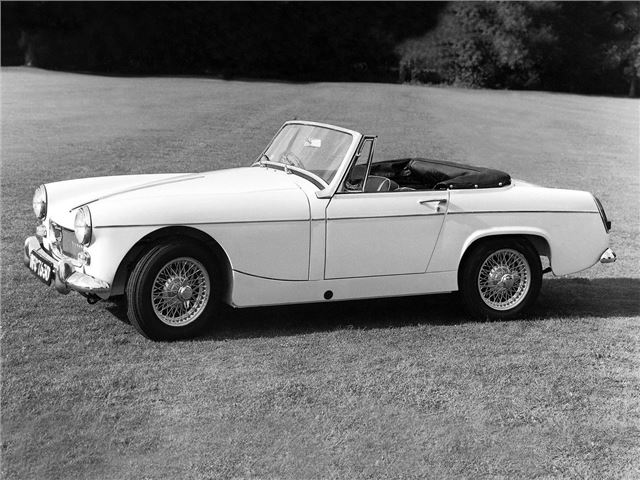 Immense fun, cheap and cheerful, especially to fix
Many are rotten, and values are low, which means few are restored properly
Introduction
The MG Midget was the result of more clever badge-engineering from BMC. The original concept was sired from the Austin Healey Sprite Mk2, and other than a few minor trim differences, the Healey and the MG were all-intents-and-purposes identical between 1961 and 1969.
The unit-construction sports two-seater, was conceived as an Austin Healey, but the move to MG ensured serious sales. The Midget was initially powered by the BMC A-series 948cc engine, and featured twin-carburettors, a four-speed gearbox, rack-and-pinion steering and independent front suspension. It was good to drive, despite minimal power, and won lots of friends, thanks to a low price.
Throughout its life, the Midget was continuously upgraded - fitst with the fitment of the 1098cc A-Series, and then disc brakes in 1962. For the Mk2 in 1964, wind-up windows were added, while the Mk3 ushered in the upgunned 1275cc A-Series.
The biggest change came in 1974, with the arrival of Triumph's 1500cc engine. The reason to use the once deadly-rival company's power unit came own to it being easier to make compliant with US emissions regulations than the A-series. Top speed went up a fraction, but the torque-happy Triumph unit was not a willing revver and it changed the character of the car.
Visually, it was all-change, too - with the addition of black rubber impact bumpers and raised ride height. Despite that, the Midget remained a good seller through to its death in 1979, notching up a very creditable 73,889 units.
Join the club
Honest John Classics has teamed up with MG Car Club (the world's oldest MG club) to offer readers £5 off single and joint memberships. Joining the club means joining the largest group of MG fans in the world and getting access to first-rate technical knowledge as well as the chance to save money on your insurance premiums. Simply visit www.mgcc.co.uk/join and use the code HONEST5. (Disclaimer: if you join Honest John receives a small fee).
Next: Buying Guide
Buy a MG Midget from £8,250