Mercedes-Benz W123 (1975 - 1985)
Last updated 1 April 2019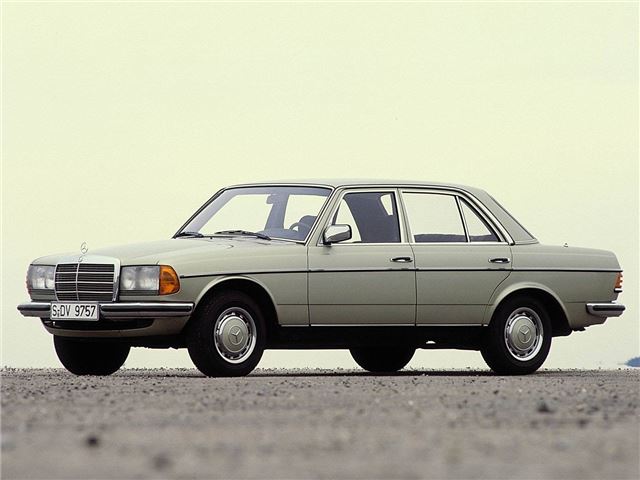 Buying Guide
Good
The last beautifully-built working-class Mercedes. Solid as a rock. I've seen them with 350,000 miles still looking almost like new. The seats don't sag.
136bhp 230E the most popular. 72bhp 240D slow, but goes on for ever. 5-cylinder 88bhp 300D slightly faster, with similar longevity, less likely to have been a taxi. 185bhp 280E fastest. Handsome, useful estates.
The diesel was a pure 'compression ignition' diesel, requiring no electrics or electronics to run apard from the glow plugs to start it.
W123 230E

Prices from DM 25,221 to 31,749

 
W123 E23 Type M102.980 4-cylinder 2,299cc K-jetronic petrol fuel injected: 136PS; 201Nm torque at 3,500rpm. 

230E automatic: 0-60 12.3 seconds; top speed 109mph; 22mpg combined

4-speed torque converter automatic transmission
Length: 4,725mm
Width: 1,786mm
Height: 1,438mm
Weight: 1,360kg
Gross Weight: 1,880kg
Luggage capacity: 0.5 cubic metres
Braked towing capacity: 1,500kg
Fuel tank capacity: 80 litres
Specialists: www.123world.com also have cars for sale on display at West Hampstead Motors, London NW5 4AY, together with Stahlwille Classic tool sets and the best selling book on the Classic Mercedes W123 written by Martin Buckley.
Bad
Old cars now. Petrol engines don't take well to plain unleaded. Must have 3,000-mile oil changes and a new timing chain every 60,000 miles or 5 years whichever comes first.
1984-85 230Es tried to go unleaded and suffered premature valve guide wear.
Slow gearchange manuals best avoided.
Don't buy without a sunroof.
One specialist advises avoid the 250 six-cylinder engine because its badly engineered. Essex Merc W123, who owns one, disputes this.
Note an all-new engine for a 280E is £6,000.
Watch
They do rust and diffs do go.
Most of the good ones were bought up by 'private hire' and minicab operations who will have serviced them pragmatically but run up a mega mileage and don't let them go until they're knackered.
If the big bumpers are damaged it means a heavy impact which may have deformed the structure.
Find out when the Simplex timing chain of 4-cylinder engines was last changed.
Listen for rattles and look for oil smoke signifying valve guide wear.
Listen for noisy, clonky rear axle. Bounce the rear suspension to make sure shocks still absorb. Estate car rear shocks are very expensive. Look for oil leaks underneath.
16-9-2012: Information from Mark Cosovitch: Simplex chain fitted to M102 Motors 1980-1986. Fine if changed at service interval 70k miles. Mostly never done, so can break, usually in cold weather when Hydraulic chain tensioner does not have time to take up the slack (oil thick) and if oil not changed regularly. 

No big problem to change a chain. Usually done by joining the old one to the new and wind them in, rejoining with a special tool by Jewis the original chain supplier. ( Chains from us £35) About 2/3 hrs labour.

Engineers in East London plant S.A. redesigned the front fn the engine to accept a Duplex chain and bigger spin on filter in 1985 as cars in Africa do huge milages and have a very hard life with native mechanics.
M102 was first of new generation of Mercedes-Benz Motors to produce a lot of power and be light in construction. Engines have been known to do 200k miles on original chain.
Back: Driving
Next: Running
Buy a Mercedes-Benz W123 from £6,595
Compare classic car insurance quotes and buy online. A friendly service offering access to a range of policies and benefits.

Get a quote