Mercedes-Benz E-Class (1967 - 1976)
Last updated 6 October 2013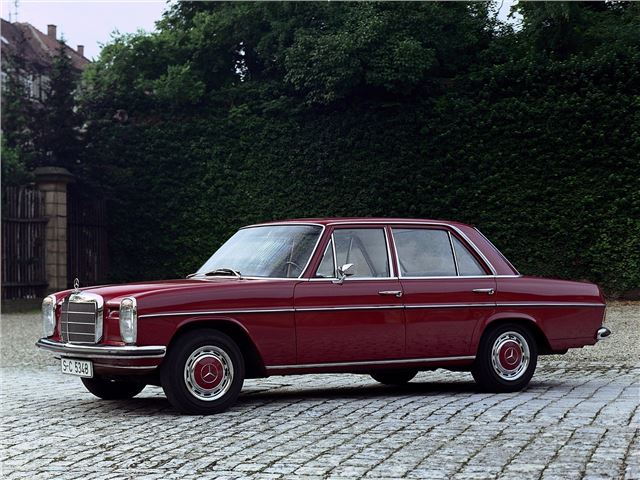 Stacked-headlights looks great and are an instantly recognisable feature, still worth less than they should be.
Rusty cars are financial suicide, unless you're handy with a Mig
Introduction
The stacked-headlight Mercedes-Benz mid-range saloons we the company's bread-and-butter for a dacade until the late-1970s. The W115 (four-cylinder) and W114 (six-cylinder) saloons continued the understated, elegantly stylish theme, but brought it up to date, and extended the range to include more engine and body options.
The four-cylinder 200 and 230 were almost workman-like in their appeal, and it's the six-cylinder 250 and 280s that caught the imagination. At entry-level is the 230.6 with 120bhp, joined at first by the 130bhp 2.5-litre 250. Then, in 1970, the 250 received the single-cam 2.8-litre engine, though the regular 250 continued for two years. Then, thee range-topping twin-cam 280 joined the range, in carburetted and fuel-injected form. Diesels were limited to the 240D model in the UK, although a five-cylinder 3.0-litre version was offered in European markets.
Mercedes-Benz also continued the tradition of offering its saloons in pillarless coupe form. And the W114 was no exception - they retained the W114's length and wheelbase but had less passenger room, and more style. The 150bhp 250CE gave way to the 280CE in 1972. This later car came with the 185bhp twin-cam 2.8-litre engine to offer genuine performance. Solid and dependable, and increasingly cool today.
Next: Specifications